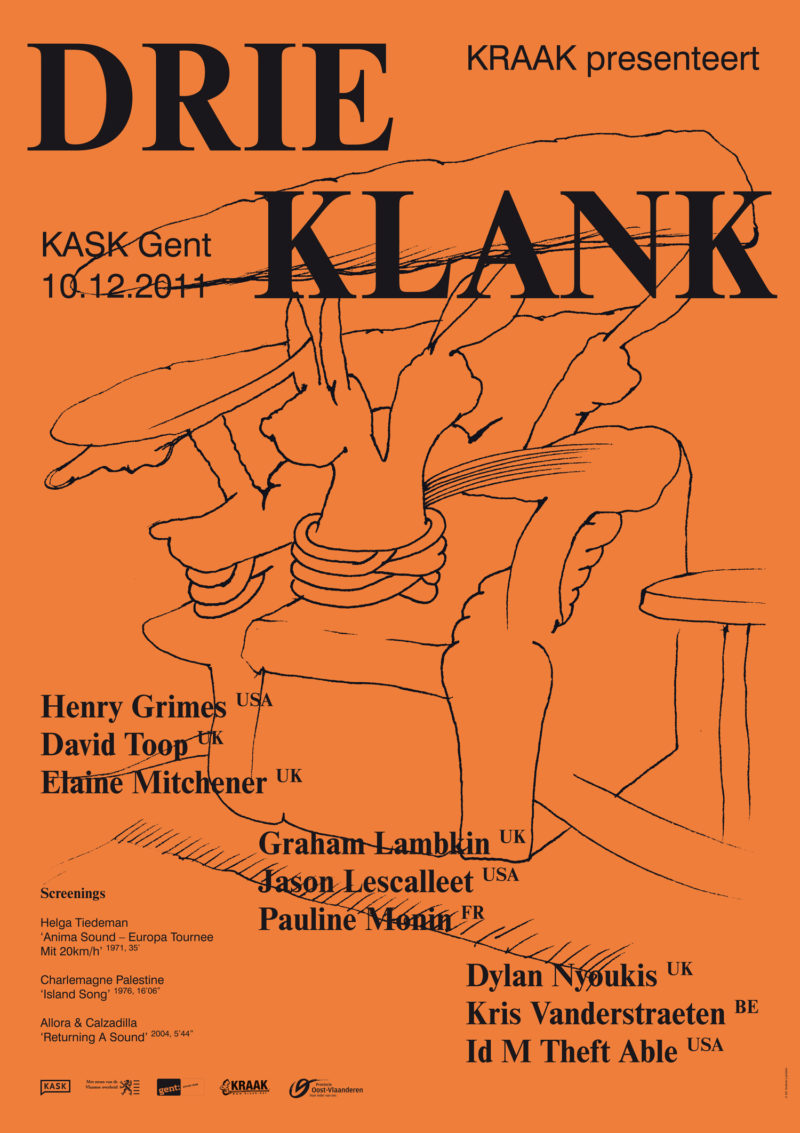 Sat. 10 December 2011
School of Arts Ghent

Doors at 20:30
Drieklank
Henry Grimes, David Toop & Elaine Mitchener (US/UK), Graham Lambkin, Jason Lescalleet & Pauline Monin (UK/US/FR) Dylan Nyoukis, Kris Vanderstraeten & ID M Theft Able (UK/BE/US), Screenings
TWEE/DRIEKLANK is a yearly alternating concerts and film evening that highlights duo and trio performances. The film program highlights both recent as historical documents in which sound and music are key. The musicians work in the fields of free improv, sound art, sound poetry and minimalist music. They are invited to research the borders of instant interaction. This is the first edition of the DRIEKLANK version.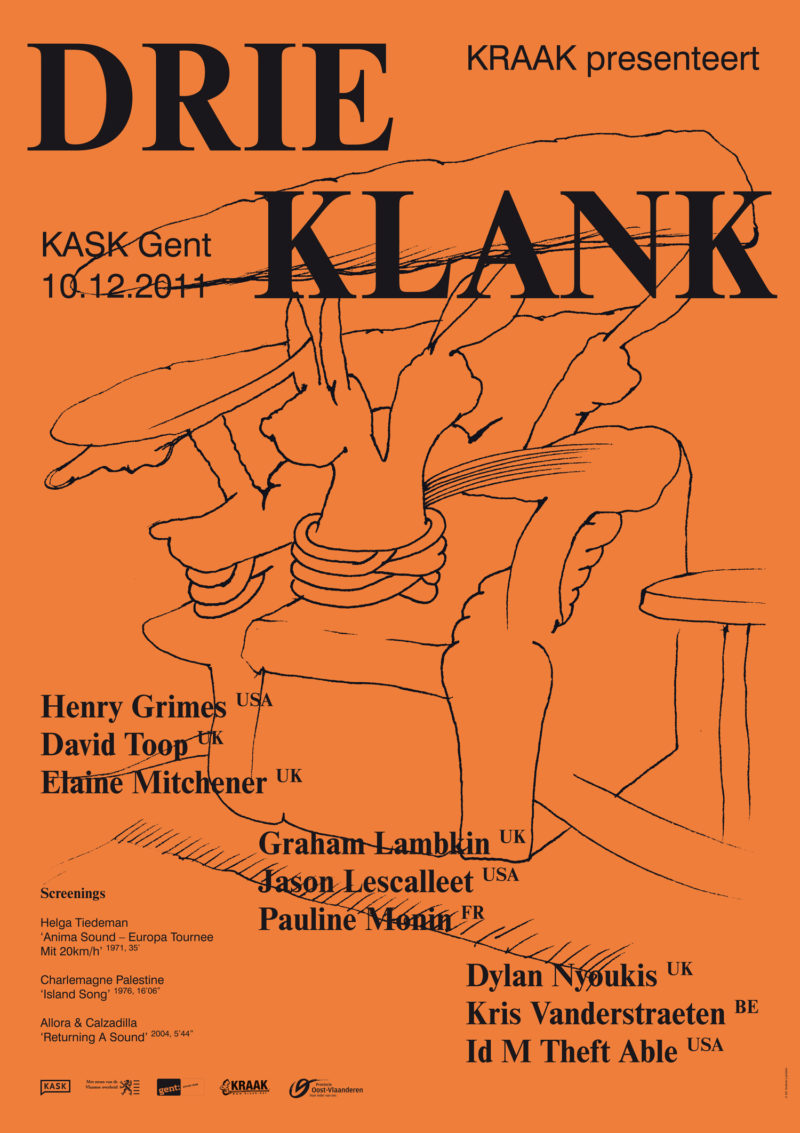 | | |
| --- | --- |
| 19:30 | Movie: Anima Sound – Europa Tournee Mit 20 km/h |
| 20:30 | Dylan Nyoukis, Kris Vanderstraeten & IDM Theft Table |
| 21:30 | Movie: Island Song |
| 22:00 | Graham Lambkin, Jason Lescalleet & Pauline Monin |
| 22:50 | Movie: Returning a Sound |
| 23:00 | Henry Grimes, David Toop & Elaine Mitcher |
Henry Grimes
After a 35-year retreat in complete obscurity, leg- endary bassist Henry Grimes was rediscovered by a social worker and fan in Georgia. That moment launched his second ca- reer. He was given a new bass by William Parker and has played four-hundred concerts across the world since. Grimes started his career along other jazz leg- ends such as Albert Ayler, Don Cherry, Sunny Mur- ray, Sonny Rollins, Cecil Taylor... The list seems endless. Up until this day, Grimes is known as one of the most innovative and ad- venturous bass and violin players in the free jazz gen- re, endorsing an improvisation cultus that is extremely open and pushed towards any limit. At the KRAAK festival of 2006, he played one of the most thrilling concerts of the festival together with Patty Waters. At the DRIEKLANK festival, Grimes is going to lead the very unusual trio with David Toop and Elaine Mitchener.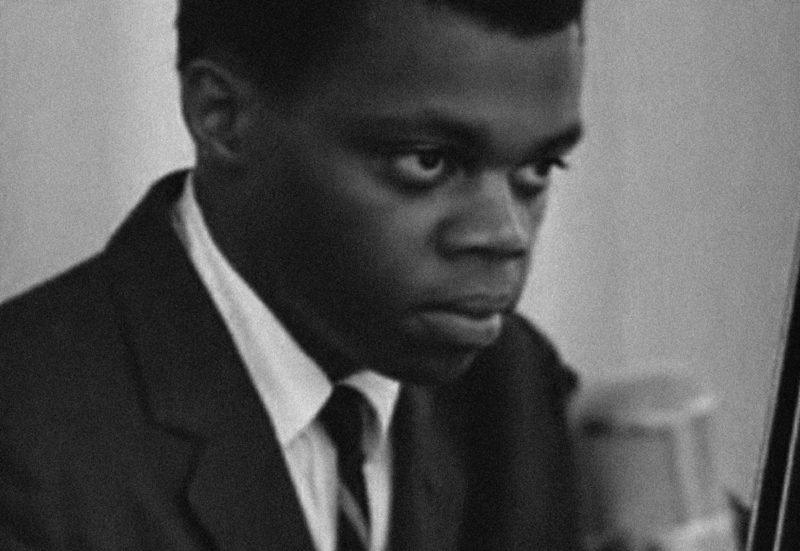 David Toop
David Toop is one of the most versatile persons in the contemporary experimental music circuit. As a music critic he wrote several important worls such as 'Ocean of Sound', 'Rap Attack' and 'Haunted Weather' and contributed pieces for The Wire, The Face, The Guardian… As a musician he started out as a member of The Flying Lizards, later focussing on the electro-acoustic genre and working with a.o. Max Eastley, Jon Hassel, Derek Bailey, Brian Eno and Prince Far I. Moreover he is also a field recorder, sound installation artist, curator of festivals and soundtracks and so on. Undoubtedly the most exquisite improviser for a provoking instant composition in the Grimes-trio.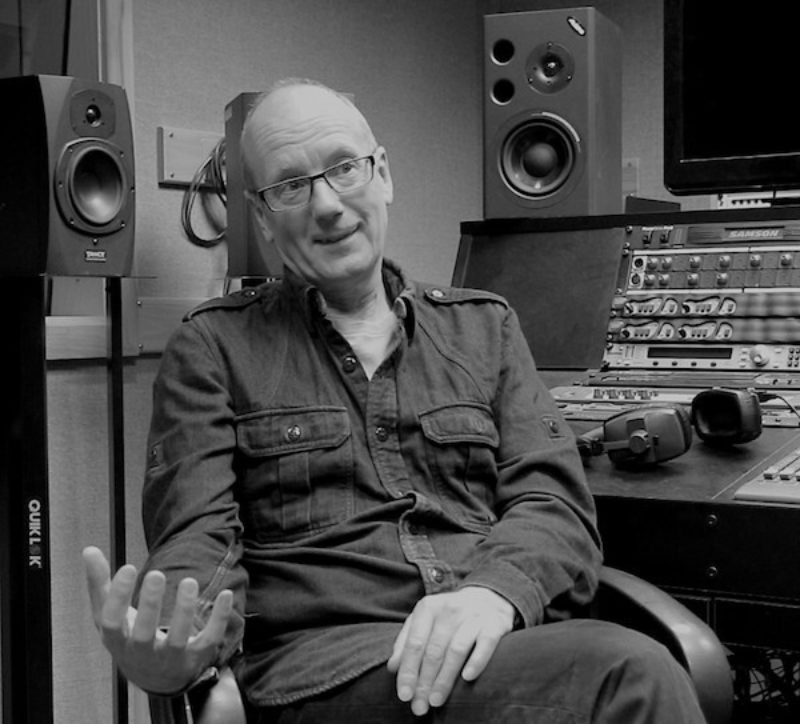 Elaine Mitchener
Elaine Mitchener is a classically trained vocalist working in the same London improvisation scene as Toop. Her early years began with singing and directing in gospel groups, but her interest for contemporary new music quickly lead her towards the jazz and improv scene. She developed a new vocal palette that again lead to intense collaborations with Toop, London Improvisers Orchestra, duos with Steve Beresford and Max Eastley and more recently with Christian Marclay interpreting his work MANGA SCROLL. She is also active in music theatre productions (Muziektheater Transparant's 'Century Songs' project, "Transformation" for solo voice at Teatro Fondamenta Nuove, Venice) and works both on solo pieces as on medium and genre transcending collaborations. Forthcoming projects include "I burn for You'" an semi-improvised opera by Ian Wilson with vocalists Phil Minton and Atilla Csihar.
Jason Lescalleet
These last ten years Jason Lescalleet established himself as the master of the tapeloop. With old reel-to-reel tape players and a broader love for everything analog, he gives the eai genre the warmt so many improvisers lack. With releases on labels as Erstwhile, Korm Plastics and Intransitive Recordings and collabs with amongst others Jason Kahn and Nmperign he built up both an exciting discography and a strong live reputation. With Lambkin he released two acclaimed records. This is the first time they present their duo in Belgium, alongside a dance performance of the French dancer Pauline Monin.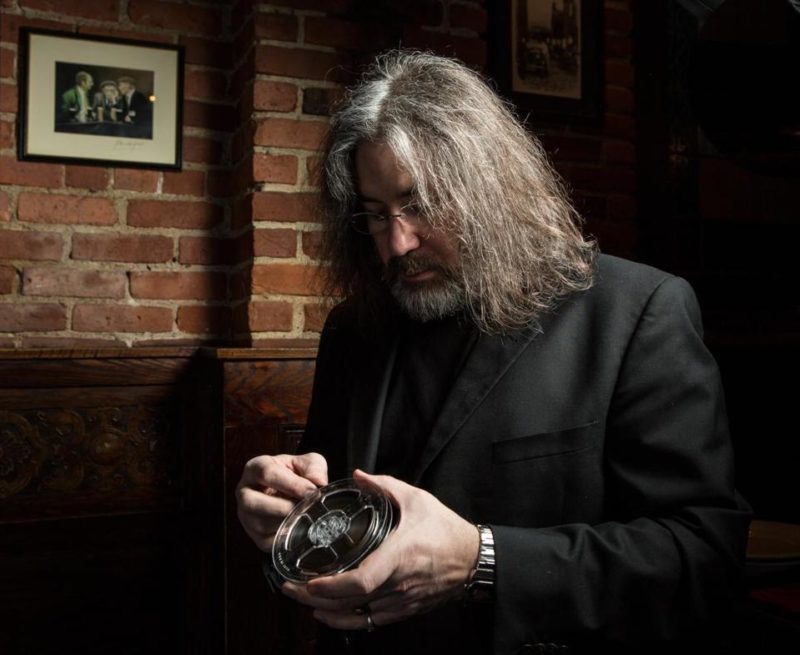 Graham Lambkin
Residing in New York , British musician Graham Lambkin formed the meanwhile legendary band The Shadow Ring in the nineties. After their demise he started focussing on a slowly evolving own repertoire in which field recordings, tape collage and concrete poetry are key elements. Besides that he is also active as a visual artist, a literator and label mananger of Kye Records. Both his solo work as his collaborations with Lescalleet are caviar for audiophiles.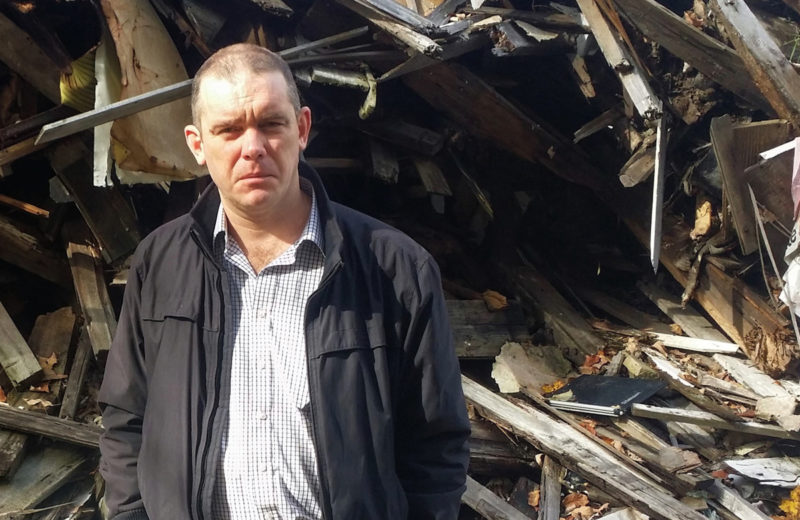 Pauline Monin
Pauline Monin started dancing at age 11. She studied at Conservatoire de Lyon and at Centre Choréographique National de Maguy Marin. Her movement is deeply touched by contact-improvisation, the somatic methods of Gerda Alexander and the Body-Mind Centering techniques of Bonnie Bainbridge Cohen. Monin often works with artists of various disciplines. Last year she danced along Jason Lescalleet and Sean Meehan at Issue Project Room in New York. She also made a piece with Lescalleet which was performed in October in Grenoble. At DRIEKLANK she will meet Graham Lambkin for the very first time.
Dylan Nyoukis
Dylan Nyoukis is most probably UK's most eminent noise/sound blenders. In 1992 he formed noise vehicle Prick Decay, changed the name, burried it and formed Blood Stereo with his wife Karen Constance, calved the excellent Chocolate Monklabel and started his own Dylan Nyoukis cult. Nyoukis plays with tape, field recordings and mostly vocal cords which he brings to vomiting depths and gurgling heights as a proficient Fluxus artist. Moreover he brings it with an unadulterated lofi attitude that kicks the spectator straight in his stinking balls.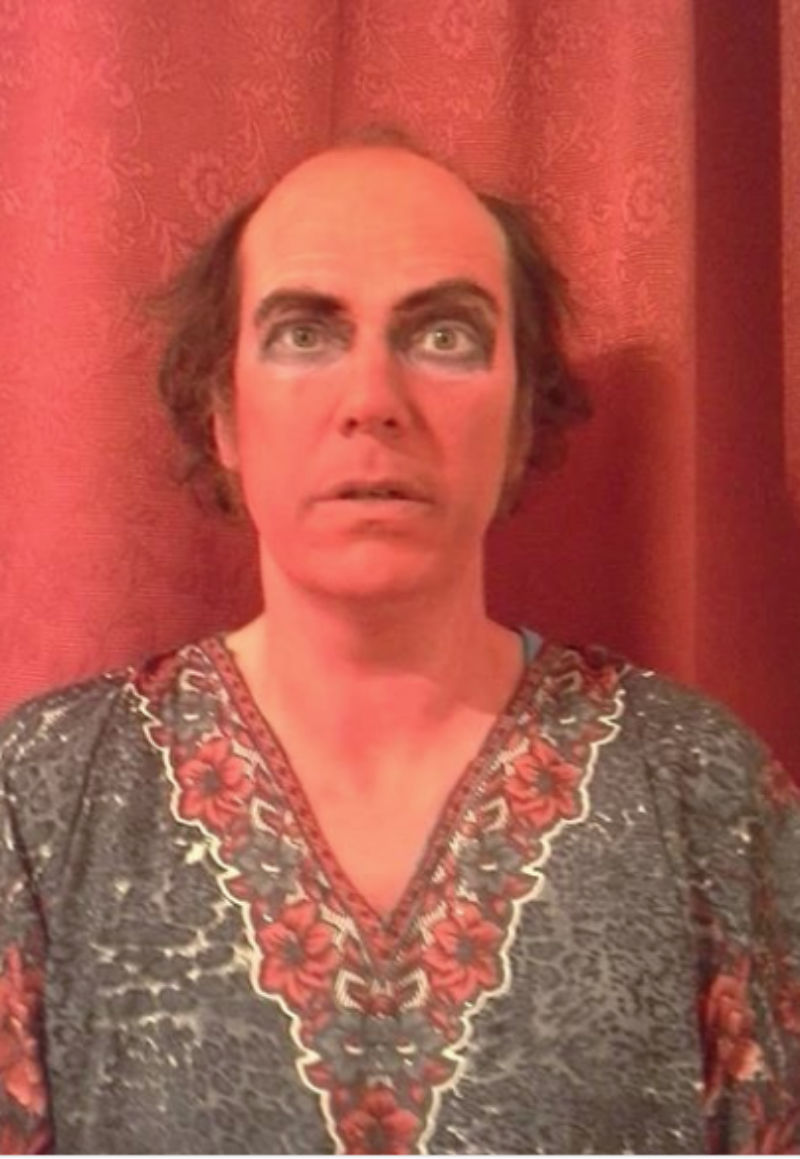 ID M THEFT ABLE
Skot Spear is known for his heavy alienated performances that confront sound poetry, musique concrète, found sound collage and contemporary pop culture. Add an imposing seven feet caveman with a two feet red beard and you get the picture. Chaos as luxury product.
Kris Vanderstraeten
After witnessing a concert of the Brötzmann/Van Hove/Bennink trio drummer Kris Vanderstraeten decided it was time for a changement de parcours. Building and rebuilding his own drumkit, allowing him to experiment with unconventional sounds and timbres, he discovered the true power of free music. Meeting with Timo Van Luijk in 1996 resulted in a long standing relationship, a couple of wonderful releases and the exploration of the European noise/drone circuit. He is also part of the trio Sureau, with sound poet Jean-Michel Van Shouwburg and bass player Jean Demey. This constant shifting between free improv and noise-related projects, makes Vanderstraeten one of the most prolific and most original percussionists in Belgium.
Screenings
Helda Tiedeman 'Anima Sound - Europa Tournee Mit 20km/h' (1971, 35')
Documentary about Limpe and Paul Fuchs' Anima Sound tour in 1971. The couple lived and worked in a self-built caravan and stage which was pulled by a tractor. A brilliant document of the most experimental side of the krautrock movement and its quest for freedom.
Charlemagne Palestine - 'Island Song'  (1976, 16'06")
'Island Song' shows Charlemagne Palestine on a motorcycle in Hawaii. He attached a camera to his belly and maniacally sings an improvised mantra. This film shows the isolation of an island and the urge to break free from it.
Allora & Calzadilla - 'Returning a Sound' (2004, 5'44")
'Returning a Sound' was made during Allora & Calzadilla's involvement with a civil disobedience campaign against a US military testing and training site in Vieques (the island off of Puerto Rico used by the US Navy as a weapons-testing range from 1941 to 2003). It was part of a trilogy of sound-focussed and site-specific installations. In this case we see a man driving around the training site on a moped with a trumpet attached to the exhaust pipe.