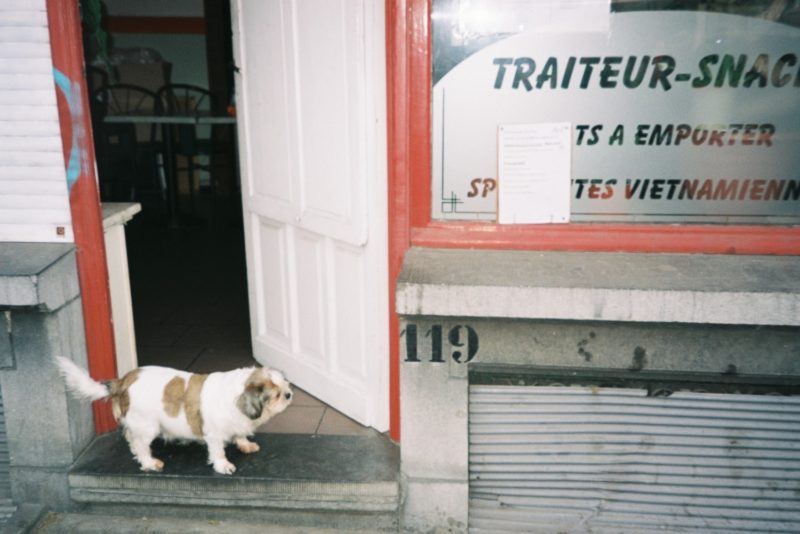 Fri. 01 October — Sat. 02 October 2021
Doors at 18:00
KRAAK FESTIVAL 2021
Cassis Cornuta (BE), Container (UK), Cucina Povera (FI), Dominique Grimaud (FR), EC Band (BE/US), Elisabeth Klinck (BE), Foudre Rockeur (FR), Heta Bilaletdin (FI), Ilpo Numminen (FI), Jon Dunbar & The Cheese Chandeliers (GR), Justine Grillet (BE), Le Diable Dégoûtant (FR), Michèle Bokanowski (FR), Million Brazilians (US), Simon Van Honacker (BE), soccer Committee (NL), Spuk Disk (BE/DE/DK)
An exceptional edition at an exceptional new locale: the yearly trip into the fringes of out-there sonic experiences known as KRAAK Festival is back for an unprecedented fall incursion in Antwerp's Het Bos. Freaked out jazzoid cookings up next to crackled record banging on the heels of gripping electroacoustic mastery, bookended by cosmic field recording jamming and all sorts of demented instrumental trappings: two days of music gobbling for the curious and the thirsty, enough to re-tap into those vibrational fields so sorely missed since THAT last time. Unique soundings, new findings, and that unmistakable feeling of blissful communion await - see you in the forest by the Schelde!
With the support of Vlaanderen, departement Cultuur, sport, media - In collaboration with Het Bos - Hopeful doggie image (c) Michael Crabbé
| | |
| --- | --- |
| combi Vrij + Zat | 31 EUR |
| Vrijdag | 16 EUR |
| Zaterdag | 26 EUR |
| Zaterdag nachtbus (Antwerpen -> Brussel -> Gent) | 11 EUR |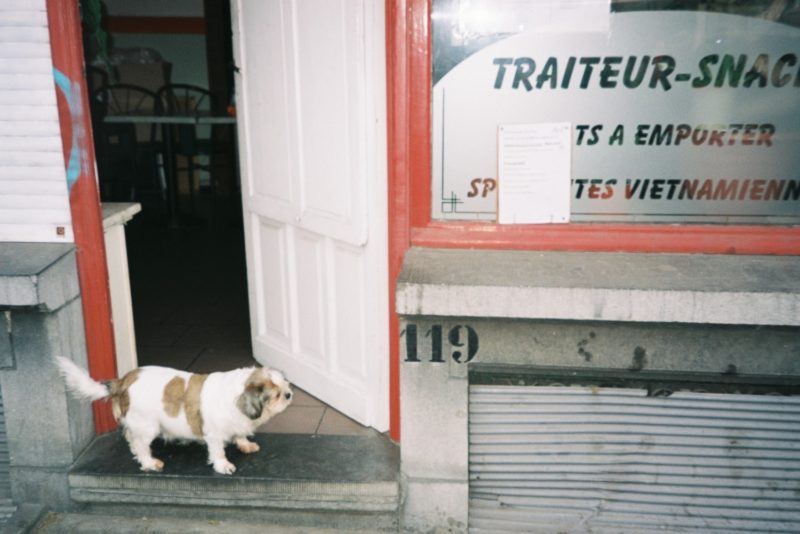 Fri. 01 October 2021

Het Bos, Ankerrui 5-7, 2000 Antwerp
| | |
| --- | --- |
| 19:00 | DOORS |
| 19:30 | Justine Grillet |
| 20:30 | EC Band |
| 21:15 | Cucina Povera |
| 22:15 | John Dunbar & The Cheese Chandeliers |
| 23:15 | Heta Bilaletdin |
| 00:00 | Cassis Cornuta |
| | |
| INSTALLATION | 'Tempo In Vlaanderen' by Simon Van Honacker |
Sat. 02 October 2021

Het Bos, Ankerrui 5-7, 2000 Antwerp
| | |
| --- | --- |
| 14:00 | DOORS |
| 15:00 | Elisabeth Klinck |
| 15:45 | Michèle Bokanowski |
| 16:30 | Dominique Grimaud |
| 17:15 | soccer Committee |
| 18:15 | Foudre Rockeur |
| 20:00 | Container |
| 20:45 | Le diable dégoûtant |
| 21:30 | Million Brazilians |
| 22:45 | Ilpo Numminen |
| 23:45 | Spuk Disk |
| | |
| 14:00-22:00 | RECORD FAIR |
| INSTALLATION | 'Tempo In Vlaanderen' by Simon Van Honacker |
Cassis Cornuta
Daniel De Botanicus aka Cassis Cornuta is a living Antwerp legend. Musician, radio producer, artist, performer, botanist, hat collector, DJ, president central, the man has done it all ~ unlistenably so! This ultimate friendly outsider and major synth freak goes all out with his buddies Korg and Roland, treating unsuspecting bystanders to whimsical and unpredictable sound magic to end the first night of the fest!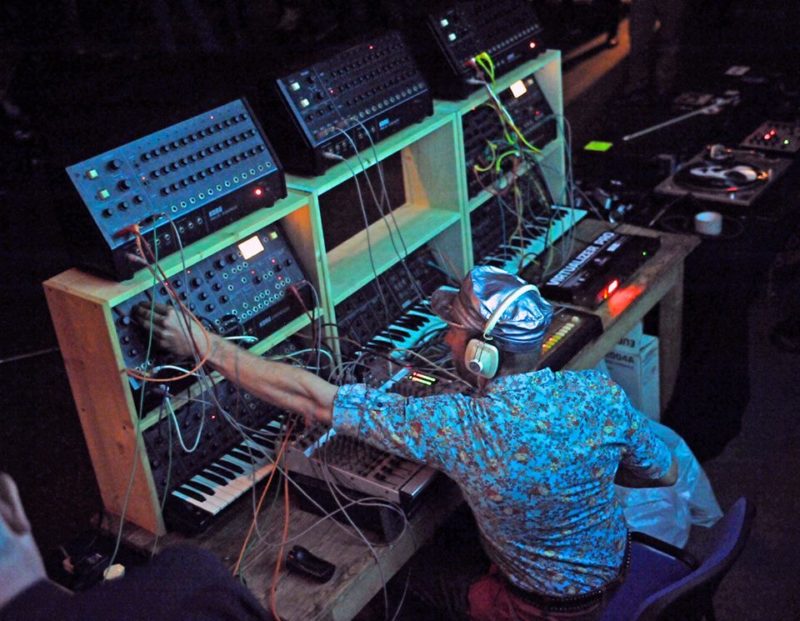 Container
Dance-noise veteran Ren Schofield has been screwing up club floor enthusiasts as Container for at least a decade now. Spasmodic beats and modulated anarchy fly mercilessly about as techno iterations fold into each other and explode into micro anthems for uninhibited swaying. Time bends, and so does sound, as Schonfield proves over and over and over, and never over.
Cucina Povera
Finnish musician Maria Rossi aka Cucina Povera cooks up an intense brew of meditative minimalism carried by voice and drone, and not always in ways you'd expect. Her subtly resourceful compositions make use of disparate floating elements, distended into uncanny hymns that are immemorial and decisively affecting like a languid dream with singing statues that haunt you well past the first coffee of the day.
Dominique Grimaud
A low-lying master of the French experimental underground, Dominique Grimaud has been active since at least the 70s as part of the improvisational outfit Camizole, the electro-dadaist concept duo Vidéo-Aventures, and countless other sonic adventures that he happily chronicles and recounts through his writing and ongoing musical endeavors. His 2020 19 Feedbacks LP on Discrepant synthesizes familiar pop tunes, electroacoustic jangle and dusty loops to create new/old sounds of a deeply personal order. He will be accompanied by his long-standing musical partner Véronique Vilhet on drums for some augmented heft to the feedbackisms.
EC Band
A fresh collaboration between New Yorker Luke Calzonetti (Run Dust, Sugarstick & Xerox) and Limburgian Stijn Wybouw (KRAMP, Geen Bloemen Meer Voor Jou) of transcendental improv overtones. Undulating layers of synth lashings, cymbal echoes, and some laid-back guitar action mesh in a spaced out trip in the physical and astral plane. Sick twilight tripping indeed ~ finely crafted visuals may accompany, and a first full-on LP will or has come your way via the great Meakusmean avenue.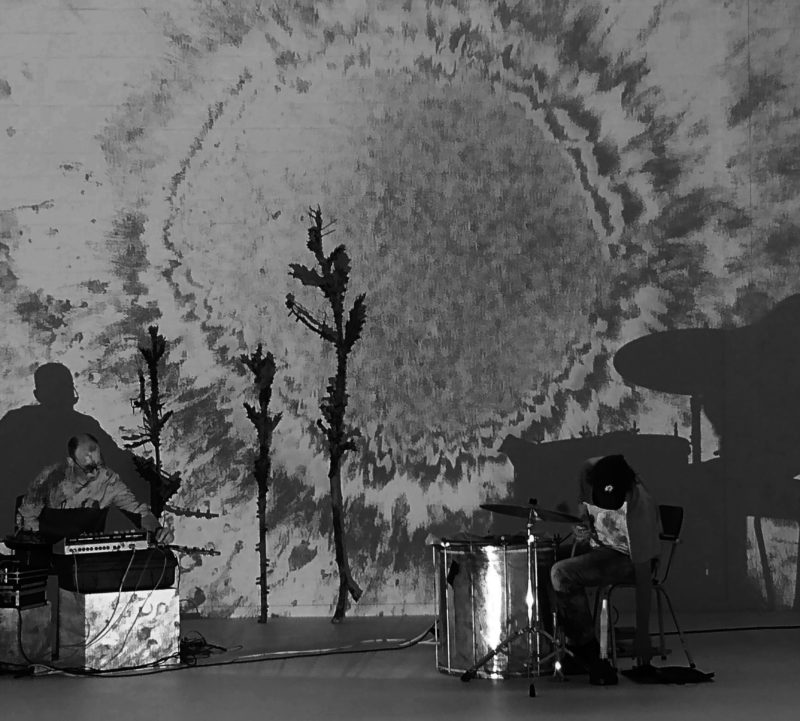 Elisabeth Klinck
The brilliance of Elisabeth Klinck's artistry stems not only from her profound complicity with the violin, nor from her avowed Total Stoogeness: there is a meticulous sparseness and a poetic depth to her rich soundverse that revel in her curiously charming personality. Studies in Göteborg and Brussels notwithstanding, a particular kind of mastery is at hand, the type that goes beyond any/all conservatory walls with its fragile sophistication and calculated minimalism. Lots yet to still be unveiled by this blooming talent!
Foudre Rockeur
A pure and unadulterated love for rock & roll and a gang of good friends is really all that's needed to start a kickass band. So it was that Christophe, Laurent, Benoît, William, Justin and Laura got together to create a true Foudre Rockeur. With Arnaud (aka the infamous Monsieur Marcaille) on bass, this band of outliers will break out their raw jams all the way from Woëvre ~ chanson française reimagined as dadaist punk, like extremely stripped down and ramped up Träd, Gras Och Stenar jams blissfully lost in the Lorrainean planes.
Heta Bilaletdin
One third of the Olimpia Splendid stoner hydra, one half of the Myttys collage-trap set, total Musa Ullakkolla head and occasional Spring Braker, Heta Bilaletdin is a modestly firm presence in the Finnish experimental scene and its extended ether. Solo-wise, mutant mumbles, dissonant samples, and thudding bass lines form the core of Heta's deconstructed dub. True dark grooving for late swayers, also pressed on real vinyl as the Nauhoi LP ~ our hotly awaited co-release with our age-old buddies at Fonal Records, on the stands at a KRAAK Fest near you!
Ilpo Numminen
Speaking of the Finns, synthhead Ilpo Numminen has been blasting socks off with his hypnotic cosmic comps for years now. Described as one of the most stylish characters in the Suomi underground circles, Ilpo's unabashed love for krautrock inflects his playful and decidedly spaced-out musiikkia, most notably on his latest release on the venerable Lal Lal Lal label lovably titled I Guess You Could Call This A Long Play. Ecstatic delights to warm even the coldest of continental hearts!
Jon Dunbar & The Cheese Chandeliers
Now here's some Greek cooking for ya: the enigmatic Athenian Jon Dunbar (not his real name?) and his possibly real Cheese Chandeliers break out multiple forms of demented sun-bleached art rock, like a reimagined Red Krayola sending shocks to the system with spontaneous bursts of absurdist glee. With EPs wielding descriptions such as "inspired by a facebook photo of a person we never met in 'reality'" and classy titles like "Before going back to the rectum" and "Put some oil in your bush", beware all expectations ~ these ain't your typical rebetika scales.
Justine Grillet
Young Antwerpian Justine Grillet uses sculptures - ceramic and otherwise - as well as disparate homemade instruments to create tantalizingly ethereal sounds. Heavily inspired by dragons and other mythological figments, her songs hold a dreamy quality that evoke the mellow adventurousness of video gamey landscapes. These exquisite sonic creations, subtle as they may be, are a blissful trap; check out her lovely Zaga Island for some free imaginary travels while you can.
Le diable dégoûtant
Pauline Marx, formerly of the fantastic duo La Fureur de Vouivre, seems like a being from another time and place; namely, an escaped marauder lurking in the forests of a Bruegel painting and integrating the surreal flora and fauna of a Boschian creation into the scenery and lore of deep Brittany. Her invented mythology is loaded with murky rituals and contorted mantras, backed by the surprising sounds and textures of terrains so earthly and so unreal.
Michèle Bokanowski
As it goes, the pantheon of contemporary composition is non-exhaustive, and there's always a surprise around the corner. This much can be said for Michèle Bokanowski, a student of Michel Puig and Eliane Radigue whose work has recently found new outlets of recognition thanks to the GRM/Editions Mego release of Rhapsodia/Battements Solaires and the Canti Magnetici LP La Plage. Her compositions, whether they be concrete exercises in expanded spatialization or pure sound abstraction soaring into otherworldly melodies, share a time-bending quality that immerse the listener into zones of heightened perception and true auditory euphoria.
Million Brazilians
Grant Corum, of the Psychic Sounds label and Timelash infamy, joins forces with Suzanne Stone and a swiveling cast of talented Portland, Maine heads to imagine past and future psychedelias as Million Brazilians. Their mystical sound journey has taken the form of ethnographic exotica and sacred improvisations with flourishes of cryptic jazz, aural electronics and seriously heavy psychotropic moods. Wet jungle spirits inhabit these tunes ~ prepare to enshrine them through eyes and ears.
soccer Committee
A low-key crooner of wordly subtleties, Mariska Baars and her extremely personal outings as soccer Committee first appeared on the collective radar about 15 years ago. Slowly but decidedly, songs insinuate themselves though sparse guitar melodies and hushed mumblings for moments of fragile sweetness and of wistful communion with natural elements. Her latest record on the similarly dreamy & discreet Ghent label Morc tapes, Tell From The Grass, is one to listen to by a flowing creek or inside a shining room, heart on your sleeve and eyes well closed.
Spuk Disk
A fearsome trio made up by three prime freak turnablists of these extended lands. Michael "Weird Dust" Crabbé, Johann "Fyoelk" Kauth and Seb "Tulips/Hipolito" von der Heide got their hands on some lathe-cutting weaponry and pressed an assortment of offbeat rhythms and textures that, thrown together, create unpredictable compositions that meld anything from hip hop beats to field recording hiss to twisted abstract tinkering into a mutating sound trip for all. Locked grooves for sinewy dancing ~ bring on the heavy machinery.
Simon Van Honacker (installation)
Already making a name for himself in the braderie circuits, Simon Van Honacker's sound installations are like going to your local yearly fair without the sidesplash of beer. Conversations, chants and other signs of disembodied merrymaking are key traits in Van Honacker's folklore-as-sound art, with unintentional symphonies taking up the last party tent of the year!