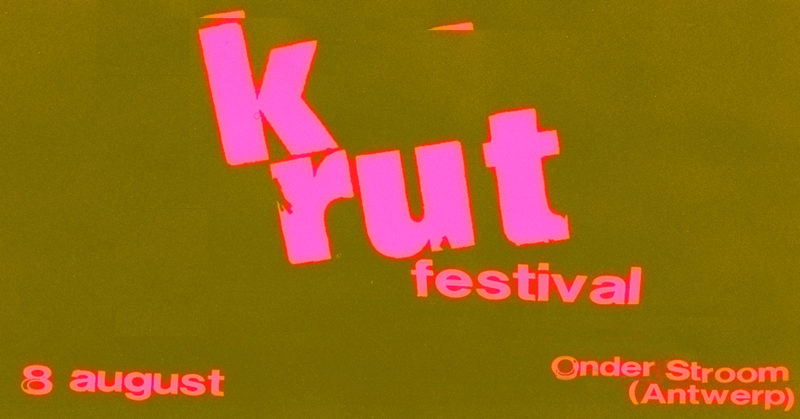 Sun. 08 August 2021
Doors at 15:00
KRUT FEST I
Drywud (FR), Horacio Pollard (DE), Jazzoux (FR), Radio Hito (BE), YOR (DE), Zoot Ruf Ski (BE)
The first-ever festival for KRAAK's etherized sublabel KRUT:::::A small pick from an ever-growing crop of digital finds, now in the flesh for a long afternoon on the Antwerpian riverside. Psychotic hip hop ramblings, side-winding punkwave, twisted metal electronix and evocative piano melodies to bring tears to your eyes ~ the younger sibling finally gets its turn.


Another dream collaboration with Het Bos, as part of their summer Strobo residence with the Onder Stroom chillaxness.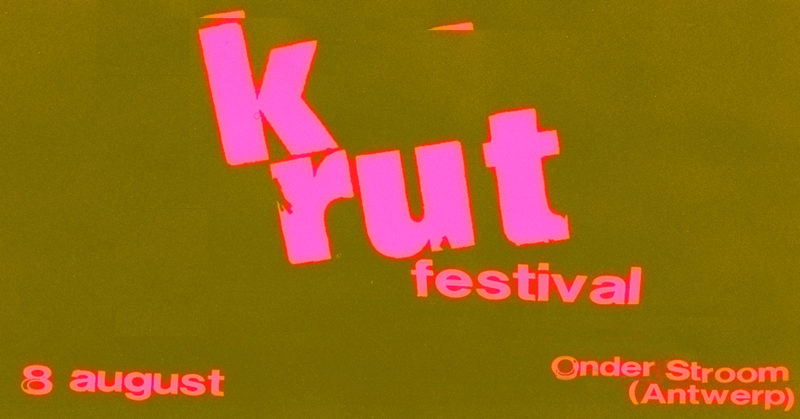 Sun. 08 August 2021

| | |
| --- | --- |
| 16.15 | Jazzoux |
| 17.00 | Drywud |
| 17.45 | Radio Hito |
| 18.45 | Horacio Pollard |
| 19.45 | YOR |
| 20.45 | Zoot Ruf Ski |
Horacio Pollard
"A sly lurker of the underground circles regurgitating noise offshoots since 2002 and wielding a barrage of explosive sound artefacts for a head bangin'/mind blowin' daze."
KRUT: KR039 FORTHCOMING
Jazzoux
One half Somaticae and one half Terrine equals a full-blooded beast of dark conjurings, skidding and pounding away into a whooshing shrubbery of lightning crisp textures.
KRUT: KR40 FORTHCOMING

Radio Hito
"A myrmidon of melodrama in a world of exquisite introspection, of shimmering inquisitiveness."
KRUT: KR014 Homespun
YOR
"Frenzied catharses after spending way too much time doing car donuts in the Netto parking lot. Bangers for headbangers."
KRUT: KR017 Take Care
Zoot Ruf Ski
The one and only fly Root Canal this side of the Schelde, popping tunes and cranking up the style cred at least seven notches.
KRUT: ?!