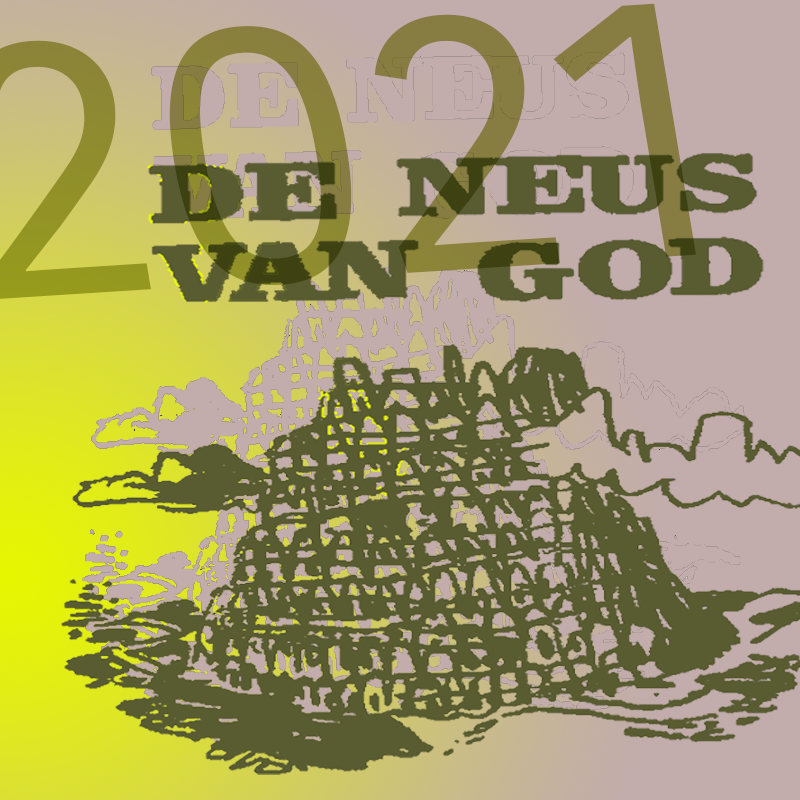 29.12.2021
A YEAR IN "RADIO": De Neus Van God 2021 Highlights
A quick recap at some of this year's aventures at Radio Panik, with the world of Zoom opening up interview possibilities beyond our wildest imaginings and enough slacker-style freeform radio to keep us blabbing and sharing many a sick tune in spite of the global health sitush. Honorable mention to Total Stooge FM fest which was not archived, though won't be the case for long WINK.
January 22: Crash Toto one man takeover

Maarten Raskin, formerly drummer of Crash Toto and currently label boss of Swallowing Helmets joins us on the radiowaves to discuss our joint release of The Riptoffer EP. A rowdy and often highly danceable hang, with tunes by Sonic Youth, Marble, Model Home and ~ of course ~ more Crash Toto wrongness to celebrate.
February 12: with De Haan
A lil focus on Belgian and faux-Belgian music in da spirit of the Week de la Belgian Musik. Featuring Romain Scrap aka De Haan for a somberly amusing second hour, whose EP on our KRUT digilabel expresses the moody blues of our lowland as well as any native could.
April 9:with Mentos Gulgendo and Gaute Granli
Zoom hangin with April's KRUT releasees: Mentos Gulgendo and Gaute Granli share meaningful and meaningfully weird tunes over and despite mixing board awkwardness <3
May 28: Live at Het Bos for Sound Installed
De Neus Van God IN SITU at theSound Installed exhibition, our first fleshbound event since September 2020.

June 11: with Lukas De Clerck
With guest Lukas De Clerck aka Bloedneus & de Snuitkever comin to the set to talk about ancient drones and contemporary marvels and bacchanale the hell out of the release of his Fume Fiume EP on the KRUT katalog.
July 09: KRUTs and fests preview with Horacio Pollard
Introducing KRUT Festival I 😱 the first edition of our digisibling's own fest. Helping us present the fest and the program will be the mysterious wanderer known as Horacio Pollard, who will indulge us in blabber while we play his fine af tune selection and discuss the meaning of it all. Plus: early KRAAK Fest plays, cause it can't come quickly enough.
September 10: KRAAK Fest teasin + Roxane Métayer

Blabbing about this year's KRAAK Fest PLUS a special guest as prep for our Zondag Acht Dagen: Roxane Métayer will join us in the studio on the second hour to talk about influences in nature and flesh ahead of her performance at de Koer ~ mainly in French, Pauwel will translate.
October 8: KRAAK Fest LIVESSSSS
A final (for now) KRAAK FESTIVAL 2021 rattle to calm the fomo of those who did not make it to this year's fest. We managed to land our grubby paws on some show recordings that we're happy on radiopanik.org: concert excerpts by Foudre Rockeur, Ilpo Numminen, Heta Bilaletdin, Cucina Povera and many more.
November 12: with claire rousay
claire rousay phones in a little interview to the Radio Panik waves ahead of her performance Nov 13, 2021 at gr'Ambacht in Mechelen alongside the Brussels duo Xaxi. GG plays a selection of her (vast!) discography, as well other densely textured tracks from the buddy spheres and beyond.
November 26: with Hendrik Eagle-Eye Dacquin on the Organic Music Theater
Pauwel's last neus :'( We got our favorite aficiendo of all things deep-dive and Patagonia-friendly: Hendrik "Eagle-Eye" Dacquin makes his triumphant return to the Radio Panik airwaves, this time for an in-depth (??) exploration of Don Cherry's Organic Music Theater and the societies that stemmed henceforth.