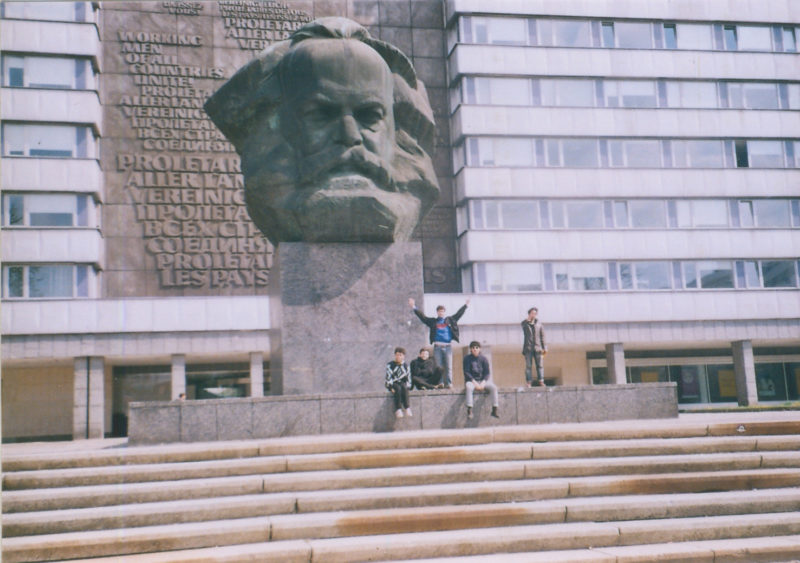 07.03.2022
KRAAK FEST 2022 HIGHLIGHTS: Dhavali Giri
Much like the snowy Himalayan peaks after which the takes its name, Dhavali Giri's effects are of the meditative yet woozily exhilarating kind. The rotating members of this Lyon-born formation use each musical meet-up as an opportunity to explore uncharted sonic avenues, improvising textures and resonances into long-form psychedelic unwindings. We got Antoine "Bravo Tounky" to shed some light on the enigmas lurking behind the Giri's towering forms.
You're all pretty active fellas in the French DIY at large. Can you give a bit of background on yourselves and your respective projects?
We all met in Lyon at some point. We already had different solo and band projects and organized concerts there. Quentin had a solo project called Réveilhez and was involved in many bands and collectives like Silo and many others. Now is working on a new project called Maibaum. Yan was also making music in the band And The, and has a solo project called Quantum Lips. He's the co-founder of the label Manufacture Errata. I (Antoine), played in Calanques at the time, with Morgane from Tôle Froide playing the Celtic harp, and I now have a solo project called Bravo Tounky. I also co-founded the label AB Records.
How did you come together as a band? What common influences were driving your collective process?
We all first met through our love of tapes. I started the project alone but quickly realized I wanted something more improvised and collective. I invited Yan to play with tapes and effects so I could focus a bit more on the synth parts. Quentin joined us last; we wanted to add another layer and we knew he played the clarinet so we invited him to do a small residency in my house near Saint-Etienne and then went on tour together with Romain De Ferron. At that time, our common influences were not that clear: the three of us had different views on how the project could evolve. Of course we were influenced by projects such as Romain De Ferron, La Société Etrange, DSR Lines or Kaitlyn Aurelia Smith but we also had different musical and personal backgrounds.
Your often meditative music could have a healing effect for some. Is the process of making music together similarly healing?
The process of making it is often quite stressful, haha. Now that the three of us live in three different places, the process is to start over each time with some new instruments and work on a new set during a short residency. Now that we know each other better musically and personally, we can work a bit faster towards a common goal but we try not to do too much similar stuff from one piece to another.
It seems like Dhavali Giri is a project open for other people to be part of. How does the collaboration work? Who else has been involved and, alternatively, are there people you would like to involve?
The rules change each time. For this set I wrote a little bit to the other two about what I was thinking we could do, what we could change and which instruments we could bring. It's the first time I took this position and we'll see what happens, haha. We knew we had to work a bit differently since Covid kept us from playing as much as we wished we could. We also shared some music to have a common vocabulary to build on. In the future we'd love to collaborate with some other musicians such as Roxane Métayer or Lise Barkas amongst many others but we'll see!
Any future projects (collective or individual) you'd like to share?
Hopefully we're going to find some time in the future to record a new tape together so we can work later with different musicians. Quentin is going to release an album soon (?) with his project Maibaum, Yan will continue to release new tapes with Errata, and I'm working on some new Bravo Tounky material.
Dhavali Giri plays KRAAK Festival 2022 at Het Bos in Antwerp. Tickets available ici <3