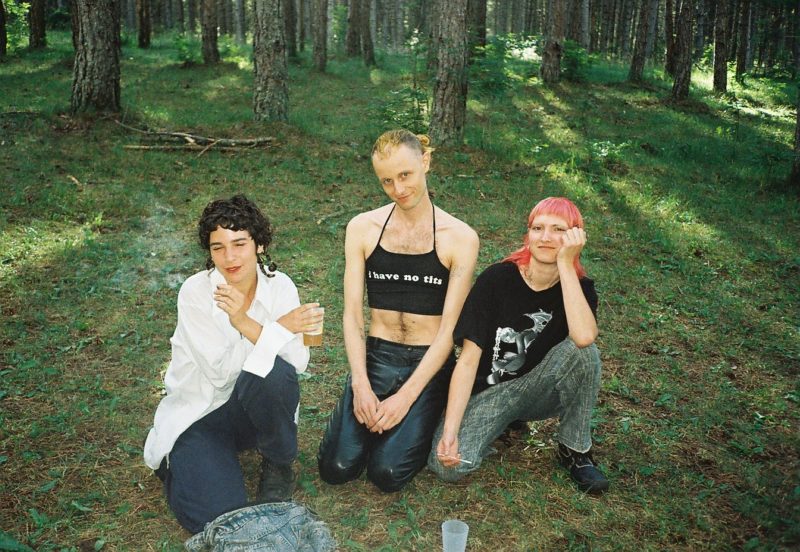 09.03.2022
KRAAK FEST 2022 HIGHLIGHTS: Donna Candy
The Marseillais outfit Donna Candy is the unlikely union of Sale Garce, Js Donny and Nadi Füdli who, having heard the calls for more jump-tha-fuck-upness in the scene, wasted no time in heeding. A certain nostalgia for Limp Bizkit (!) comes along right at time when going to the pit never felt more necessary - behold the highly kiffable Candy Circus Show in full boom!
How did you meet and how did you start playing together as a band?
Alex and js met in raves and through the concert circuits in Marseille, at the 4am frees in the more sober and energetic phases of our lives. Back then we thought to ourselves, "Imagine, wouldn't you like a big live show to start out of nowhere between 2 trance sets ?" Some time later, the three of us met at a party where there was a crazy jam session. Js was on guitar and Nadja grabbed a microphone for the first time and started screaming into it with tons of delay, and Alex was laughing, happily tapping away on percussions. A few weeks later, towards the end of the first confinement, we all met in the studio to have fun; the idea was to make something super energetic. Alex had never played drums, Sarah swapped guitar for a bass, and Nadja wanted to keep screaming into a microphone. During this first session, everything exploded and we collapsed from laughter; there was something really powerful which surprised us, and a first version of one of our songs came out of it. We found the DC energy :*) We wanted to play together without taking things too seriously, but our synergy was so good that we ended up rehearsing regularly, investing in equipment to develop the sound we wanted to have.
Your sound has a very 90s/early 2000s stoner rock/nü metal vibe. Would you say your influences come from this era? If not, what would you say your collective influences are?
We don't really have any collective influences - we have three very distinct personalities with completely different musical backgrounds. Together we form this moving triangle, pulling in opposite directions, and sometimes two angles of the triangle come together, but except for when we're in DC it's pretty rare to get all three angles to agree. It's kind of funny.
Js: On the bass,I use a mix of rock drone and nu metal clean bass influences, creating a sonic contrast from a slow Boris-like explosion that turns into a groovy breaky comforter - a bit nasty, something between hip hop and 90s metal music. I would have liked nu metal style to develop more actually; I feel like I idealized the genre with only a handful of bands and tracks as references. Everything by Limp Bizkit is really evocative, and I'm really happy to see the emergence of the band Wu-Lu right now.
We each have our own musical history. Js and Nadja are very influenced by the French underground rock scene around the labels/collectives Desastre and Standard In-FI ,for example. Alex was immersed in dancefloor music, especially non-Western dance music, and in nu metal as a teen, which really comes across in the drumming. If we have something in common, it would certainly be the energy of the dance floor, of a certain revolt and of the response of the bodies by and with the reception of the music.
It also feels like your music is very wild and spontaneous. What is your musical process like? Are the songs very composed or is improvisation a factor in your process?
We are self-taught and curious: we don't know much about music codes and we are not interested in that. Everything starts from playing something together and having fun with effects. Patterns appear, we link them, and there we find climbs, breaks, and falls. All these elements more or less fall into place by ear and by listening. The pieces are surely more and more composed because we play them again and we bring new ideas into them. We probably also evolve with our instruments. Sometimes we set ourselves a goal, and finally the concert or the rehearsal is restarted by one of us because it was not enough for then, then we give it another go since the idea is to achieve trance "kiffer". The idea of the ascending merry-go-round, in "Candy Circus Show" mode with euphoric children made of sugar on an infernal colored machine is a rather funny and potentially representative image.
You guys like to play in the middle of the audience. How did this choice come about? And what would be the ultimate DC venue?
This choice was more or less imposed because there's a lot of improvisation and "bouncing" involved. We want to play in a triangle to see each other and connect. On stage if you play in a triangle you turn your back to the public, so you'd be cutting away all the energy with them. The audience is very important because we also transmit energy to each other and it's a constant back and forth. Playing in the middle of the audience we are deep in the same sound together, and it's the best experience. We make a rather "violent" music, and we find it important to be conscious of what it produces on our bodies; if we go too pogo while being in the middle of the crowd, we'll get pogoed on too!
The ultimate DC stage would be a wrestling ring, a kind of pit or arcade like in ancient theaters, with the stage below and the audience in a slope all around us. We would also need regular sound feedback so that we would all receive the same sound experience, whether we were far or near. There's really this idea of an arena where we give ourselves to the sound, the experience and the flight.
Any future projects you'd like to share?
Yes, we are finally recording our live set at the GZ in Vaulx-en-velin with Anotine Nouel from Sound Love studio, we can't wait! We are looking for a label to release it :*P

Donna Candy plays the Het Bos arena for KRAAK Festival 2022 Saturday March 12. GET THE DC ENERGY :*) & tickets THIS WAY
Photo credit: Noémie Couronné