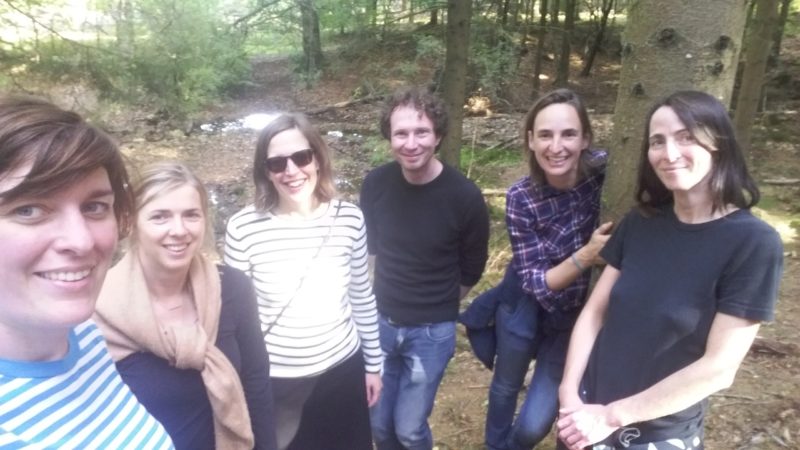 11.03.2022
KRAAK FEST 2022 HIGHLIGHTS: Luster
May the Belgian folkways hail their new queens (and Jelle): Luster is a sextet formed in 2012 by a group of friends and music lovers from the East and West Flanders fields. Cello, ukulele, flute, harmonium and violin meet the guitar-bass-drums trifecta in a quirky crossroads where ancestral doom folk, heady post rock and Stereolab-tinged pop seamlessly meet. Behold, the most candid conversation about music, influences, not-wanting-to-be-the-saxophone-player and post-birth trivia that we were kicked out of the room for!
You guys are all from different backgrounds, which makes for a pretty mixed bag! Can you tell us more about each of your individual trajectories?
Lobke: I can't read a note of music. I played in different bands, I play different instruments, but nothing very well. Currently, I make music with Hans, my loverboy, (and Stijn and Tomas) as Best Parts, a bit too hifi for Kraaklovers, I guess. Our first album is ready to be released on Fons Records.
Elisabeth: I've played the cello, like so many kids, since I was 8. I'm not good at it. I only started loving to play it with Luster. Before that there's a 20 year void with some small things going on (religious choir singing, Mollenhauer, one show with Edgar Wappenhalter at ptit fays and there's the archive of minidisc recordings with as a highlight the one with Builenradar). With Luster I can do what I want, which is playing as little as possible, but enjoying the group vibe at max.

Annelies: I played piano since I was a kid and had some classical training. Later, I studied cello as well. I've had to "unlearn" a lot when I started writing my own music. In the late nineties I formed a duo with my friend Olivier Driessens, as Zent One. We were heavily inspired by Rachels and Aerial M. When I moved to the Netherlands, I started writing more and more music. Haven't really stopped since. Released 4 solo albums on diverse labels and I also did a couple of tours in the early 2000s, mainly with my friend Jessica Bailiff. (We will - one day - release our album as Hydromedusae) Over the last ten years, collaborating with other people has become more important to me, as in Luster and the duo Distels (with Steve Marreyt).

Julie: I played the flute for about 5 years during my childhood. Afterwards when I was bored I played some old music scores from the conservatory. At that time, I would never have imagined creating music myself. I'm classically trained and detested the idea of playing flute in a contemporary music band. Similar to a saxophone in the eighties.

Yumi : I never really played music with anyone until the day Annelies invited me to do a vocal part on one of her solo albums. I studied guitar as a kid and violin later on, but I absolutely prefer to sing.

Jelle : I've always been fascinated by music since I was a toddler, so I was destined to learn the violin. As a teenager I hung around in the local hardcore scene, when hardcore kids started playing no wave I broadened up perspectives and got into the kraak related stuff and more. I learnt to play the guitar but never played in a band until in my early thirties when Joe Speedboat was formed with Wim (Morc) and Steve, we played beer soaked downer twee pop.

How did you decide to start making music together?
Lobke: Julie and Annelies had played a concert together, I really liked it and was a bit jealous. A bit later I ran into Annelies at a concert. We were complaining about the sometimes boring motherhood. That's the moment where we decided to play music together.

Annelies: Wow, I did not know about the 'jealousy' thing! Lobke and I played music together occasionally in the early 2000's. We lost touch, I guess, when I moved to the Netherlands. I remember that, when I came back, she did not seem that interested in playing music anymore (I remember she made quite awesome mini-houses at that time). But yes, I remember that concert, it was the start of something beautiful indeed <3

Elisabeth: When Yumi & Steve decided to take a leap year to France, I showed up for their goodbye party. I apparently had once complimented Annelies on giving birth to a beautiful baby & so I was invited to join Luster! Insert sparkly heart emoji or heart eyes emoji!

Annelies: Hahaha! That compliment was given at the first Joe Speedboat show actually. Asking people to play in a band with me seemed an easy way to be around people you like more often, I guess :)

Julie: Although I was ashamed of being a flute player, Annelies did somehow find out about this. This lack of proudness appealed to her. It was a way to assure her that I would never be the "freewheeling saxophonist" of the band. Nine years ago she asked me to play some traditionals together at her place, not telling me that a house show was included in the package, otherwise I would have said no. But there was no way back.

Annelies: that is definitely true - I love "big bands" that still sound very sparse - like (probably my favorite band of all times) Movietone.

Jelle: when all of them were recording a version of the "Are you gonna leave me" traditional - which ended up on the 12" with Hellvete - Annelies asked me to provide a violin drone on the recording. I hadn't touched the instrument in ages and remember it being tough to make it drone gently, but that's how it started for me.
Your debut LP will be released on Morc Records pretty soon! What was it like creating the album?
Lobke: A very loooong proces. We enjoyed going on weekends to Julie's house in the Ardennes to record the album. But sometimes we walked more in the woods than making music. Not everything sounded well. Afterwards, we recorded at our rehearsal space, with a little help how to use the material from Hans from de portables. The naked unmixed songs sounded terrible according to me. Everybody wrote their comments (we, shy people, have difficulties commenting on each other). And Annelies did the final mixing. I was really surprised by what she made of it. It was suddenly so beautiful. I almost couldn't believe it was us.

Elisabeth: I didn't believe we were actually having a goal, like recording or playing live. I thought it was an excuse to escape our families and go to the Ardens together. Despite my endless babbling during rehearsals, we accidentally made a great album!

Annelies: I guess I was more goal-oriented. That album really just needed to happen :) We were close to finishing the record before the pandemic. Yet, I wouldn't blame the pandemic, really. I think we all share a certain slowness.

Julie: We could not escape our parenting as often as we hoped, especially with six people at the same time. Therefore we were obliged to implement the major Luster-weekends in the Ardennes to do some recording. The first 2 weekends we still had some ambition, the third time we didn't even bother to bring our instruments. We had a lot of fun, but poor results on the recording part. Our procrastination became a running joke. People were making bets about the release date. But during corona we took the bull by the horns, scheduled several recording moments in different formations and after some excellent mixing by Annelies and approval nodding bij Jelle en Lobke, we can almost proudly present our first born LP.

Jelle: I think the long process wasn't so bad at all, we added some "newer" songs to the LP making it a more balanced whole working towards our own sound, plus the climate is ripe these days to release this kind of record I think.
Do you have any fond Luster memories you'd like to share? The Ardennes residencies seemed like a blast ;)))
Lobke: We talk a lot about women sexual stuff, like how our vagina looks like after giving birth. I'm so sorry, Jelle! In the Ardennes we also asked each other which partner of ours we would prefer to switch with. I still don't trust the other Lusters who preferred my boyfriend. Jelle still didn't answer the question.
Julie: In the beginning we were not very close, but after we found out we have the same muse, tongues loosened. Luckily for us, Jelle is very discreet and can not be bribed. Besides sharing our deepest thoughts, we also enjoy playing board games. I think "dirty words mandatory scrabble" is our favorite.
Yumi : We played an Amnesty International fundraiser concert in Sint-Martens-Latem, which was hilarious. And even a better open stage performance at the Prinsenhof in Ghent. The crowd - which mainly consisted of our boyfriends and children - was amazing! The other part of the crowd didn't quite get our experimental approach to folk music ;-)


What other projects do you guys have lined up, personally or as a group?
Jelle: Personally nothing in the pipeline yet, but open to anything. :) With Luster, hoping to play some more shows when the record comes out, meeting new people.

Julie: Luster weekend part 4 without instruments ;)
Yumi : Petit Fays 2022 ?! ;-)
Jelle: European tour?! With or without instruments!
Annelies: Recording a second album, obviously :-), and playing the Labadoux festival in Ingelmunster! (Jelle and I are both from Ingelmunster, the place of the festival)
Luster play KRAAK Festival 2022 Saturday 12 March. SOME TICKETS STILL LEFT TO SEE THE NEW BELGIAN FOLKWAYS!!!