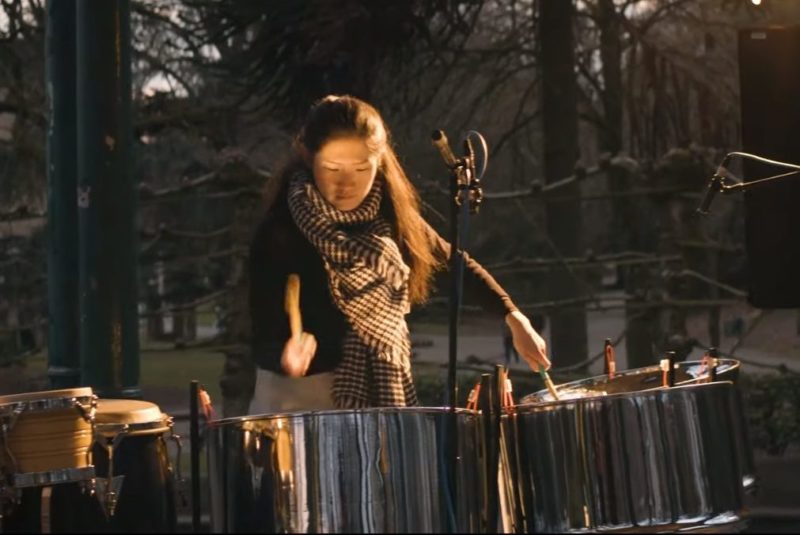 17.02.2023
KRAAK FEST 2023 HIGHLIGHTS: Aya Suzuki
No stranger to the KRAAK scene, Aya Suzuki is one of those rare talents whose virtuosity is palpable through the sparseness of her actions, as marimbas, vibraphones, pots and the ground itself present manifold opportunities for resonance and rumination. Here she opens the curtain into her sonic universe, unveiling dreams and approaches that we're all too happy to witness and be part of 🥲
You grew up in Japan and began playing music at a very young age. Can you tell us more about your background and how you ended up in Belgium?
I started my music education with the piano when I was four years old, and started playing percussion instruments in a brass band club when I was in junior high school. Then I began to study solo percussion, and inevitably came into contact with contemporary music from the two last centuries. After graduating from the conservatory in Tokyo, I started to feel like studying in Europe, and thanks to one of my teachers at that time I got to know about the Royal conservatory of Ghent. I was planning to go back to Japan after completing my master's course, but I decided to stay here thanks to the numerous opportunities to perform on the contemporary scene of Belgium, and later on, in other countries.
Currently, in addition to solo and chamber music concerts, I am invited to participate in theater projects. Now I want to explore fields that are new to me, such as writing theater and collaborating with dramaturgists and music composers. I also work on creating and building music installations to include audiences in the performances.
Your musical references are very diverse, going deep into the avant garde canon while also exploring more earthly repertoires. What kind of sound inspires you?
I like sounds that surprise or amaze me. Something that could leave me speechless, stunned or sparkling thoughts and creativity. For example, I really like the prepared vibraphone piece that I will be playing at this concert, because it develops sounds you would not expect or usually hear from a vibraphone. I think that the experience of "betraying expectations", such as hearing a familiar sound from an instrument you've never heard before, or hearing a beautiful sound when you hit something that wasn't originally an instrument, always gives me good inspiration.
I give a special importance to the sound of silence as well. It matters to me in the pieces that I create or play, not only as a connector between two "hearable" moments but as a full part of the music piece. Silence brings us a lot and has its power in music schemes. There are different types of silence, and I think that by feeling them and "performing" them in a concert, the music will become more lively.
How do you feel the musical scene you're in is different here than in Japan? And how has living in these two places has impacted you as an artist?
In the field of contemporary music and theater, I feel that there are more opportunities in Europe than Japan. The musicians here are doing various activities regardless of the kind of music, and I really like that diversity. Of course there are many types of performances and performers in Japan, but in my opinion the borders for each genre of music are relatively more clear,
It may still be rare to play without boundaries.
But that may have changed nowadays, I have been away from my country for a while.. !
While in Europe, the diversity and intrication of fields, the absence of strict boundaries is in the nature of fueling my creativity by opportunistically opening new doors.
We're really looking forward to releasing your album here on KRAAK next year :) can you tell folks a little bit about what you have planned for it?
I am planning to record some of my favorite songs that I've played many times, as well as newly composed songs (perhaps some improvisations too?)
I am preparing it with the intention of creating music that makes people feel relaxed, while wanting to develop more personal ideas for which I do not yet know the public's reaction. It is a lot of fun to think about the balance between those ideas. It has been a dream of mine for many years to make my own CD and LP, so I'm very grateful to KRAAK for inviting me to do it.
Aya Suzuki plays KRAAK Fest 2023 March 4 at Het Bos, Antwerp.