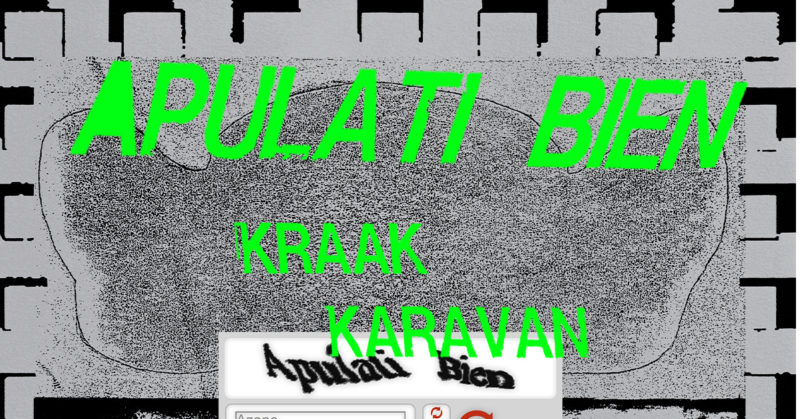 Wed. 23 March — Wed. 30 March 2022
Ausland Berlin

Doors at 00:00
APULATI BIEN & FIENDS // AZONE KRAAK KARAVAN TOUR
Apulati Bien (BE), Gaute Granli (NO), Horacio Pollard (DE), Marcia Bassett & Ursula Scherrer (US/CH)
A KRAAK Karavan hits the road with Apulati Bien and a rotating gang of allies!
Wed 23/03 Apulati Bien, Gaute Granli, KRAAK DJs, Edamami @ Acephale, Köln
Thur 24/03 - Apulati Bien, Marcia Bassett & Ursula Scherrer, Gaute Granli @ Neue Schachtel, Stuttgard
Fri 25/03 - Apulati Bien, Frère @ Dmtdr, Strasbourg
Sun 27/03 - KRAAK Records w/ Apulati Bien & Horacio Pollard @ arkaoda Berlin
Tues 29/03 - Apulati Bien @ Poortgebouw, Rotterdam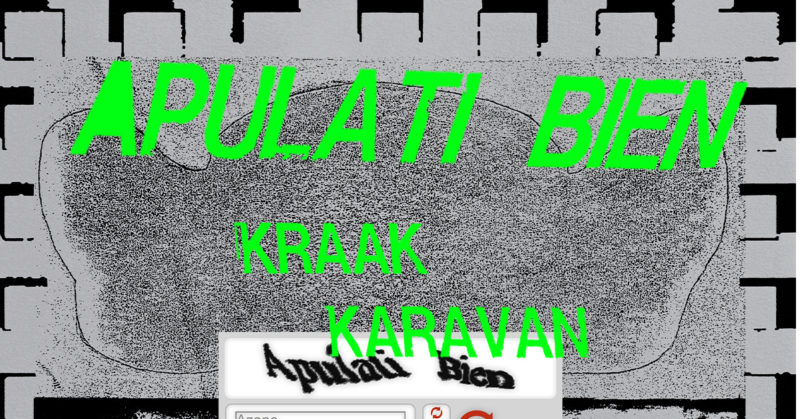 Apulati Bien
KRAAK and Paris-based underground dance magi Promesses are proud to present Apulati Bien's first vinyl release, Azone. Eleven apocalyptic braindance cuts make up this enigmatic album, where synthetic-insectoid soundscapes melt with raw ghetto beats for a result that is somewhere between mutant footwork, deconstructed dancehall and melancholic poetry.
Gaute Granli
Weirdo wunderking or conjuring charlatan? One-man choirs, unpredictable spatial swerves and always that guitar doing its weird thing ~ Gaute Granli's bag of tricks are as perplexing as they are unmistakably affecting. Uncanny magic that we've talked about before, and it just gets realer.
Horacio Pollard
Berlin dweller and unskilled resentful cuckoo, this sly lurker of the underground circles has been regurgitating noise offshoots since 2002, wielding a barrage of explosive sound artefacts for a head bangin'/mind blowin' daze. His Cordial Invite EP on KRAAK's digital label KRUT perplexed and mesmerized to the point of redefining the purpose of a wedding DJ for life.
Marcia Bassett & Ursula Scherrer
A rehash of this month's KRAAK Fest! Brooklyn's Marcia Bassett has been an influential, nay, integral part of the international underground for the past 20 years at least. Her dexterous and inventive use of everything from synthesizers to field recordings to guitar to her own handmade instruments results in droney sonic landscapes that broach planes beyond time itself. Alongside Swiss video artist Ursula Scherrer, new dimensions of experience collapse and unfold into the senses.