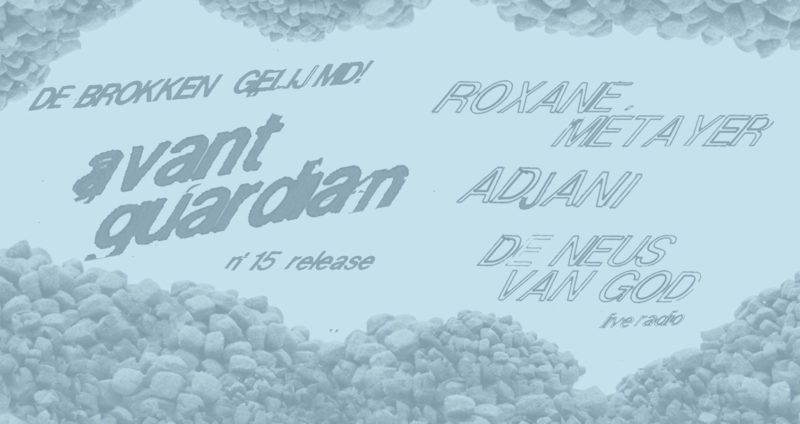 Thu. 12 December 2019
POK Brussels

Doors at 20:00
De brokken gelijmd! Avant Guardian 15 Release
Roxane Métayer, Adjani, De Neus Van God
Before lazing off into December's festive vacuum, let us congregate once more to celebrate a year's passing fog with the newest Avant-Guardian offering: a look back at 2019 through a paper jam, with musical environments provided by Adjani, Roxane Métayer, and De Neus Van God gang's pseudo-radiophonic tomfoolery.

Vooraleer we onszelf laven aan de kerststronk van het leven organiseren we graag nog een (voor)laatste bijeenkomst waarbij we een nieuwe editie van ons eeuwig denderend magazine 'The Avant Guardian' vieren, deze bundelt alle onze baldadigheden van het afgelopen jaar. Deze groteske féte wordt muzikaal verrijkt door Adjani, Roxane Métayer en De Neus Van God clowns.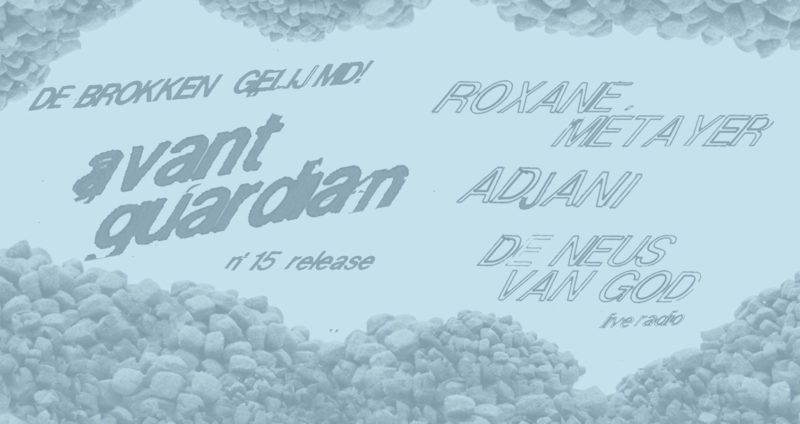 | | |
| --- | --- |
| 19:00 | Doors/De Neus Van God Live Radio |
| 20:00 | Adjani |
| 21:00 | Roxane Métayer |
Roxane Métayer
Zeep-beeldhouwster, video fantast en visionair in het eerder subtiele klankgeknutsel: Multidisciplinaire artieste Roxane Métayer brengt mijmerende dagdromen op viool die ons doen verdrinken in haar wazige imaginaire universum.

Soap sculptress, video dreamer, engraver of visions and pathfinder of subtle sounds: multidisciplinary artist Roxane Métayer brings a lulling mist of chimerical resonance. Breaking out this year as half of Sage Alyte, her solo musings on violin are delicate odes set in hazy imaginary worlds.
Adjani
Train tickets and magnetic stripe machines are Romain Scrap's (of Headwar, La Race, Lièvres & Serpents) main implements for his oddly entrancing sound sequences. Obsessive manipulation and drone-washed repetition: the figureheads of Adjani's alliterative domain.
Trein tickets en magnetische kaartlezers zijn Romain Scrap's (of Headwar, La Race, Lievres & Serpents) hoofdinstrumenten voor zijn weirde transendentale geluids sequenties. Obesessieve tape manupilatie en repetitieve drones, dé kenmerken van Adjani's stotterende universum.
De Neus Van God Live Radio
Een moment waarbij we deze ondertussen vaste waarde op de brusselse bruine fm put in de kijker zetten. We draaien muziek, hebben enkele onvoorziene gasten over de vloer en doen ons uiterste best om het einde van de avond te halen.

An experiment of sorts to honor this long-standing radiophonic identity. We'll be playing tunes, talking nonsense, and hopefully have something to show for it in the aftermath.