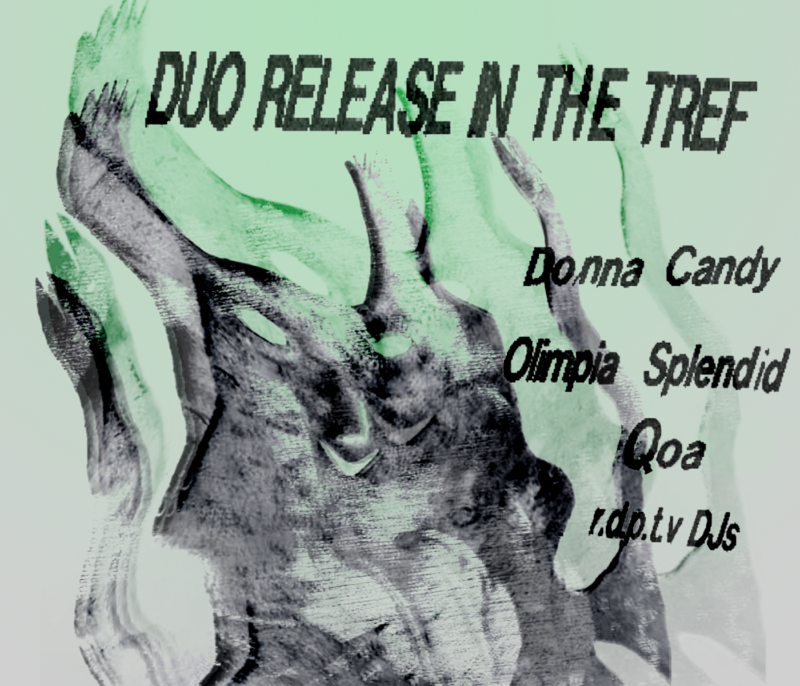 Sat. 27 May 2023
Trefpunt Ghent

Doors at 19:00
DUO RELEASE IN THE TREF
Donna Candy (FR), Olimpia Splendi (FI), r.d.p.t.v djs (BE)
| | |
| --- | --- |
| CHOOSE YR PRICE | 8 - 12 - 15 EUR |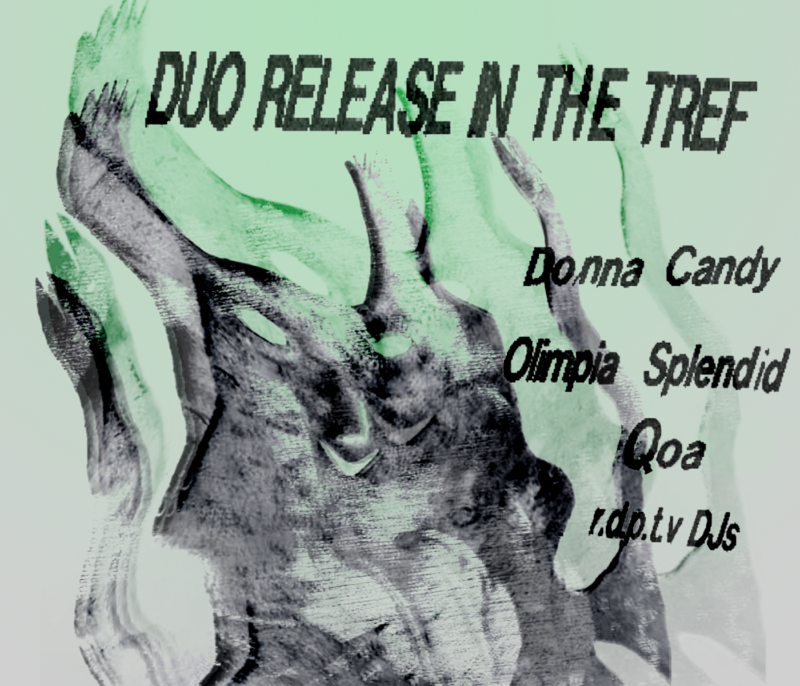 Sat. 27 May 2023

| | |
| --- | --- |
| 19:30 | DOORS |
| 20:00 | Qoa |
| 21:00 | Olimpia Splendid |
| 22:00 | Donna Candy |
| 23:00 | r.d.p.t.v |
Olimpia Splendid
Eight years after their first LP, Finnish stoner rock rulers Olimpia Splendid are back with a second album 2, co-released by Fonal and your truly ✨In this latest outing, interweaving guitars reach for a surf & total turf aesthetic alongside entrancing, mildly funky bass licks over which raspy utterances cast their undisclosed spell. In the words of filmmaker and primo OS stan Ben Russell, "This is Olimpia Splendid and this sound is solstice air, sharp wire on moss-dampened drumbeat, wood fire throwing shadows on all the warehouse walls. It is a whisper from the back of the throat, a chorus in the fog, a growl feeding back in triplicate." Surrender thyself to the barbed noise chorus of these dryads, and never look down.
Qoa
No longer astrally projecting from the Argentinian homebase::: we're stoked to have KRUTee Qoa unexpectedly tacked on to this luminous bill. Nina Corti's symbiot through which readings of flora, fauna and fable are relayed through swirling layers of earthly textures and alien melodies. A deep player of resonances in time, Qoa's sound explorations are vibrant microclimates that tie into the elemental ineffable, all equally joyous and entrancing. A rare apparition in Belgium not to be missed!!
r.d.p.t.v
Robbe de Peestel & Tobin Verdonck do the closing ceremonies with their assortment of found sounds that range from the gloomy to the doomy to the moody. Though the bedroom vibes stay strong, the melancholia never gets in the way of the legit ragers that'll get ya swaying and jiving till the clock ticks goodnight.