Sat. 21 September 2013
doors: 16:00
ticket: vvk
€

8 adk
€

11

Het broeit Down Under. Via microlabels als Negative Guestlist, Black Petal en Albert's Basement krijgt de Australische underground een nieuwe boost en dat zullen we geweten hebben. Bands als Drunk Elk, Blank Realm, Kitchen's Floor en recenter Satanic Rockers herintroduceren gretig melodie en liedjeskunst als de vergeten jouissance van de doe-het-zelf-cultuur. Maar ook de abstractere regionen van het sonische landschap worden druk bevolkt. Zo gaan multidisciplinaire kunstenaars even bevlogen aan de slag met beeldend werk als met modulaire synths en bij voorkeur met beide tegelijk. Voor het Australian Open-minifestival halen KRAAK en kunstencentrum BELGIE nu voor het eerst een deeltje van deze nieuwe lichting outrockers, - poppers en experimentalisten naar Europa.

De bevriende bands Sky Needle en Mad Nanna vertegenwoordigen twee kanten van het spectrum: de conceptuele jamband en de intuïtieve lofipop. De soloprojecten van Joel Stern en Michael Donnelly illustreren dan weer hoe de som van alle individuele creatie leidt tot een überproductief radarwerk van nieuwe muziek. De supportbands Maan en Sweat Tongue uit de lage landen vertegenwoordigen elk op hun eigenzinnige manier werk dat sterk in het verlengde ligt van het Australische geluid, maar zich er compleet los van ontwikkelde. Aanvullend stelt Joel Stern ook een filmprogramma samen waarin hedendaagse Australische avant-garde-kunstenaars worden gepresenteerd die sterk gerelateerd zijn tot de muzikale beweging.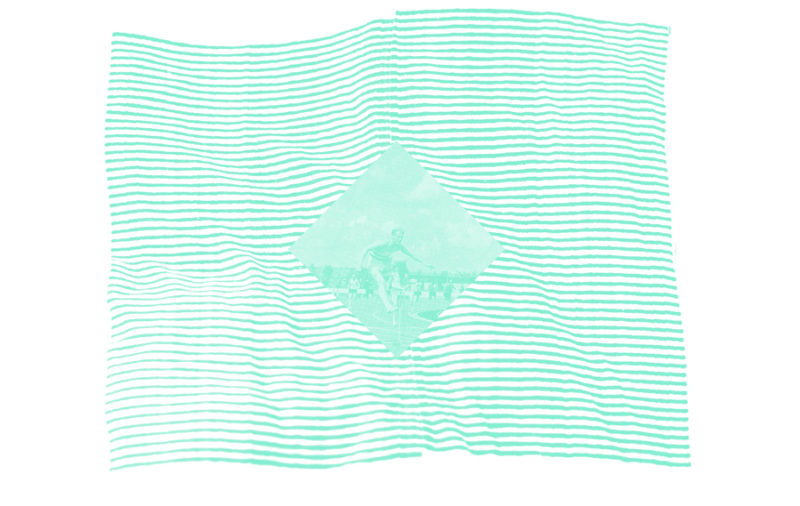 Sky Needle
Sky Needle is een band die zich verspreidt over Brisbane, Melbourne en Kyogle, Australië. Hun wortels liggen aan de voet van de 'sky needle' in Brisbane, een extravagante architecturale fallus gebouwd voor wereldexpo in 1988. De groep is een ode aan het gebouw die enkel vertolkt kan worden met zelfgemaakte instrumenten. Sky Needles eerste plaat, de door hen zelf uitgebrachte 'Time Hammer' was tevens hun allereerste jam. Alex Cuffe speelde op een houten speaker besnaard met basgitaarsnaren, Joel Stern speelde voetpomp-latexhoorn-orgel en Ross Manning ontfermde zich over de elastieken stofblik. De eerste ontmoeting ontaarde in een zich uitbreidend collectief dat primitief, hypnotisch en gedementeerd funky klinkt. Sarah Byrne gooide haar longen in de strijd, en in 2012 vervoegde ook beeldend kunstenaar Michael Donnelly , Glen Schenau en Daniel Jenatsch de groep. Met releases op Albert's Basement en Negative Guestlist bouwt Sky Needle langzaam aan een internationale status van cultband. Nu voor het eerst in Europa!
Mad Nanna
Mad Nanna is een nieuw 'no-technique downer rock combo' uit Melbourne dat overal ten lande kelders in brand steekt met hun primitieve post-Scrotum Poles / post-Shaggs-muziek. Hun nummers zijn geen stream-of-consciousness. Dat zou te veel baggage impliceren. Het enige wat enigszins naar bewustzijn verwijst is het feit dat de muziek beweegt, ondanks de stroperige, narcoleptische tred. 
Joel Stern
Joel Stern  is geluidskunstenaar, curator en algemeen avant-gardist. Samen met Sally Golding in Londen en Danni Zuvela in Brisbane runt hij OtherFilm. Als solomuzikant en improvisator maakt hij sinds de vroege jaren 2000 deel uit van een bloeiende Australische scène. In 2008 releasete hij het prachtige 'objecten.masks.props' op het Naturestriplabel. Dezer dagen bestaan zijn solosets vooral uit synth- en lichtexperimenten. Stern is tijdens Australian Open ook gastcurator van een uitdagend filmprogramma dat ons verder laat kennismaken met hedendaagse Australische beelden kunstenaars gelinkt aan deze frisse muzikale beweging.
Unwar
Unwar is het vrij recente pseudoniem van Michael Donnelly die u kunt kennen van 6majik9 of van zijn bijdrages aan Brothers of the Occult Sisterhood. Unwar zorgt voor strikte synthpsychose en elektro-sonische mescaline. Labels als futuristisch of retrofuturistisch worden vermeden. Zonder te vervallen in een voor de hand liggend aards en sentimenteel klankenpallet laat Unwar u kennismaken met een verrassende meditatieve synthexcursie.
Sweat Tongue
Sweat Tongue zijn Rotterdams nieuwste no waviaanse atonalen en improv popperverten. Mr. Klein, ms. R.E. en Ms. Blue Ballls deelden een gezamelijk verlangen naar zuiver puin en abrupte perversie. Post-poopimprovrockband lezen we op het wereldwijde web. Het bekt in ieder geval veelbelovend.
Maan
Maan is een necromantisch duo uit de buurt van Ronse. Ze zijn zowel schatplichtig aan de literaire scène na Van Ostaijen als aan de erfenis van bands als The Firing-Squad, Club Moral en aanverwanten. Maan debuteerde voornamelijk in kunstgalerijen. Dat ze met de Kraak-lp Manifold onder de arm nu ook langzaam de vochtige kelders van de underground, stinkende kraakpanden en echte podia beginnen frequenteren, leidt enkel tot meer productieve schizofrenie.

​Abstract Australiana
De Da de Dum (19 min. 1968 Australia by Garry Shead; Music by Pip Proud) Incredible time-capsule portrait of the Australian outsider folk hero Pip Proud who was lauded in the late 60's as our answer to Bob Dylan releasing stunningly strange records and penning poetry in Sydney, before mysteriously dropping off the map. Proud briefly reappeared in the last years of his life, after being tracked down in total obscurity by the NZ musician Alastair Gailbraith who was instrumental in reviving interest in the Australian legend. 

Bondi (15 min. 1979, Australia by Paul Winkler) Composite images of Sydney's iconic beach 'playground' by renowned film structuralist Winkler, using in-camera matting techniques, dividing the frame horizontally into multiple sections. Amos Vogel described this manipulation of pictorial space as 'reminiscent of Max Ernst's surrealist collages'.
Thread Of Voice (18 min. 1993, Australia by Arf Arf) Forming in the early 80's following an encounter with British concrete poetry pioneer Bob Cobbing, the Melbourne collective Arf Arf conflate a raw, punk ethos of demystification and 'non-slickness' (Lovece's other band is 'Primitive Calculators) into serious avant-garde tactics of mystification high form. Arf Arf's sound is more garbled vocalisation of adult disorientation and their 1993's film poem 'Thread of Voice', as Adrian Martin writes 'uses their sound work to transform the medium and language of film – and vice versa'.