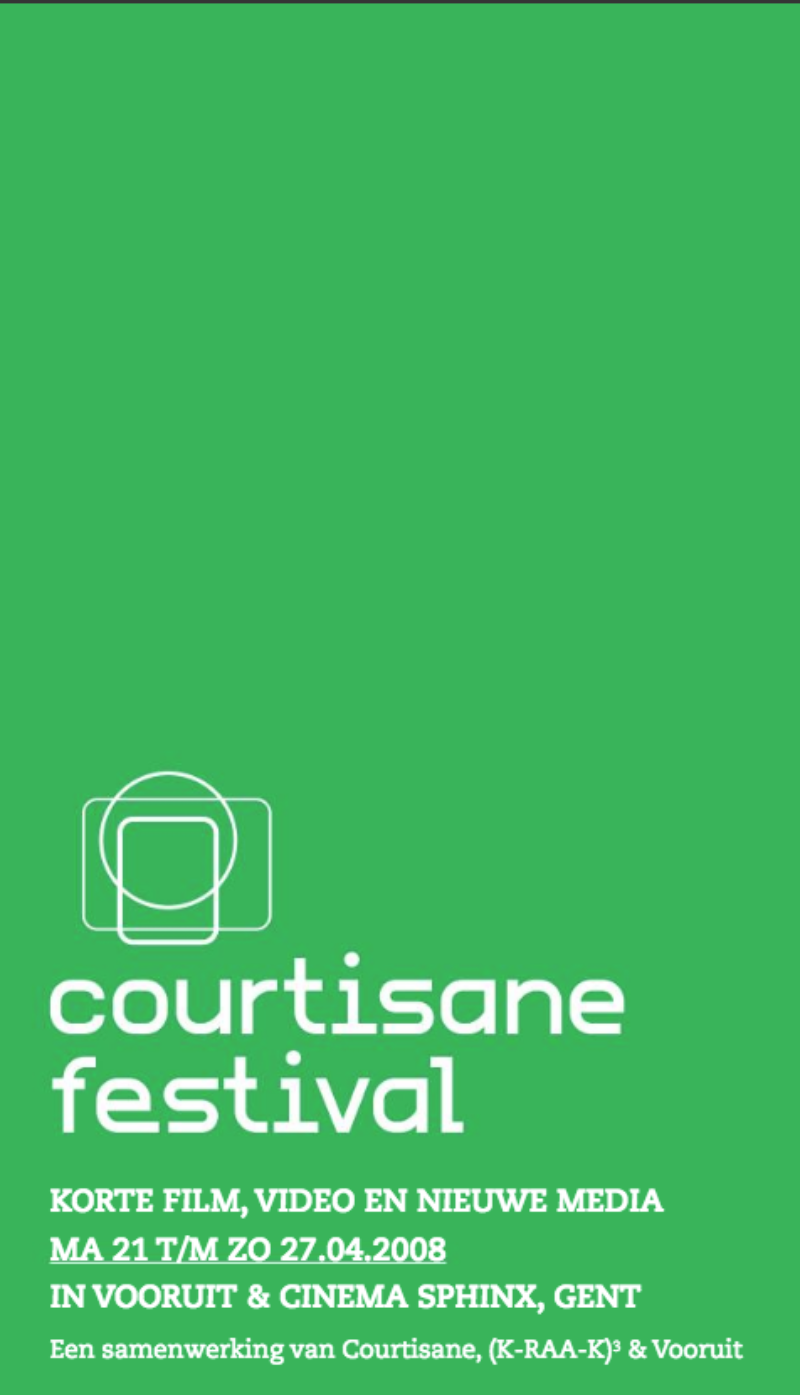 Mon. 21 April — Fri. 25 April 2008
Vooruit Ghent

Doors at 22:30
Courtisane Festival
Ben Rivers (UK), Luke Fowler (UK), Manon de Boer (BE), Neil Beloufa (FR), Sofie Benoot (BE), Yoon Sung-a (KR), Kanta Horio (JP), Makino Takahashi (JP), Bruce McClure (US), Michael Northam (US) + films + ...
Courtisane presents thematic compilations of fiction, documentaries and experimental work . Featuring new work by renowned visual artists and film directors (Manon de Boer, Luke Fowler and Thomas Köner) and promising young artists (Neil Beloufa, Sofie Benoot and Yoon Sung-A). You'll see versatile artists exploring the limits and reinventing existing genres. The festival focuses on enthusiastic storytellers who have developed their own visual imagery. Get ready for some truly refreshing artists!
At this edition of Courtisane, British film director Ben Rivers is placed centrally. Rivers is the co-founder of the Brighton Cinematheque and has been making movies since 1999. His recent works are mysterious impressionist films in which loners, abandoned places and memory play the leading roles. For Courtisane, Ben Rivers will present his own work while also introducing you to his favourite artists.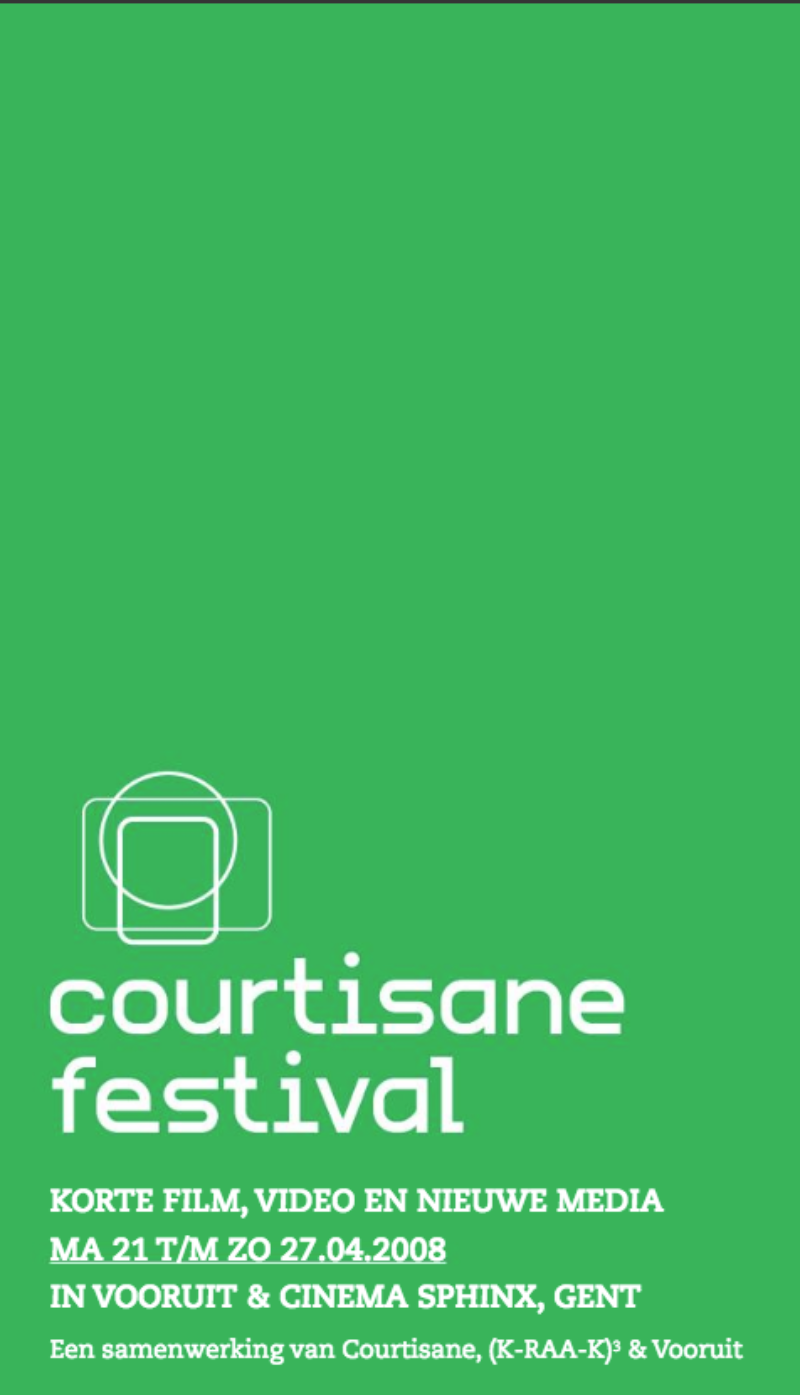 Thu. 23 April 2009

Vooruit
| | |
| --- | --- |
| 20:30 | Films by Martha Colburn, Phil Mulloy, Emile Kohl, Nel Aerts, Stephan Semeels |
| 22:00 | Kanta Horio |
Thu. 24 April 2008

Vooruit
| | |
| --- | --- |
| 20:30 | Makino Takahashi |
| 21:30 | Bruce McClure |
Fri. 25 April 2008

Vooruit
| | |
| --- | --- |
| 20:30 | Film by Philip Scheffner |
| 21:00 | Hotel Diaries films by John Smith |
| 21:30 | Michael Northam |
An Evening on ... Stick Figures
During An evening on… Stick Figures, Kanta Horio sets the tone. A magnet, a webcam, a lamp and tiny metal bars are all Kanta Horio needs to stage purea thrilling chase in true slapstickcomedy style. His act is simple yet magical, and that goes for all artists during this evening concentrating on basic animation forms.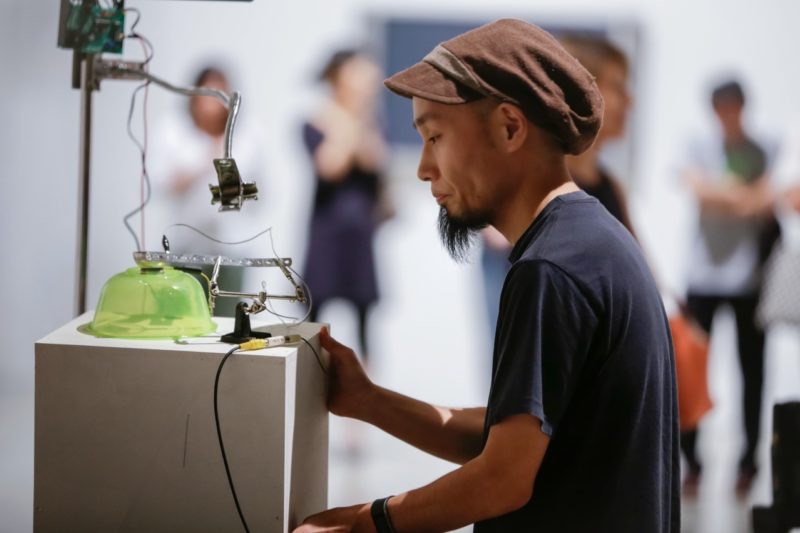 An Evening on ... The In-Between
Bruce McClure is a filmmaker and the main guest of the second theme evening. He crosses 4 whirring 16mm projectors, turns buttons, pulls levers, fits lenses, but above all, creates images that are hard to register: dancing moiré patterns, blossoming shapes on screen and conical explosions in space. An evening on… The In-In-Between focuses on light and form and how nothing is the way it seems.
An Evening on ... Storytelling
In 'An evening on… Storytelling', storytellers and chroniclers of time will talk about our perception of reality, our individual and our collective conscience. John Smith's Hotel Diaries is a series of films that connect personal experiences with important global events. Sound artist Michael Northam draws the big picture with field recordings collected on his trips across the globe.