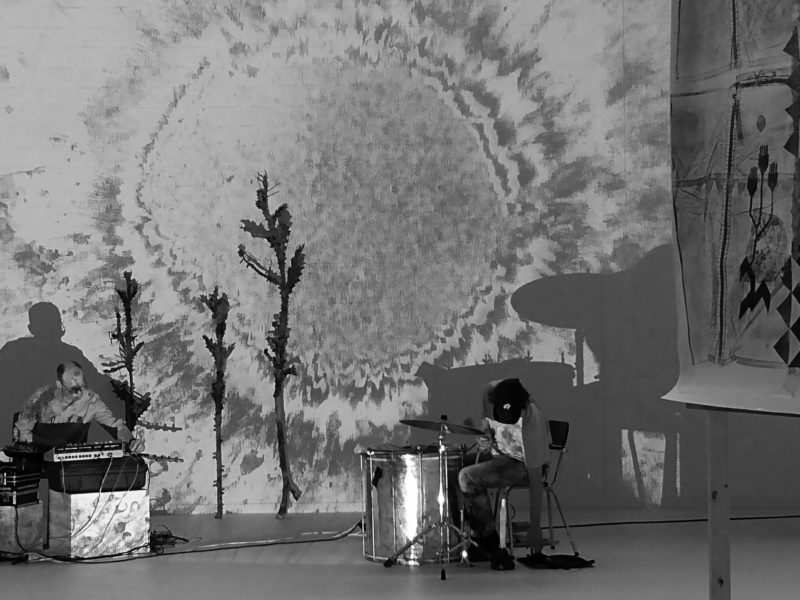 17.09.2021
KRAAK FEST 2021 HIGHLIGHTS: EC Band
As the fermenting grounds for freshly-baked and potentially heart stirring projects, KRAAK fest is always game for taking those changes, espcially when it's from one from our favorite KRAMP and New York multi-instrumentalist Luke Calzonetti. As EC Band, they take us to woozy territories through dark guitar meanderings. Dusky Friday night music comin' your way.
A fresh collaboration between New Yorker Luke Calzonetti (Run Dust, Sugarstick & Xerox) and Limburgian Stijn Wybouw (KRAMP, Geen Bloemen Meer Voor Jou) of transcendental improv overtones. Undulating layers of synth lashings, cymbal echoes, and some laid-back guitar action mesh in a spaced out trip in the physical and astral plane. Sick twilight tripping indeed ~ finely crafted visuals by Caroline Coolen and a first full-on LP will or has come your way via the great Meakusmean avenue.
IN VOLLE GLORIE performance w/ Caroline Coolen at Whitehouse Gallery Lovenjoel
EC Band KRAAK Festival 2021 Friday October 1.
Tickets this way!