Guitarist Raphael Rogiński and singer Genowefa Lenarcik recorded music in a forest near the Lithuanian border in order to evoke the wilderness and mystery of the wild forest. They dubbed their collaboration Żywizna. Warsaw based Raphael Rogiński talks about this project and his approach towards music in general.
Nobody wants to be primitive in Eastern Europe
Rogiński is a guitarist, composer and researcher of musical folklore. Being a cultural omnivore, he is tapping into different musical traditions. He is educated in jazz and classical music and is deeply connected to Jewish culture. He conducts research on its forgotten traditions, translating their meaning to the language of the present. How to describe his musical approach?
"This is kind of complicated because we still don't have names for what happens now around the world with music. Sometimes peoples use word "folk" and add "new", but the tag "folk" allows many different ways for interpretation. Primitive folk and primitive guitar make nice descriptions, but are at the same time weird tags because in the USA they have a different meaning than in Eastern Europe. Nobody want to be primitive over here! That word has a bad meaning here. We need some new names."
New languages for new creatures
"In Eastern Europe everything changed after the Second World War. I grew up in an environment which was mainly composed out of minorities. During communist times officially everyone was looking in the same direction. My family has roots in cultures that were once important, but what remains are ruins like the ones you find in ancient Greece.
Looking back, we come from the Black Lodge, from dreams that sometimes resemble nightmares. But here we are and what can we do? We can keep the eternal flame alive. Most musicians start to be musicians because they are dealing with some kind of trauma. So I give a voice to the ghosts, but always while looking at the future. Some musical genres got lost and forgotten. My music is doing justice to forgotten ancient traditions. I see myself as a musical medium.
The music I make is fit for these times. Fascism, orthodoxy and stupidity are returning. In my opinion, artists are obligated to survive and be useful for people who want to be a part of nature, for people that are wise and sensitive. No more audiences and stages. It's time to sit around the campfire and share our wisdom with people.
My music expresses a belief in human sanctuary that is connected to nature. These issues need a soundtrack and I believe I create that. In my guitar playing you might recognize some traditions, but that wasn't the plan. Music is just music. I love to talk about old traditions, I like learning about roots. But as an artist I believe in the future. My music is like leaves on old baobab tree or a birch tree in a pagan sanctuary.
Some time ago I had a conversation with Daniel Higgs. Humans replaced animals as an audience. We need to reestablish contact with them. This is not fucking new age, this is humanity standing on the cliff. We must listen to what is around us, this fragile voice which was heard in the past. My work connects knowledge with some kind of tradition and translates it into new languages for new creatures. I'm very strict and I am hungry for knowledge, always and in every situation. Somehow I do not have mercy for myself, but I believe that as a human being I must be useful, I can't lead an empty life. I have a mission. I have a lot of ideas and I hope to have a chance to show them to the world."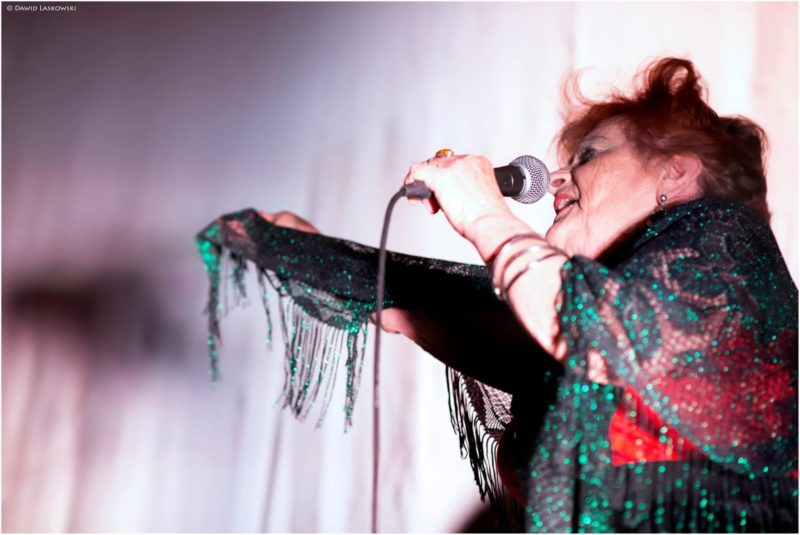 A dangerous place full of ancient romances
Żywizna means "nature" in Kurpi.
"Initially the Kurpi culture grew during feudalism which was extremely strong in Poland until the First World War and even later. This region contains poor soil and was completely hidden in the forest. Many people escaped the place to flee from oppression.
The roots of Kurpi music are extremely ancient. The melodies are very old. The musicians had contact with the church, but paganism was also very strong. The church had hardly any influence on the music and lyrics. The songs deal with romances, mostly related to unhappy love and are very brutal sometimes. This connects to my musical universe: an expression of freedom and a soundtrack to a new situation while connecting to the roots. I never thought that I could use nature as a part of a partiture, but it happened automatically.
The Kurpi music tradition comes from the forest. This means people sang to the forest edge which served as an echo generator. When Genowefa Lenarcik sings, you can hear special ornaments that are meant to make that echo more powerful. Genowefa is one of the last ones who sings like that. She is 80 years of age, but her voice is still extremely strong. Four years ago Genowefa was discovered by accident. She was invited by some folk festival and I happened to be there too. Genowefa is the daughter of Stanisław Brzozowy, who is the most recorded Polish singer during the 20th century and who died in the 80s. He was a singer, hunter and a storyteller, like a medicine man. Everybody thought that he took his tradition to the grave."
Żywizna's music has been described as forest singing meets with the sound of the electric guitar, bringing associations with the blues from the Mississippi Delta. "As a duo we blend nicely. Genowefa never complained that the guitar is to loud. Initially I thought about recording in the studio but I exchanged that for the forest. We went close to the Lithuanian border, where the forest is deep and wild. At the end of the day, animals came to the microphones. You can hear them sometimes, especially when I play solo. We used a lot of microphones, which we installed nearby and at a 30 meter distance. Some of them were not even visible during the recordings. At first listen, the sound is kind of dirty, but when you switch off the light and put headphones on, you can visit this dangerous place full of ancient romances that taste like unknown fruit.