There's a new kid on the electronic drone/minimalism/ambient block: please welcome Bruges-based Jachym Vandenabeele, a.k.a Aponogeton. He released his debut LP 'A Place of Solace' on the prolific Stroom label in March, and it easily stands out in the recent stream of electronic releases. Playing a live show on May 4th at De Koer together with Ahmedou Ahmed Lowla and Aymeric De Tapol, we skyped and discussed the album's origins, themes, and Tarkovsky's Stalker as an inspiration. Photo credits: Stephan Vercaemer.
Dries Robbe
So, where do you suddenly come out from, releasing this gem of a record?
Jachym Vandenabeele
Actually I've been making music since 2011. I tried some different styles and genres, until I wanted to make something totally different in 2014. That is also when I started exchanging music with Ziggy, Stroom's label head. Things started moving when I self-released a tape in 2016 and after talking with Ziggy about my plans for a new album over the course of next year or so, we decided to make it a Stroom release.
DR
Are you a complete autodidact? Sorting things out alone in your bedroom?

JV
Yes. I don't have a real musical background, apart from some guitar lessons when I was pretty young. When I was in my late teens, I started discovering electronic music and learned to dj and produce a bit. I still feel pretty ignorant about a lot of technical and theoretical stuff, but that experience counts for something, I guess.
DR
So this is your very first release after all those years?
JV
This is my first ever vinyl release. I released a digital EP in 2017, and in 2016 there was the tape, co-released by Wool-E Tapes. Before that, I made more 'danceable' music with drums and beats. I started out being influenced by dubstep and bass music from the UK. There are no releases from that time, or ones I would consider part of my discography, but most of it can still be found if you know where to look.
DR
What did the creative process of the album look like? What instruments did you use?
JV
The album was 99% made within my computer, some acoustic samples and field recordings on the side. After making a lot of cosmic-sounding music, I wanted to make electronic music that doesn't sound electronic at all – or ambiguous at least – still using mostly software synths.
DR
How is that translated live?
JV
That's something I always struggle with, since I don't have much background as an instrumentalist. For now, I'm triggering and mixing audio clips, adding live effects and playing a MIDI keyboard. It's not the ideal way to perform my music live, but for now I don't see a better way without also adopting a completely different approach to writing and recording music.
DR
I read the 'digital liner notes' on your Bandcamp, referring to Tarkovsky's Stalker as an inspiration. How did it inspire you?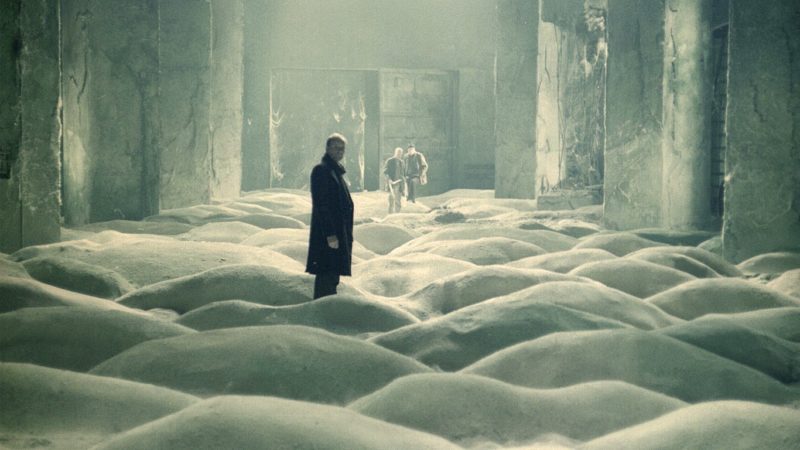 JV
It was the starting point for this album; I wanted to make something inspired by Stalker. I considered an alternative soundtrack, or a concept album, but in the end I also wanted the album to stand on its own, so it ended up being just a major inspirational source. The aesthetics of the album are very much defined by the movie, as are the references in its titles. Regarding those aesthetics, both the visuals aspects, as well as the soundtrack by Eduard Artemiev influenced the album.
DR
How do you translate these visual influences to your music?
JV
The obvious way would be to check if the music suits the images, following the idea of an alternative soundtrack, but I approached it in a mostly intuitive and emotional way. Still, it was also largely conceptual. The themes of Stalker informed both the aesthetics and the meaning of the album, such as the contrast between – or rather the coexistence of – West and East. Other themes like life and its meaning, what motivates us in life, our desires and what we would do to fulfil them or to find meaning of life, were during my philosophy studies also key themes for me, and they can also be found in the narrative of the album.
DR
Conversations play a key role in Stalker, while your music is instrumental, without any words. How did you transpose this?
JV
I did this partly in the titles of the songs, where you can express things conceptually, but I also don't think one should feel as if the album's meaning would only be valid if it were expressed conceptually. I prefer to just give hints to what it means to me. The above-mentioned themes, such as what motivates us in life, also have a very strong emotional dimension. Emotions like desire, hope, despair, dread or wonder are fundamental and define how we act in life in general. Emotionality in music is the link here to me; in an intuitive way, I tried to make music in which you can relate to these emotions.
DR
The end of your record has a relative hopeful, soothing tone. Why did you choose ending it that way?
JV
It was a very conscious choice placing the songs in that order. More of a personal message based on my own philosophy, because it is in contrast with Stalker's final message. Life is difficult, it is difficult to understand our place and motivation in life and what gives meaning to our lives, but you always have to hold onto some hope and wonder, and then all is good. To me, music can give you this. It can keep on amazing you and if it can let you feel this, then it is something you want to keep on living for.