is the moniker of Baptiste Outreglot, which is a youngster who is part of the infamous Outreglot collective. He creates a warped out designer-drugged world with fragments of neo-juke, splatter beats and arrythmic sampling. Apulati Bien pushes the electronic realms of equally RP Boo and Hiele further into an radical terrain that is visceral, brutal and danceable. Post-Millennial madness from the true hearted international basement scene. 7 questions for him, so that you would know more of his thoughts behind the music.
Niels Latomme
Tell me about Outreglot? What is it, a collective, a concert venue or festival?
Baptiste Outreglot
Outreglot is an artist collective which I'm part of. The first concert was dubbed like this and we kept it. The name stands for the part above the glottis, which contains vocal cord. We organize events, concerts and expositions with the idea of mixing the parameters of each format in one space, created in a collective context for a collective purpose. Our main project was the organisation of the Missing Numero festival on the summer of 2016. We tried to bring new listening contexts for a wide palette of programmation; there was one month with collective workshops in which sculptures were imagined and created. They ended up being live and listening structures. We also make paper stuff with the Nuevos Boloss zine, that I greatly recommend you.
NL
What does apulati bien refer to?
BO
It's password that means "I'm not a robot".
It is a captchaz extracted from a long list I collected while downloading music. The list contained random generated words made with distorted book scans to prove to the machine that you are human.
NL
Your music is hard to define, at one hand it reminds me of 90ties, early 2000 Intelligent Dance Music not so far from Autechre; but also it reminds me of Chicago Juke, Trap Music; but then again it has the some grittyness and looseness of late 2000's noise and experimental music. I know these are just labels, but does your music reveals your influences?
BO
Yep, I think you just point out right labels. My teenage influences were bad metal music and french rap, and my first experiences with playing was collective noise improvisations. Then I bought a sampler to realize that any influences could fit in one box.
I made a little thesis about memphis rap scene that had some proto-trap aspects, so I listened to that a lot and I just got fascinated with sub bass; Trap is great for that, it drove rap to a more malleable state. When I discovered juke and footwork I was just amazed, I finally heard something really new about rhythm in electronic dance music. Like a new proposition of rhythmic pattern to dance to. Which was a nice feeling.
I have these kind of period of attention toward a particular genre, these days I'm into 90's ambient, just after I got out of a sad g-funk period. And both are probably gonna influence. I'll just let it sink.
NL
What kind of gear do you use? Analogue, digital?
BO
For concerts I only use hardware, a MPC as my main sequencer, some effects and little synths. At home I'm using both computer and hardware. What tend to be mainly computer based productions, stay in the diffusion field; the pieces composed on hardware are made for playing live. So there is some differences between what you can listen online and what you can hear during concerts, the live tracks are in constant mutation. I tried to use computer live a couple of times but the device is eating half of my energy, for concerts I now stuck with the mono-task gears.
NL
Are you a sampler, or do you synthesize your sounds?
BO
I'm a dirty sampler who's progressively diving into synthesis. I really began sampling with a sp404, sampling youtube sources, tapes and phone recordings. For example, now I'm currently both sampling Bernard Pamegiani's pieces and a selection of netflix's box office movie selection, and I actually realize that we can find common aspects between the two. Parmegiani created a kind of sound design's alphabet (the Capture éphémère piece), like a good version of Transformer. It's more organic, there are no images and it's without the human emotions. You can see it as pure transformations and robot fight scenes.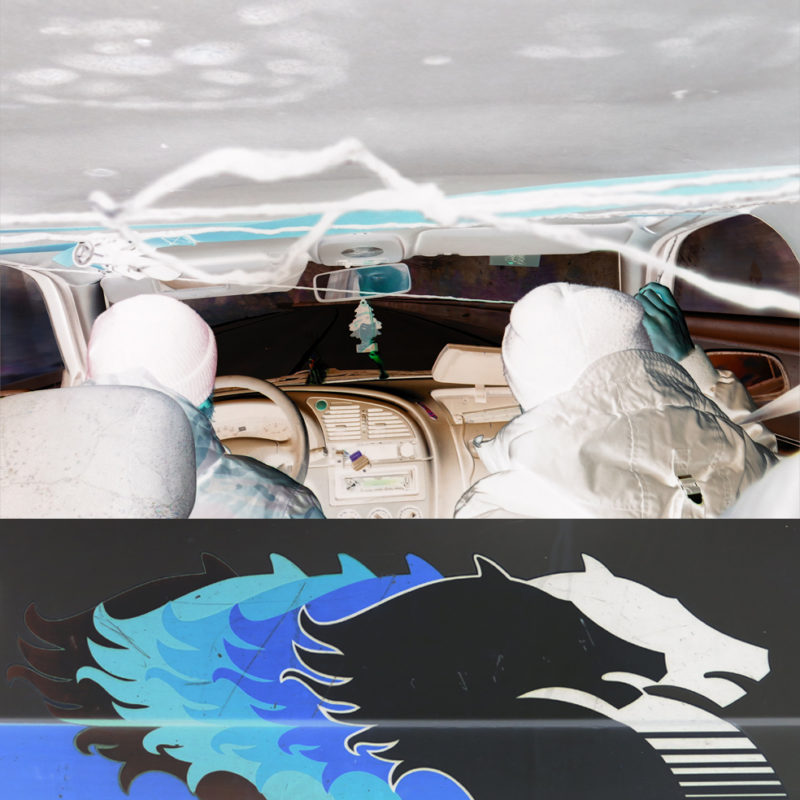 NL
I like the collaborations with mc's on your most recent tape. Have you done this live yet?
BO
I never did it live , but it's really something I want to do. I'm currently working on something with only collaborations with mc's or singer, real ones and fictional ones.
NL
What can we expect from you concert in Brussels?
BO
A pretty fair dosis of distorded sub basses. New samples, more synthesis, maybe more melodies and a special haircut. Sweat, I hope.
NL
Do you have an opinion about postinternet and postmillennials?
BO
I think that the postinternet movement was created by the millennials and then the postmillenials are gonna slowly destroy that. They probably destroy planet earth too. Maybe with memes, making the data quantity increase too quickly according to the server's capacities, the failed 2000 year's bug will finally happen when postmillenials will get in their thirties and we will enter a new era of electronic tribal and ultra fast music. This is the worst case scenario, except the ending, but all this post notions make me think about cheap anticipation scripts. Besides, I think postinternet is just a word to define how people use a wide variety of influences and material to create hybrid stuff. A lot of people do it, and it's a pretty natural way of working considering the tool that we can easily have in hands. I checked and numbers say that I'm part of the millenial crew, so about the postmillenials I just wish them good luck.
NL
We'll pass that on to them, thanks a lot and looking forward to see your show!