Antwerp mid-January. I run into Orphan Fairytale (Eva Van Deuren) on the street as she opens the door to the house she moved into recently. A black and white cat with a little bell comes to greet us, purring and tinkling all the way up the stairs. I like it here. We make some herbal tea with honey and lemon and have a cozy chat at the kitchen table.
amber meulenijzer
Eva, the last time we saw each other I was disguised as a bush and you almost scalped your head with a mini fan while enchant­ing the audience with your harp sounds. In the meantime, the sea­sons have changed and we are here.
eva van deuren
Yeah, not a very good idea to untie my hair during a concert, haha. I've been living here since September. I've always lived in the city, but at a certain moment I was looking for some more peace, quiet and privacy. I was tired of the buzz of the city. Since there were always people around, I couldn't really take a break. I tried living in the countryside for a little while, but I found out that it was really not my cup of tea: it was too remote, like being in orbit in some far away place. I missed the city. It really feels like I lived in a different world for a while, and I'm very happy I moved back here.
am
Yes, it's a weird kind of balance, trying to combine a need for silence or calm and still needing the energy of the city. Does the city also influence your music?
evd
Yes it does. Being able to just go somewhere when you feel like it or easily maintaining your social network is quite important for me. Also the energy and dynamic of the city just gives you more input. Out in the countryside I really lived another kind of life. I'm glad I tried it, but it was not me.
am
But silence is also an important part of music or sound.
evd
I think silence is a bigger part of my work now than it used to be. I mean, the harp is also calmer than what I used to do. But I sometimes deliberately listen to nothing, just to wait and see what stirs inside me without being influenced by other things. I have been having some quite realistic dreams lately. Some nights ago I dreamt that I had to play somewhere and I didn't play any of the stuff I had prepared. I completely blacked out and played a lot of really old stuff – I didn't really know what to do. It was very weird waking up.
am
Are dreams important to you?
evd
Yeah, I do think about that. Sometimes I write them down or I keep a dream diary, but I never do it diligently or anything. Also, around the full moon you always have some stronger dreams. Recently I dreamed that I was flying. It had been a long time since I'd dreamed that, and I was glad those kind of dreams are back. Which reminds me: recently I played for a group of toddlers for the first time, and it was really nice. I had never done that before so I was a bit scared: I wasn't sure if they would like it, or if the sound would be enough to keep them busy. But I was wearing a long pink princess dress and the kids were all enchanted. It didn't take them much to enter this kind of world and it was really nice. After the concert it was like I was walking on clouds, the atmosphere was so soft. It made me think of trying more stuff with musical theatre or performance. In De Studio I once played in a giant decor by Gerard Leysen with mushrooms and a lot of fog. It's nice to be able to create this kind of magical environment.
am
Is it important for you to determine the setting you play in? To really draw the audience into your world?
evd
Of course, have you seen my room? It's full of mushrooms and unicorns, haha. I always have a tendency to decorate things, which automatically creates a very fairy tale-like mood.
am
All of a sudden it also gets a kind of ritualistic meaning.
evd
Yes, totally, I like it a lot when that happens.
am
Is sensuality important to you too? Something you like to play with while performing?
evd
Yeah, I like to use smells and spices live as well. A little rosemary and laven­der, those kinds of stimulating things.
am
Yes, that does a lot, also because visually there is a lot happening. It really becomes a very sensual bath.
evd
For the record sleeve of Comets Come Alive I was wearing a cobra suit. We did a polaroid photo shoot at Baraque Michel with Michèle Matyn. I remember thinking how crazy it would be to see a bear while I was standing in the forest. I had a big hangover too, it was a very funny experience. But that was also quite a special atmosphere we created. In the development process polaroids are influenced by body heat, and Michèle put them in her clothes on different places on her body to get different colors. It's very cool.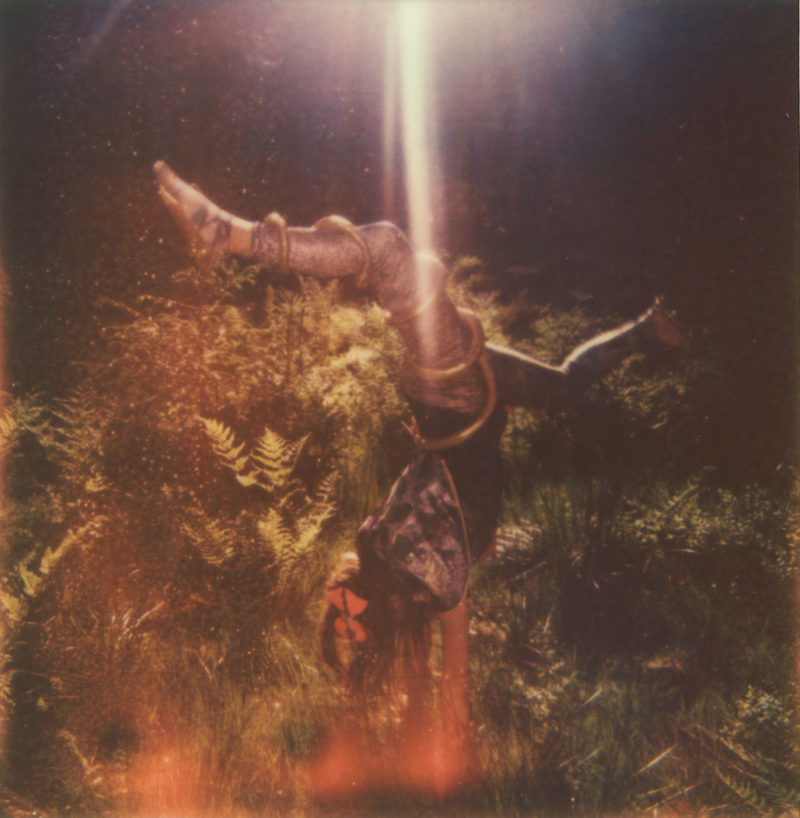 am
In 2020 you will be releasing a record on KRAAK.
evd
Yes, it has been a while! I used to record a lot on cassettes, but my recorder slowly died. I've had a lot of these kind of technical problems lately, so I'm happy to be able to release some­thing on vinyl again. I have also been working on a lot of stuff at the same time, so it has been difficult to choose or concentrate on just one thing.
am
You also posted a lot of older stuff online recently.
evd
While I was moving I found a lot of old tapes. Sometimes it's really nice to listen back to things you made a long time ago, and it's interesting to hear how you used to do certain things. Back then I was probably also more naive: I've been learning to play music by myself over the years, so it's nice to try to listen to it with new ears and see what you can learn from it now. That's probably also the reason I dream about it.
am
Creating sometimes has something cyclical, right?
evd
Yeah. It's nice to crawl back into your own oeuvre like that. It's also very funny how you sometimes really don't recognize yourself anymore.
Orphan Fairytale plays Friday 28.02 as part of KRAAK Festival 2020's label highlights. Keep an ear out for our release of her majestic harp pieces, and in the meantime get you KRAAK Festival tickets here.