Een ontmoeting tussen twee toonaangevende bakens in het muzikale rurale Vlaamse landschap.
Profile
Born in Finland, but living in Belgium, Timo has been an active participant in experimental sound activities in his current home. Originally a member of Noise-Maker's Fifes, he later split off and started his own solo project, Af Ursin. In recent years he also been active collaborating with others such as Raymond Dijkstra(in the duo Asra), Kris Vanderstraeten, Christoph Heemann (in the duo In Camera ) and Andrew Chalk(in the duo Elodie). His latest groups are Nivritti Marga with Raymond Dijkstra and Frédérique Bruyasand La Poupée Vivante with Arlette Aubin and Frédérique Bruyas. Though his music has appeared on several labels, he also has his own label, La Scie Dorée. In 2007, he – together with the 2 other members of Onde – started the Metaphone organisation.
Bart De Paepe
In oktober was ik naar een optreden gaan kijken van Timo en Kris Vanderstraeten ergens in Brussel. We waren toen aan de praat geraakt en Timo vroeg mij om misschien eens samen te komen om wat te jammen. Ik vond dat wel straf dat hij dat aan mij vroeg. In december ben ik dan bij hem thuis geweest voor een jam en die klonk verrassend goed. Meer als vintage Zweedse krautrock. Alles klopte van in het begin. Daarna zijn we nog een paar keer samengekomen en toen kraak mij vroeg om op het festival te spelen, dacht ik onmiddelijk om Timo ook te vragen, want solo spelen zag ik niet echt zitten.
Profile
Visual artist and musician. Also known as Father Sloow, Bart Sloow or simply Sloower. Founder of Sloow Tapes and Sloowax.
Bart De Paepe – Blood Clot In The Brain (Sloow Tapes – CS 45): More magical psychedelic jamming coming from the toverstaf of Bart De Paepe (Sylvester Anfang II, Innercity). The Moe Tucker-style primitive drums, guitars and harmonium are still there in this attempt at classic rock. Recorded during the hazy days when he suffered several blood clots. Cover by Anne Collet. Edition of 80 copies.
BdP
Timo kwam af met Ilta (avond) en ik met hämärä (schemering). Die twee woorden klonken wel goed samen.
We are proud to announce our debut release the wonderful 'Solitary Moon LP' by Bart de Paepe. This psychedelia/space rock LP is limited to 250 copies, each featuring recycled, repainted covers with a silkscreened front and back.
Bdp
Enige woorden over mijn solo plaat: die was opgenomen in de periode dat ik zes maanden vastzat in stekene nadat ik verscheidene bloedklonters gekregen had in mijn hoofd de zomer voordien. Mocht toen ook niet met de auto rijden en om mij wat bezig te houden besloot ik dan maar om wat jams op te nemen, met het idee om daar later eventueel een tape van te doen. Het was dus een vorm van therapie veronderstel ik. Dus nam ik elke dag enkele stukken op met de 4 track, en naarmate ik vorderde werden de jams alsmaar beter en dieper. En toen kreeg ik een mailtje van steve taylor met de vraag of ik geen lp wou doen voor een toen nog naamloos label. Steve had mij al geruime tijd gevolgd met sloow tapes en het was de eerste release op zijn label, dus dat zag ik wel zitten. De lp is gewoon een selectie die ik maakte van de beste stukken, Iemand zei dat het leek op Spacemen 3 maar dan op heel goeie heroine! Maar feitelijk heb ik daar niet zo specifiek over nagedacht. Hetzelfde met de titels: die komen bijna allemaal uit gedichten en tv series. Lijnen waar mijn oog toevallig op viel, maar die toch op één of andere manier resoneren bij mij. Maar dat is dan weer voer voor psychologen. Steve heeft trouwens ook een prachtige hoes gemaakt, allemaal met de hand geschilderd en een zeefdruk van één van mijn tekeningen, die ik zelf in het begin misschien wat te ruw vond, maar bij nader inzien paste dat wel bij de muziek. Ik had toen ook wat problemen met mijn rechterhand, dus tekenen ging wat moeilijker. Gitaar spelen trouwens ook, maar ondertussen is dat al veel verbeterd.
La Scie Dorée (The Golden Saw in ABCD) is a private record label founded by Timo van Luijk in 2002 for the publishing of his solo work as Af Ursin and for collaboration project. All works are published as vinyl only editions. All artwork is designed by the artists involved with assistance from Meeuw. Some editions are handmade with recycled LP covers. La Scie Dorée / Af Ursin is not available on MySpace nor on FaceBook. This website does not work on tablet or smartphone.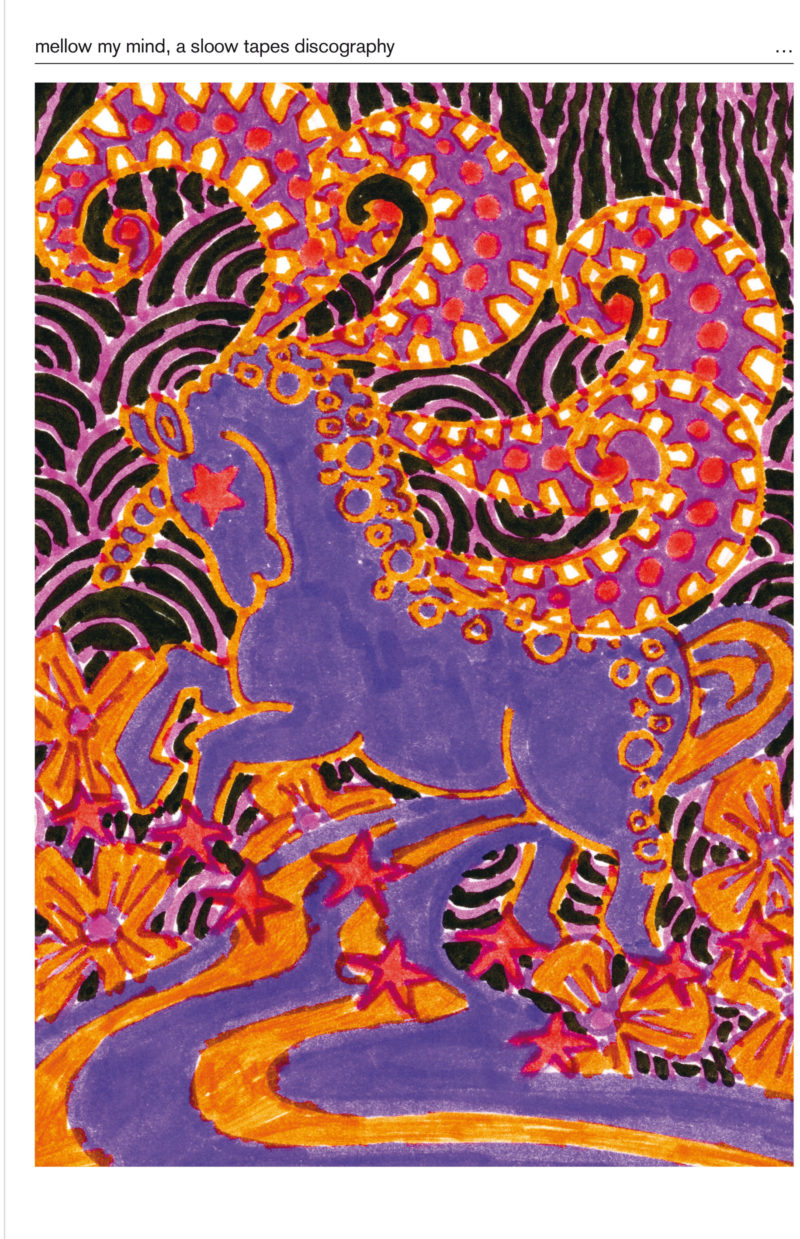 bdp
Het boek dat ik samen ga doen met kraak daar liep ik al een hele tijd mee rond. Oorspronkelijk wou ik het zelf publiceren in een heel kleine oplage (zo'n 50 stuks) maar toen ik het voorstelde aan Jeroen en Ruud zeiden die dat dat toch misschien geen goed idee was omdat het teveel zou kosten en we beter zouden aankloppen bij kraak om mij financieel wat te helpen en wat meer exposure te krijgen. En tot mijn verbazing zagen Pauwel en Niels het ook zitten. Het boek heet 'mellow my mind: a sloow tapes discography' en het bestaat uit alle releases die ik de afgelopen 10 jaar heb gedaan, met foto's van alle tapes, de promo tekstjes die ik schreef, informatie over de tapes zelf (tracks, muzikanten etc), enkele teksten van Matthew Parry (over de muziek op sloow) en Louise Landes Levi (over de poezie reeks) en ook reviews. Jeroen en Ruud verzorgden de lay-out.
AF URSIN. Solo music project of autodidact improvising composer Timo van Luijk (Finland, 1967) mainly working with dismissed acoustic instruments, various (sound) objects and magnetic tape. The music is based on structured improvisations creating free form arrangements. The intuitive and emotive aspect form the core of the musical approach.
bdp
Er zijn twee concerten gepland: één in Rotterdam de avond voor kraak en dan het festival. We zijn wel van plan om op tour te gaan, maar misschien nadat we een plaat hebben opgenomen. De opnames klinken ook wat anders dan wat we live gaan brengen: we spelen dan synths, drums, gitaar, piano etc. Allemaal met overdubs, meer een studio project dus. En live gaan we het wat eenvoudiger houden: ik speel dan gitaar en Timo synth/keyboards.