The idea of doing an interview during an epic flandrien ride was irresistible to me, as I had to interview Belgium's finest avant-garde cyclist while being a road cycling fanatic and a below-average hobby cyclist myself. Latomme and I took off for a rainy and muddy 140 km ride towards La Houppe, the Taaienberg and the Wall of Grammont. Or wait: were we just sitting on the terrace of Bar à Nelson in Forest? Or did we do both? Anyway, we discussed his latest releases, the meaning of performing live and his moniker, as a preview to his concert at Q-O2.
Dries Robbe
Are you going to ride your bike in Q-O2?
Niels Latomme
No, I'm somehow tired of that performance and I promised myself to perform that only in cities where I haven't performed it before.
DR
How come?
NL
The original idea was to combine music with an important part of my life, cycling, which has nothing to do with music. The music I'm playing is a piece of electronic raga I mix on 4-track, where the structure is fixed. Meanwhile, I'm completing a climbing training, and the piece follows the structure of the intensity of this training. In performances that are partly non-musical, there is a risk of it becoming a gimmick. The bike is a sort of instrument, but it doesn't generate music as such, so I'm a bit sensitive that the performative part would take the upper hand. In addition, the piece I play live is finished. I mix it live, but there's not that much room to interpret it. And I'm also bored very easily: if I play the same piece two or three times and there's little freedom in the way to perform it, I feel like a monkey performing a circus act.
DR
You stated the bike is no instrument, but what influence does it have on the musical output?
NL
I find it very interesting when you're placed in a very uncomfortable position as a performer. Your focus gets disturbed, which creates a certain tension. You have to push yourself to stay alert, while – in my case - focusing on just an instrument includes the risk of losing yourself in it. When you're in this kind of uncomfortable position and shifting in and out of focus, you constantly distance yourself, only to get lost in it afterwards again.
Furthermore, I think it's poetic to combine a minimalist, gentle piece of music with a performance that on the one hand has nothing to do with it, and on the other hand has the physical experience of a sweaty, shirtless noisehead performing intensively. And I think it is funny. I like to confuse people: "What is this guy doing on a bike?"
I once played a piece that also deals with this discomfort, but focusing more on incorporating "failing" as a part of the performance. In this performance, I play recordings of imams talking about the evil eye, while I read aloud a random collage of texts (by Dante Alighieri, Louis-Ferdinand Céline…) that I associate with Hell. I read them to the audience through a tape deck with the monitor function switched on; that way, you don't hear the sound's direct source, but the sound of the tape. This creates a half-second latency, which gives a very weird feeling: reading out loud not hearing yourself, or only in delay. The final result is a constant stuttering.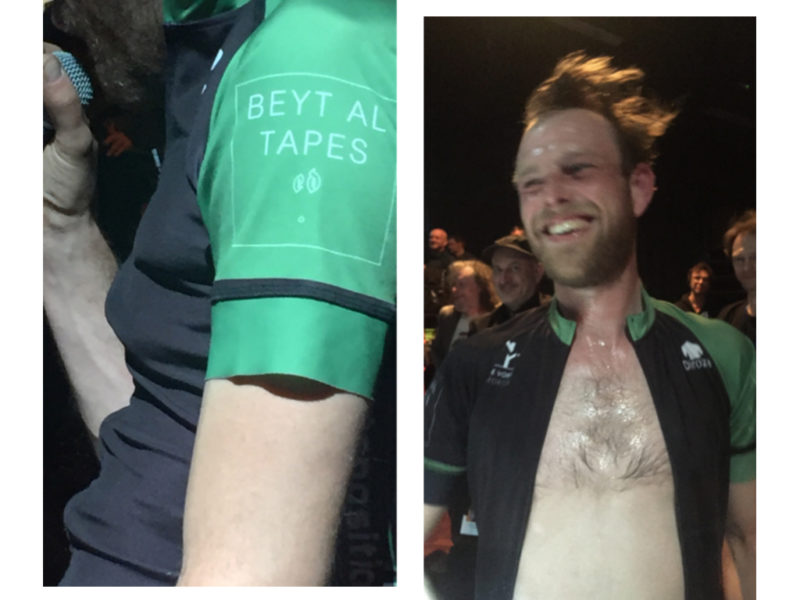 DR
Can we see the performance as a reaction to the non-performative side of certain live shows?
NL
I spoke with Mark Harwood about this recently. He stated that this is a problem for experimental/off-stream music. At a lot of live shows, the performers are just standing behind their gear, while there's nothing happening on stage. I'm having trouble with that, too, because it can make music tedious. Please note that it depends on the situation as well: a laptop or modular synth show can certainly be really good, as can be a well-organized electroacoustic set which does little more than spatialize a backing track. In those cases, the music takes over the performance. It becomes something different than listening to the record. For music, physicality is a powerful tool to engage with an audience; its form is older than language or rational thought. When people are moving on stage, you want to move yourself too and it ultimately becomes a collective act.
There's partly a small political side to this too, because I'm bothered by the fact that a lot is mediated in society in general. People take pictures of a beer for Instagram before drinking it, while the whole point of drinking a beer is that you're enjoying the moment. The moment the act is mediated, it gets objectified and becomes less powerful. You take a distance from it because you create an audience. Contrary to this, a lot of experiences that touch one in an emotional and intuitive way don't need an audience. I'm very conscious about that in my shows: it's about vitality, about connecting and not hiding behind anything. That's why you can mess things up on stage too, without it being a bad show.
DR
You tire yourself by cycling intensively to get into another state of mind. How does it differ from drinking or taking drugs?
NL
I've never played stoned, so I have no experience with that. I have played drunk, but it gets too heavy then, you lose too many motor skills. Furthermore, a lot of drugs have an egocentric, solipsistic effect that changes your perception of reality. But when you place yourself in an uncomfortable situation, you still are very conscious about the environment. Actually, I don't have a clear answer to this question. Still, a lot of things I do in music circle around the act of losing myself as an individual, and searching for some intermediate state. It is a search for a possible state that avoids rationality and verbal thinking but that learns to think in an intuitive, physical way. Music is a very inviting medium for this.
DR
Is that in a mystical way?
NL
Yes, there is a very spiritual side to it. In life, there are a lot of things that are incomprehensible but that are still present. I'm intrigued by ghosts, who are very interesting subjects. They are present but at the same time they're not - it's the intrinsic characteristic of a ghost. There are many noted sightings of ghosts, but still they don't prove ghosts exist. It falls outside of the scientific perception of reality. For some people, ghosts are hyperreal, while from a scientific point of view it is all complete nonsense. That duality can be found in music too, both as a listener and as an artist. I know what I'm trying to express in my music, but I don't comprehend it.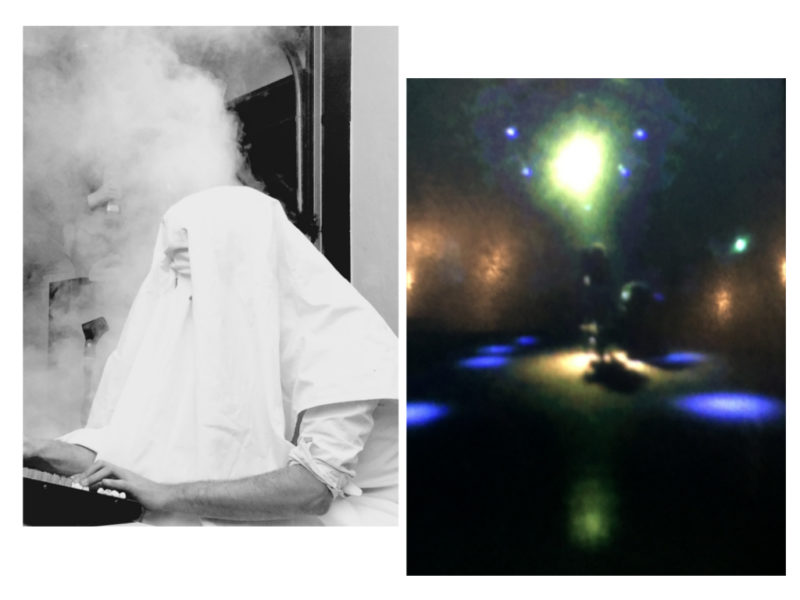 DR
Is there an analogy to be seen in the feeling you get when you're cycling?
NL
Yes, it is the same kind of tunnel vision. You lose yourself as an individual. Tim Krabbé wrote something beautiful about that: your consciousness becomes a sphere.
DR
Strolling through your discography, I stumbled upon indie rock, brutal sound collages, aggressive plunderphonics, musique concrète, snippets of vocal poetry and - most recently - some slowly evolving, deliberately composed electronic pieces in the form of the Degendt tape, released on Beartown Records, as well as the cycling performance. To me, they feel as the point were these previous releases come together. How do you feel about that?
NL
Yes, there is a clear evolution in my work. Some ways of working remained the same over the years; I really like the sound of tape and the way you literally can cut, paste and juxtapose it randomly in the same way you make a visual collage. Additionally, very high and abstract synth sounds and vocal poetry also remain important. The indie rock part somehow has nothing much to do with this. Lately, I've become interested in how sound can evolve particularly within one composed piece, which leads into more organic forms. The growing of sounds, in a plant-like way, is clearly present in Degendt.
DR
I think it's funny you put "Tapes" in your moniker. Equivalents would be Aphex Twin Synths or Dinosaur Jr. Guitars. Why did you?
NL
I made this name up on a night in Zanzibar for a fictional cassette shop in Zanzibar, together with the bassist of my indie rock band Black Mambo. That band name was made up the same night, and Nigeria reached the knockout phase on the world cup football that night, too. Later I adopted the name to start my own tape label, as my moniker for making solo music, graphic design work producing activities. I think it's funny to confuse people whether it's a label, or a live act, or something else.
DR
And for your prose writings?
NL
Ah yes, I write prose too (said in a prosaic voice), but I forgot the title of the work on my website. Writing remains important to me, though I won't publish anything soon since I'm too lazy for it. Editing seems too heavy.
DR
The title is A Manual for Rethinking Compositional Practice. Can I see this as an expression of your poetics?
NL
Yes, somehow it is. It's about (im)possibilities and about the idea that the incapability to act could be the core of poetry. If you read it, you'll get what I mean.
Listen to Degendt and other releases over on Bandcamp - some copies still available! Beyt Al Tapes plays at our last BRAUBLFF, November 1 @ Q-O2 in Brussels