Księżyc is a project from Poland, active since the 1990s. Members included Agata Harz (vocals), Catherine Smoluk (vocals, piano), Robert Niziński (wind instruments, keyboards), Lechosław Pole (accordion, keyboards, synthesizers) and Remigiusz MazurHanaj (lyrics, tapes. The spirit of the moon captures early and late medieval music with a sound, rooted in the Slavic tradition combined with elements of minimalism and vocal experiments of the 20th Century. The alchemy of these constituent parts results in a breathtaking original music, both delicate and sinister. The surreal fairy tale inspired lyrics add to the inherent beauty, sadness and madness within. Their songs display an intense and profane spiritualism and are as such the perfect antitode to these consumerist and superfluous times. A conversation with Księżyc!
niels latomme
You debuted with a self-titled record in 1996, but you've been, as I heard, longer around. Can you tell me where you come from, how Księżyc started.
katarzyna smoluk-moczydłowska
It all started in the 80s, we met in a students' theatre, where we performed for a few years learning different methods of bodily expression, including the voice expression. We practised acrobatics, sang old Chasidic songs, all for the sake of the performances. We also took part in workshops in the Gardzienice Theatre, a famous theatre in which Grotowski's method was used and further developed and where we could feel the connection with the tradition through the authentic folklore music and culture in general.
In the theatre we began singing together with Agata Harz, trying diverse harmonies, we also learned quite a few Polish, Ukrainian, Bulgarian and Lithuanian folk songs, we composed a few our own songs too — one of them, based on Pygmy verse found in some book we still perform sometimes with Księżyc.
After the theatre dissolved, we still sang our songs, especially with Olga Nakonieczna, our Ukrainian friend, and at the time we started experimenting with voices, following the example of Meredith Monk, her music gave us the spur to sing in unusual ways.
Then the men joined us, first was Remek Hanaj, who wrote some texts for the songs we made, then Leszek Polak helped us with his outstanding talent as a multi-instrumentalist (accordion, keyboards, drums). After some time Olga left the band, and Robert Niziński joined us with his clarinet and saxophone, and occasionally as a keyboardist.
The band evolved from a trio of Slavic folk singers to the outfit performing nowadays; music changed too — from traditional folk songs to this hard to define flow of notes you can hear on our latest album. Nevertheless, to us it came naturally, it was a process we hardly noticed, the music was changing together with ourselves. And interestingly, even though we had such a long break in performing together, the chemistry stayed the same, and we still can compose and play the music together. And it still gives us joy.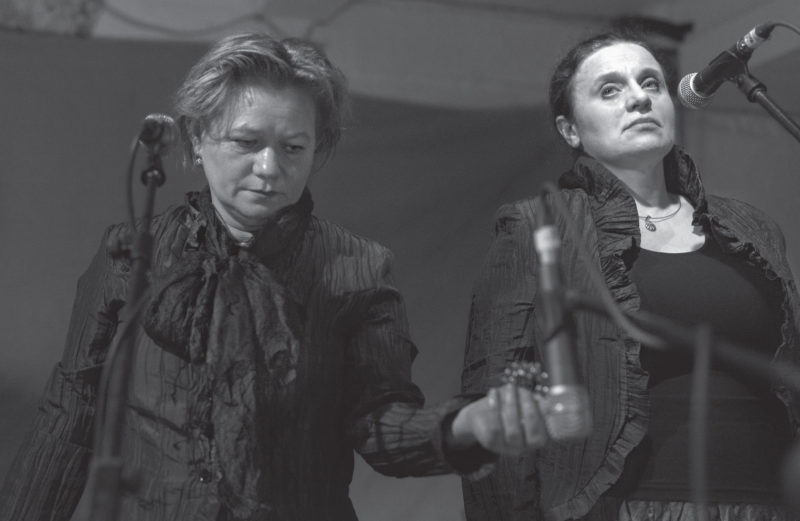 nl
Your sound seems to be influenced by a traditional slavic folk music, but also by avant-garde spectralisme. Where comes this unexpected blend of seemingly opposed music traditions from?
robert niziński
It's exactly what we hear very often from our listeners, and the critics who push us to describe 'what we play'. Księżyc's music is influenced by many styles and traditions: local, Slavic roots, non-European folk, as well as ancient, classical and contemporary music, punk, jazz, psychedelic, ambient, folk… There is a long list.
We were listening to a huge variety of music. Probably that's why we blend styles that are so different from each other. I perceive music as 'one universe'. Paradoxically, if you listen carefully you can hear how strongly traditional music is related to modern
music and how many contemporary experiments have equivalents in folk music, for example microtone singing, sonoristic expression, and so on.
Our music is a reflexion of ourselves, it's a patchwork created by strange individuals (us) with their strong personalities, characters, different experiences and backgrounds. Everything is filtered through a musical taste we all have in common, a sensitivity that works for the band and every one of its members.
nl
For this festival we invited 2 polish groups, you and Widt. You both create a same sort of transcendental avant-garde music, or some sort of very focussed profane spiritualism. Do you know them? And is this just coincidence? Do you agree with what I hear in your music, the profane spiritualism?
ks
I do not know WIDT, and have never had an opportunity to see them on stage, but when I read the name in Quietus' list I checked their work and must admit it impressed me very much. I noticed the similarity in the atmosphere that is created by our music as well as theirs. It might be put down to musical sensitivity that we probably share.
However, I think there are differences between our music and theirs. We perform as a group, in WIDT there is only one singing performer, and most of the sounds are created by them using electronic devices, the voice is altered, and its quality depends heavily on the electronics. We do not use such things, we rather try to exercise our voices to unknown extents we change their quality "live". So, I like to think that our music is actually the acoustic one, even though there is more and more electronic sounds in it.
rn
I'm familiar with WIDT and had a chance to meet them two years ago during the Independent Phonographic Labels Fair in Warsaw. The girls were selling their hand-made CDs using a small video projection show. Each CD copy had a different cover, so you could choose the graphic design you liked more. Of course I bought one. I would not compare our music to WIDT's, however I can admit that in both cases spiritual aspect is expressively present and music becomes an extraordinary experience. An exploration of the undefined, inner journey to an unknown territory, ritual searching for the moments of harmony... you can hear it. When the motives are repeated like in a mantra, it delivers a sort of a trance sensation, it takes you beyond.
So, yes, in some sense this music is created as a spiritual experience, and some pieces have a meditative character even. My feeling is that it's not profane nor religious. Definitely the body and soul are involved in it, and the fullness of human existence with its pain, desires, joy, sadness, and — let's say it — with a mystical touch, are all manifested through the sounds.
nl
The bio of Księżyc is very focussed on the feminine, where does this come from?
ks
Księżyc/Moon is female in most cultures, not in ours though. Still, the origins of the band are vital here. There were three (and now two) women in the band — and the moon is everything female: changeability, cyclic/repeated change, softness, moodiness, mystery, irrationality etc. All this applies to the influence the moon has on people rather than its real form — cold, dusty globe, the Earth soulless satellite. The moon in myths and legends is personified rather as the Earth's companion, longing for something, mysterious, a witness of lovers' encounters, "a witness", that's a good word.