Ailbhe Nic Oireachtaigh is a viola player based in Dublin, where she is active as a regular collaborator in Cian Nugent's bands The Cosmos, Woven Skull and Circuit des Yeux. In 2018 she released her first solo record 'Oreing' via the acclaimed Fort Evil Fruit label, highlighting her own distinctive and versatile approach to solo acoustic viola playing. Though she may refer to her own music as 'jamming', Ailbhe's gutsy, tone-conscious explorations on the viola are highly evocative and feel perfect for the Eastern Daze setting.
Ahmed Brecht
Ailbhe, I'd like to know a little about your background both as a viola player and as a listener?
Ailbhe Nic Oireachtaigh
Well… music was a big part of my upbringing, my mum is a music teacher and organist so I grew up playing classical music and singing in the local choir when I was a kid. Me and my brother had a nice balance of musics floating around – which was great! Classical from my mum and more rocky stuff from my dad, heavy amounts of Jethro Tull and a bit of jazz – which I found pretty fascinating.
When I got more into rock music as a teenager I found viola a bit lame (but secretly loved playing it) and played bass a bit. Unfortunately my bass career never took off. There's still time! I guess I was influenced a lot by my brother who is older and is like a musical octopus and played in heavy bands which I thought was really cool. But when I became friends with the splendid Cian Nugent in school and started playing on some of his music it opened up the idea of using the viola in a band and not having to play in such a proper way as I'd been taught to do. Which was really fun.
ab
Would you like your music to be classified as experimental, or rather not?
ano
I suppose that I would rather see it classified as experimental than folk, as I feel it's largely the instrumentation that brings the term folk to mind when people hear it. I have no background in folk music, so it isn't accurate in that sense. But I also feel that it's not that experimental. Compared to people who are putting all of their energy into consciously doing some far-out things, I feel like this music on Oreing seems lazy. Classification is a bit of a drag, maybe if it needs to be called something we can just call it jamming as that's what it is really.
ab
Are people sometimes expecting you to perform according to certain traditions – Irish / Classical / ... ?
ano
Yeah, I've found that people expect me to have a background in Irish traditional music. Probably due to having a mad Irish name and that my solo playing sounds the way it does due to an immersion in folk music.
Since living in a new country the past year, I have found that my nationality is taken into account in relation to my music which is something that obviously doesn't happen when you are living in the country that you're from.
It's happened a few times recently that I've been asked to play bills with much more straight-up musicians. I feel a bit awkward, as I sense that the promoter or organiser has in mind a performance of pleasant, stringy, cinematic music. I definitely feel obliged to tailor my performance somewhat to this as I feel something of a duty as a performing musician to encourage people to enjoy live music. I think it's really important, especially for people who may not be exposed to more experimental types of music or who may be easily put off by terminology like experimental. When you speak with listeners after a gig and they've thought really intently about what they've heard and how it's affected them, like they have experienced The Power of Music which you and the other performers may have inadvertently created… It's a responsibility. Even though what I would really like to do sometimes is play one noise for 45 minutes... it doesn't seem like there's any point in a gig context such as this, other than for my own aural satisfaction.
ab
I'd like to know how you approach improvisation. Is it something you practice, or rather something that occurs on stage or in a recording situation?
ano
Well I play more freely improvised music as well and I feel like this practice has really influenced my sound as a whole. What I enjoy the most from playing the viola is tone, and in freely improvised music you are like an explorer of tones (as well as other things of course) and discovering things about your instrument like it is a new geographic area every time you play. With this solo music I feel like I am still at the stage of exploring the tone, so that is why it is melodically and rhythmically still quite simple. I played with loud groups so much and then with quiet improv groups and I suppose in a way, this is a mix of both. It's very hard to get timbral subtlety across when you are amped up with a rock band so it's great to be able to zoom in and focus on these smaller details just as much as I like with this music. I use gut strings which have so many tonal dimensions and are also quite unpredictable so the sounds they produce are a huge part of the improvisation. I do practice improvisation but not in a particularly disciplined way at the moment. I also feel like with this kind of open-sounding modal improvisation it is more about creating an overall shape. I find this is something that is very influenced by the environment in which I am playing at a given time. So it's probably more about the mental state than anything else.

ab
In your opinion as a viola player: is the hand playing the bow the servant of the other hand, or the decision-maker?
ano
Ha! Well I think it depends on the music, if it's more melodically driven music then I think that the left hand leads, and the bow will follow what the melody is doing. But if it's something more chordal or rhythmically driven then I think the bow is definitely the leader. Sorry this answer is very boring.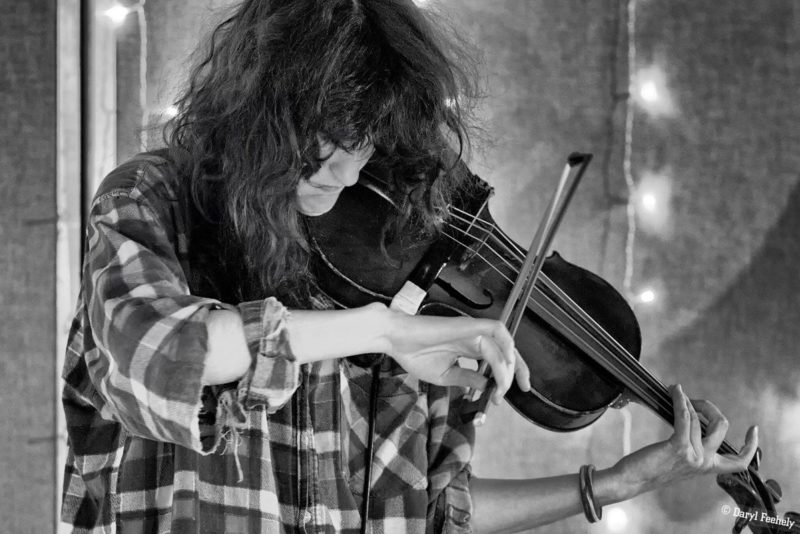 ab
Are there viola players, or other instrumentalists, that have inspired you or that you feel have a common approach to the instrument?
ano
I suppose an obvious one is John Cale. When I heard The Black Angel's Death Song for the first time, it really struck me as a completely different approach to using a viola or violin than I'd ever heard before. I don't feel like I actively take other string players' approaches on board into my own playing as I don't really listen to a lot of string players. It's more trying to adapt a sound or an approach that I am inspired by or interested in to the viola regardless of what instrument it might be played on. Over the years though I think string players like Leroy Jenkins and Tommy Potts have inspired me with their incredibly distinctive voices.
ab
Imagine you have four arms. What instrument would you like to use in a live setting besides to the viola?
ano
Another viola of course!
ab
Is your way of playing / performing physically demanding, imposing preparation, or is it a natural thing?
ano
Solo playing is still relatively new to me so I do find it hard sometimes being completely responsible for creating all of the sound. I definitely find it demanding on my concentration but that is a good challenge! It's great to be totally in charge of the dynamic and direction of the music but I find it hard to pace myself maybe, since I've always just been playing with groups and bands up until a year or so ago.
ab
How important is silence for a solo performance on an acoustic instrument?
ano
Sweet delicious silence! I guess silence is pretty much non-existent in most performance contexts! So I find it quite fun taking into account and playing with other sounds or things that are going on in the room, like when someone comes into the gig late and they're trying to be really quiet I find it quite fun to make lots of silences so they feel awkward. Not in a mean way, just to play around with what is happening, it's fun to include other people in your performance when playing solo.