Ever since the myriad strange musics began oozing out of Finland a good while ago, Kuupuu is among the core company making up the ever-revolving ensembles of sound sculptors. During the current era, Kuupuu has been cooking up rumpled rhythms and dizzy serenades, shuffling from dank ambiance to more goofy and sweet expressions. Pretty debris gets spun, the straight stuff is twisted and expanded to open up the conventions through which we experience. Lately the musical collagist has also been exhibiting handwoven rugs as Jonna Karanka. The cloth works definitely feel like they're branching out from the same place as the sparkly tunes. It also bears mentioning that the totally dope, hypnotic ruler band Olimpia Splendid is Kuupuu's baby too. The latest Kuupuu release is a tape called Plz Tell Me, and Kuupuu indeed told me when I reached out to her to ask what's up.
Huntin Seteli
So, to begin with, what's interesting (to me at least) is what you've been reading. Has anything rung the bell lately (as we'd say in Finland)? Any recommendations?
Jonna Karanka
I'll just list some bell-ringing books from the past couple of years:
Cosey Fanni Tutti: Art, Sex, Music
Dame Darcy: Hi Jax & Hi Jinx (Life's a Pitch – And Then You Live Forever)
Patti Smith: M Train
Koko Hubara: Ruskeat tytöt
Zadie Smith: Swing Time
Camara Laye: The Radiance of the King
Bill Hicks: Love All The People
Jeremy Narby: The Cosmic Serpent
Donna Tart: The Goldfinch
Shunryu Suzuki: Zen Mind, Beginner's Mind
HS
Secondly, recipes are crucial for sure. Any current ones to share?
JK
Well, broccoli is happening! Here's a recipe for an orange and tofu salad with peanut sauce taken from Elina Innanen's blog Chocochili. If you like, add some noodles to make it more rich.
1. Fry 500 g of tofu, season with chili, jeera and salt. 2. Chop down the broccoli. Peel and cut two oranges. Peel and cut two avocados. Wash and tear one or two bunches of lettuce. 3. Whisk together two tablespoons of sugar-free peanut butter, juice of a lime, just a little water and some salt. 4. Mix it on a plate, pour the sauce on top, enjoy!
HS
So you moved out of the city. Any favorite sounds or other sensations in your new surroundings?
JK
I live on the third floor and there is sunshine even in the winter! The plants are doing better with some sun finally in their lives. It's not the countryside, really. Outside you can hear the motorway 24/7 and they're building another 7-story building next to the one I live in. Still, nearby there are cows and horses, the woods and some lakes, a nature reserve and the sea.
HS
And how are the Sibboans? Any characters?
JK
I like that people greet each other in the woods here. My favorite characters are the teenagers hanging out on the stairs of the library and sitting at the back of the bus all arrogant, blasting music from their phones.
HS
Any details of a fantasy lifestyle you'd like to share here? Any dream projects?
JK
I mostly fantasize of having the time to concentrate on my own art practice. For the past seven years I've been part of the Sorbus collective with whom we've been making video works and performances, and running a gallery space as well. At the moment there's a strong urge to withdraw to the studio just to be by myself among balls of thread and music gear and to make textile art and music. One fantasy project will be realized this spring as I'll collaborate on a song with Finland's best rapper.
HS
Have you been paying attention to the sphere of so-called mainstream music and other forms of entertainment? Has there been anything that you reacted to?
JK
I have to confess I'm not really following too closely. I've been listening to the latest Solange, and I really like Weyes Blood (if that's mainstream?)
HS
For a recent exhibition, you made a textile version of a fan letter you wrote to Madonna as a kid. Do you have any comparable heartfelt/irrational fan relationship to anyone or anything these days that you'd be willing to share?
JK
Well, nothing as thorough or long-lasting comes to mind… Sure, there are shows, records, books, performances, artworks that still expand my consciousness. Last summer there was a performance at Kiasma [the museum of contemporary art in Helsinki] called Let me be your fantasy by a group of artists called Delta Venus, which was very impressive. The experience was empowering, and it even felt like all the drag/burlesque/voguing performances brought about this ecstatic feeling of camaraderie among the audience right there in the exhibition hall. I hadn't encountered that kind of feminist variété performance before. I was surprised and mesmerized.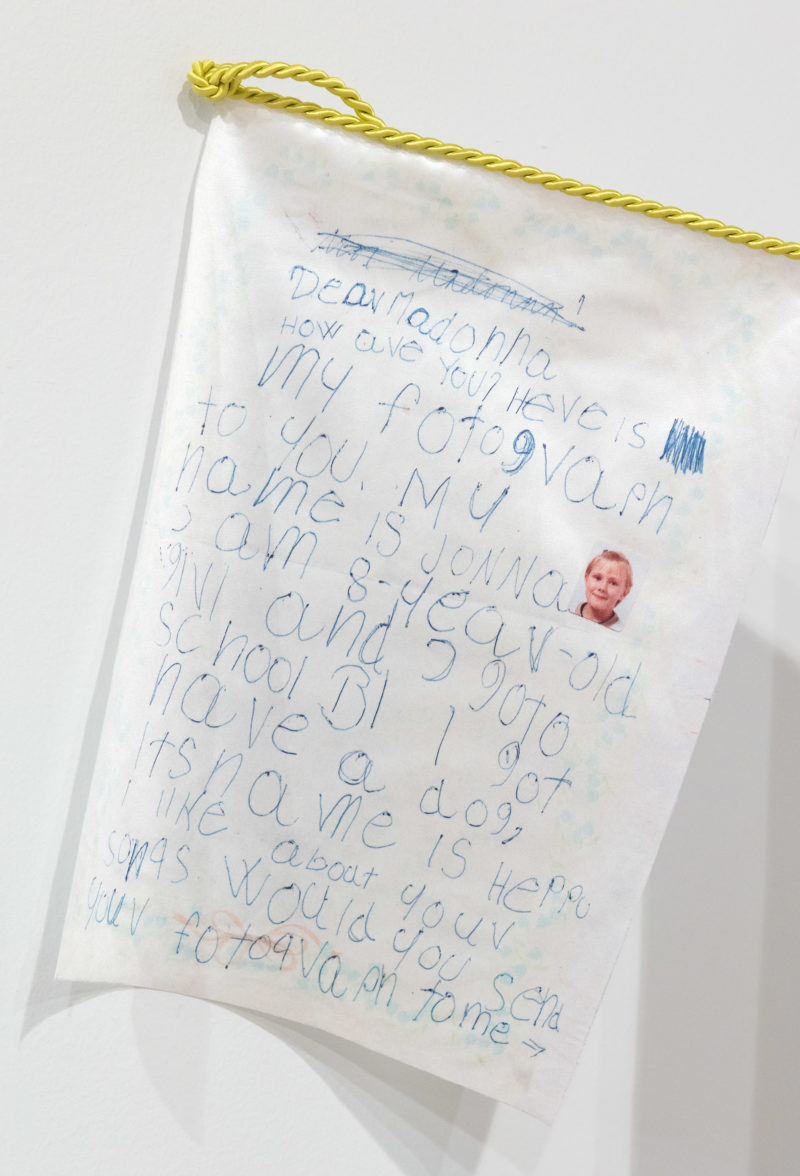 HS
What is a rock concert?
JK
At its best it's shared aesthetic energy and cosmic vibrations.
HS
Greetings to old and new friends in Belgium?
JK
KRAAK is the best – like Fonal in Finland <3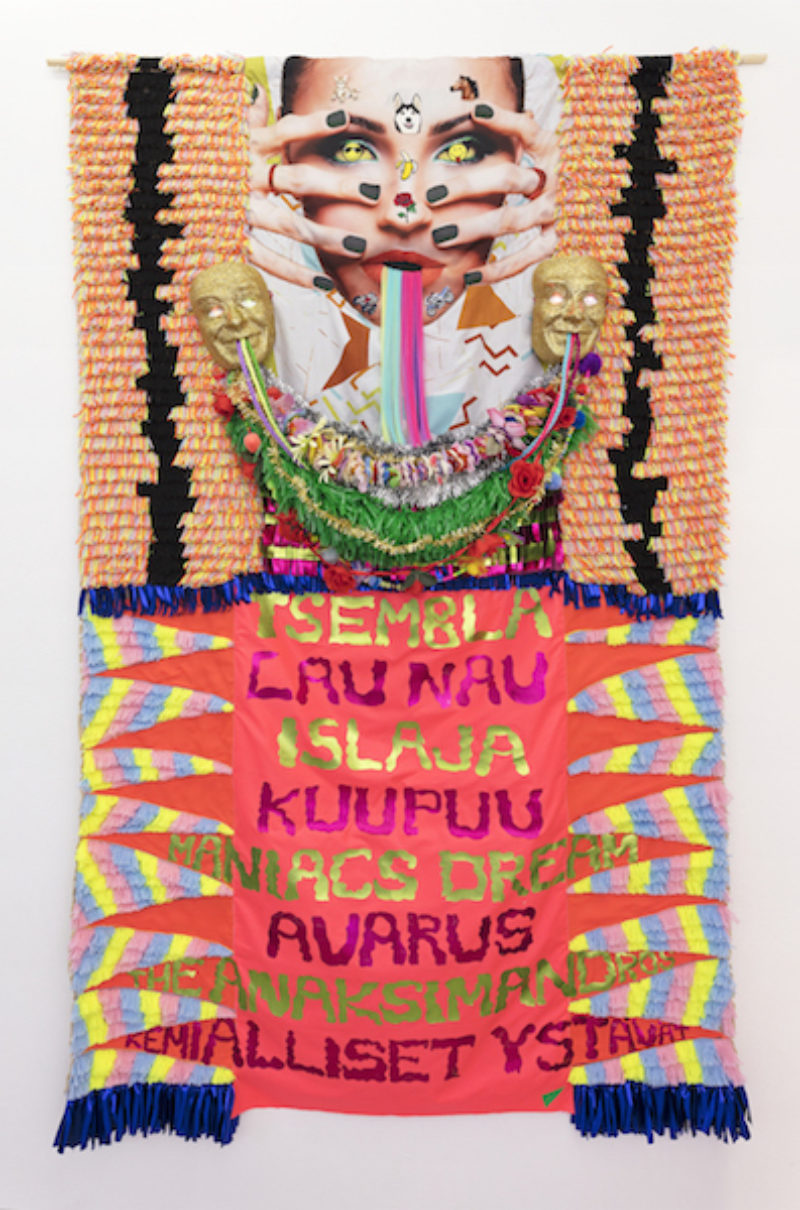 Kuupuu will be performing at KRAAK Festival 2020 on Friday 28.02, which means she'll be releasing on KRAAK this year as well! Get your tickets for the festival here.