Driven by curiosity and a sense of possibility, Pak Yan Lau (BE/HK) has been actively making music in ensembles and at crossroads of disciplines. Several days before her performance at KRAAK's 'Sonic Treatise', she shared with us some inspiring insights in her solo, sound art and improvisation-infused, practice. All photo credits: Laurent Orseau.
Nina Vurdelja
Your music background is classical piano. How did you get into music and what have been the biggest influences on your path?
Pak Yan Lau
I started wanting to play the piano when I was 6 or so. A girl from my neighborhood was playing, and I just wanted to do the same. My mom was convinced that it was not for me as in the Chinese culture the concept of playing the piano means "sitting still like a lady and being very disciplined." Contrary to that, I was constantly running around and sitting still was something I really couldn't do. I cried for 2 days before she gave in. I don't come from a musical family, my parents are Chinese immigrants from Hong Kong, who started a Chinese restaurant once they arrived to Belgium. I think my piano teacher in the academy was the one that really believed in me and playing had always been fun for me at that stage.
Later on, when I started the conservatory (for classical piano), it was actually my friends in the jazz department that made a big influence on me. I was listening much more to jazz than to classical music. The biggest influence when I moved to Brussels was my beloved. He is also a musician and he is listening to all kind of music, very open and broad, so I learned a lot from that. In Brussels, I met many different musicians from various parts of the world as well. It was also here that I started experimenting with toy pianos and free improvisation, which led me to start thinking and hearing sounds and textures. At that point, I started getting further and further away from my classical background.
So… humans and human relations are basically always the reason why I end up where I am.
NV
You have been playing in bands and ensembles, composed for shadow theatre and dance. How has all this and working with other people informed your solo project?
PYL
My solo came out of the desire to be in complete control and as a challenge to see how far my music could reach without the support of other musicians or another discipline. My key question was can it stand strong on its own? My very first solo (in 2008?) was played in Atelier Mommen. My Japanese friend Daysuke Takaoka was here on a tour and he really pushed me to do so. I don't remember what the music was like (probably not that good) but I do remember the feeling, and it was exciting and scary at the same time, to stand there alone. After that, I actually did not go solo until 2012. After I recorded my triple solo 'Books', where I explored the acoustic setting (prepared piano), the electronic setting (synths, samplers, effects), and electro-acoustic setting (toy pianos, clockworks, and electronics). When that wooden box came out, it gave me the opportunity to present it and do more solo shows. Working with other disciplines made it clear how important and strong a sound (taken out of a melodic context) was on its own. It highlighted the diversity of sound but also how and where you place it.
NV
I recently came upon this video where you refer to improvisation as an opportunity. Can you elaborate on that? What does improvisation mean to you?
PYL
Improvisation is like a whole world of 'possibilities'. Depending on when, where, and with who you're doing it, it shapes the music. So, I see it as a moment of possible things. All kind of possible things, from positive and beautiful to negative and ugly or just simply blank. However, what I love about improvisation is that it's very much always the moment. So it's a very present thing, it is alive, it follows the energy and, in a certain way, focus is required. Flexibility and open ears. Always very open ears. All my music making is very much into improvisation and experimentation. I am sure I will go on to another phase of composing one day but I really love to improvise. I love this intense being when you have to let go of yourself and connect to a bigger stream.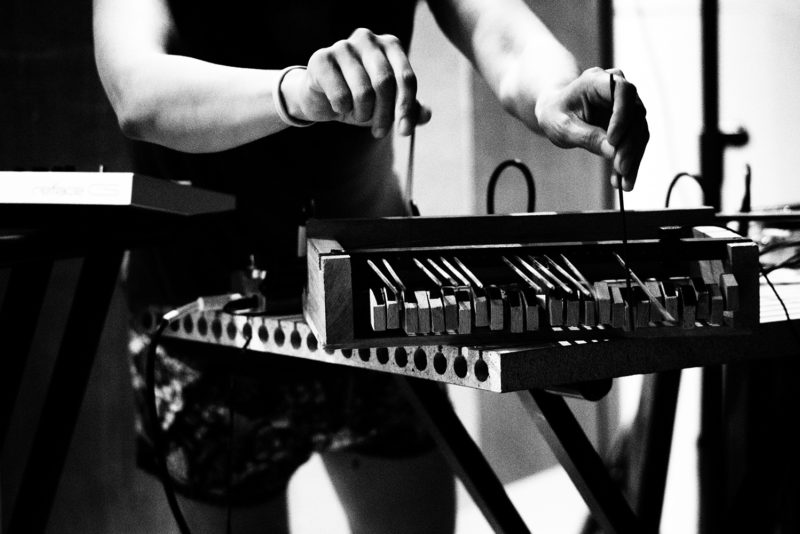 NV
You did a residency at the Greylight projects chapel, where Sonic Treatise takes place. How do you relate to this space, how did it feel to work there?
PYL
The space is really beautiful. The sound is great because, like all chapels, there is tons of reverb and the sound gets round and travels. It was just insanely cold. I was going home with a headache and feeling physically drained. It was like a movie set, there were a couple of pigeons living there, flying over my head once in a while. It felt like forgotten things and lingering thoughts. It was inspiring and I did create my musical structure there, using the chapel and its acoustics. Choosing to make a mix of acoustic and electro-acoustic sounds and play with the placing of the sound sources. I am leaving some space for possible surprises, but the musical foundation has been worked out in that short residency.
NV
At the concert night, The Window of Dreams, movie by Cendrine Robelin, will also be projected. Do you consider embracing some features from the movie in your own performance?
PYL
I have actually played a (duo) concert in France where the same movie was projected after our concert. So it was a very nice coincidence when Nathalie asked me to play for this evening. It's a great and funny movie. I think using sound and field recordings only as your components to make music is an accepted and known thing these days, but back in those years it really changed the way of listening and making music. Those must have been really inspiring and exciting times.
I love the quality of tape. The sound of an old cassette for instance, it's a bit crappy but very warm. A bit like my instrumentation. I use 'broken' objects, but they sound wonderful. I have prerecorded myself on a cassette in the chapel and I will probably interact with that at a certain moment during the concert. The idea was to have a ghost of myself playing while I was actually playing. I also recorded the chapel itself but I have not completely decided how to distribute the sound yet. I feel a bond between how to approach the sound from the movie and myself but I'm not directly implementing the features from the movie in the concert.