We first crossed paths when we invited her to take part in our first residency at KAVIR. She arrived from Vienna with a synthesizer she could barely carry by herself. A few hours later we are in my parents' kitchen in Ghent, joining forces to make the best lentil rice we possibly could. We combine our mothers' recipes and before we know it, the gate to shamelessly telling our family secrets has been opened. During her five day stay, Rojin worked with Épong as they put together a live show, while Jonathan, Pieter-Jan, Dietger, and I prepared the visuals for the event. After long days of working we ate, drank, and went for walks together in Ghent.
I first heard about Rojin Sharafi when listening to the debut compilation Girih, released on the recently founded but already groundbreaking label Zabte Sote. The eight-minute closing track of the cassette starts of as an eclectic enumeration of sounds not aiming to direct the listener into a specific direction. It quickly changes atmosphere when a subtle beat enters. Followed by a male voice, calmly and calculatedly saying "a hundred and fifteen", the bar played by the tombak, a trademark of traditional Persian music, took me by surprise. The battle between the inconsistent baseline and typical tombak sounds moves to the foreground as Rojin combines these sundry elements. Broken toys, synths and Persian instruments played in an unorthodox matter. She's attentive to the materiality of the suggested sounds and focuses on the aspects they have in common rather than the different traditions they originate from. The sound of a tombak ultimately is quite similar to that of a synthesized baseline.
Now, almost a year later, Rojin has released her first album, Urns Wanting To Be Fed, and returns to Ghent to perform at the Eastern Daze festival. She takes me to her dressing room where we admire the smell of wood dominating the space as we sink away in the dark brown leather armchairs and look at the grey Belgian sky through the large windows. Coming from a culture in which storytelling plays a profound role and where traditional music has been the soundtrack of a fair amount of our childhood memories, she tells me about rebellion and unfamiliarity both resulting in a newfound appreciation for the music we were indifferent to as teenagers.
I dig up the recorder from my backpack and ask Rojin to say something into the microphone:
Rojian Sharafi
One, two, three.
Niloufar Nematollahi
A little bit more like this…
RS
You want me to speak with a deeper voice? (Laughs) Can you hear my voice?
NN
The whole recording will probably consist out of us laughing and asking each other whether the recorder is working. (More laughs)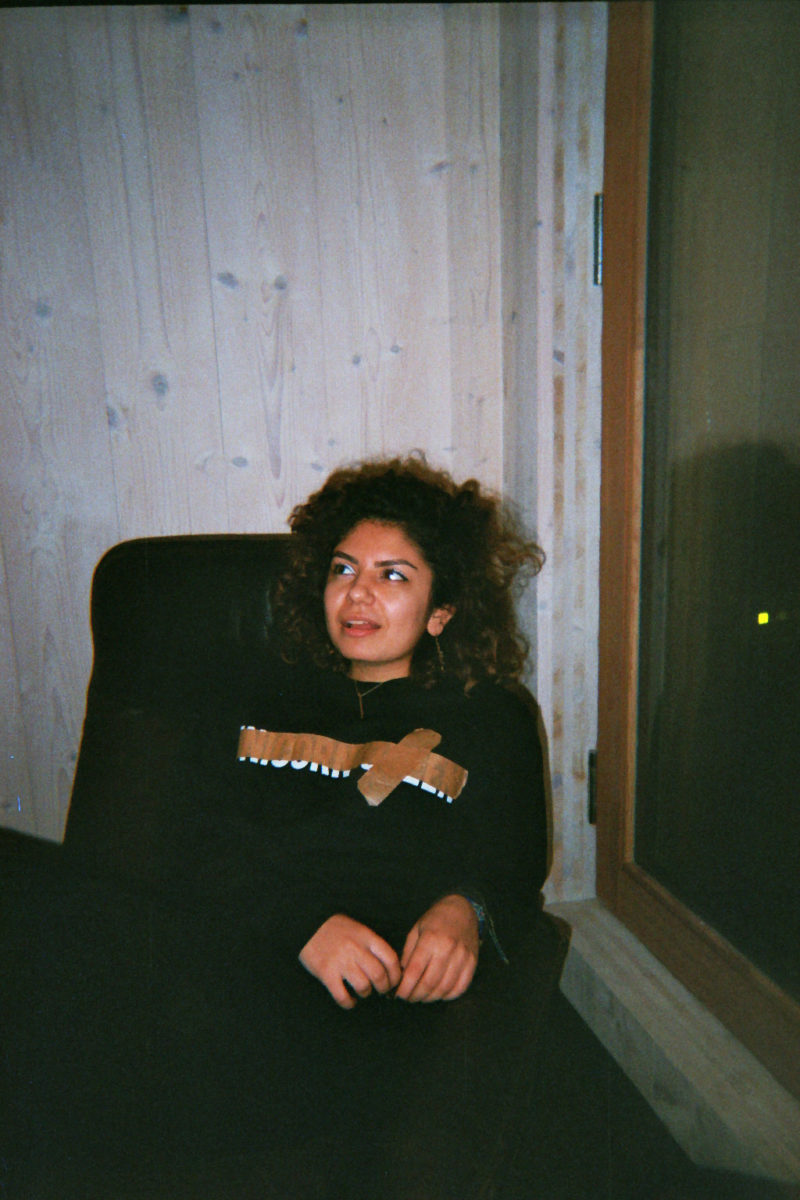 Inspired by the Sjahnameh, a long epic poem written by the Persian poet Ferdowsi and the formalist cinema of filmmakers such as Leos Carax, Bruno Demond and Jacques Tati, Rojin's debut album consists of samples symbolizing the ashes of myths we're both familiar with, the hysteric and the mellow brought together in one long poem. Rather than using the Sjahnameh as a theme, Rojin utilises the well-known literary masterpiece as a structural guideline. She tells me she imagined the album as a carpet or a miniature painting. What creates the carpet is the ineinander verschlungen-sein of these elements: folklore elements and the micro-tonality of traditional instruments mingle with synthesizers turning from characters into myths until they finally go their own paths. I ask her about the journey that lead her towards the use of traditional Persian instruments.
RS
Growing up in Iran I never really felt a bond with traditional Persian music, or at least I never took the initiative to put it on myself. But at home my parents would listen to traditional music. I would say I was indifferent but familiar towards it. My mother played setar in an ensemble and loves telling stories about how as a baby I was triggered by the sound of Persian instruments and the santour in particular. But as a teenager I didn't connect to traditional music in any way. Growing up in Tehran I played classical piano as a teenager and mainly listened to rock and metal. I needed to step back in order to see traditions from a different point of view and rediscover their beauty. I think if I had stayed in Iran, the devotion I developed for traditional Persian music might have never existed. Distance gave me the guts to handle the detached approach that was necessary. It gives you the opportunity to see new aspects of something that feels so self-evident that you never question it, something you unconsciously want to rebel against. When I moved to Vienna to study composition and sound engineering I was forced to not only figuratively but also literally take a big distance from the traditions and sounds I grew up with. When my rebellion and the physical and mental distance reached their climax, I caught myself noticing traditional Persian music. It was then that I came in contact with regional Iranian folk music for the first time, and that discovery brought me closer to traditional music in general. I started buying different cassettes and CDs of folk music every time I traveled to Iran and would listen to them once I was back in Vienna. What mainly caught my attention in folk music was the instinctive and improvisational nature of the genre. I hadn't heard that approach within the traditional music I was familiar with because of my parents. Folk music opened new gates for me.
NN
The traditional music our parents used to listen to has a very specific structure and a lot of rules which you can also hear within the final result.
RS
Yes, and regional folk music challenges those structures with its wildness. The wildness of folk music brings the final sound near to contemporary music. I started collecting folk music quite obsessively and that obsession turned into buying instruments and bringing them with me to the studio in Vienna. I first brought a setar with me, then a tombak, a dammam and finally a santour. I started playing and recording them together with other instruments such as a prepared piano manipulated with magnets. Of course I don't consider myself a professional traditional instrument player but within my work that's not an issue since it's more about capturing the experience I had with these objects in the studio than how they are supposed to sound. Microtonality is the other reason I was driven to these instruments and manipulated the piano. Even for the pieces I compose for ensembles, I use microtones to a certain expand.
NN
You master instruments such as the piano but, like you just said, when it comes to traditional Persian instruments you are considered as someone who does not have the knowledge to play them and are approaching the tradition unconventionally. By doing so you are putting the focus on some unseen aspects of the instruments, for example when you play the santour during your live set. This creates an atmosphere in which the sounds first reminded me of scenes from my youth but then suddenly took me to a whole other space and time. Your approach is the embodiment of deconstruction. The album aims to create a narrative by juxtaposing and deconstructing fragments from different atmospheres. Just like the way carpets are designed and constructed, figurative elements from various myths or literary characters are put together with abstract elements and ornaments. Without aiming to tell a chronological story from A to Z they stimulate you to create your own narrative simply by connecting these eclectic elements. Rather than a linear chronological structure, it's a zoetrope. Imagine a running horse: the sound of a growing loop.
RS
I make stories for myself to construct the tracks. The sound is abstract but it has its roots in something very storyteller-like.
When we realize our time is almost up and Rojin has to get dressed for her performance, I ask her whether she has been working on any new projects. After chatting a bit about a second album she decides she would rather tell me about a more personal release that has been on her mind. The soundcheck that was taking place in the Balzaal disappears. Rojin curls back up in the comfortable leather armchair and lowers her voice talking about the poetry she wrote as a teenager in Farsi and somehow neglected when she started studying in Vienna.
RS
I stopped writing for almost two years until last summer. During a trip I suddenly realized my head was no longer occupied with made up obligations. Finally I felt as if I had the mental space to write again. I began wanting to make radio plays with experimental music. A summer project in Farsi with poetry and sound, for instance. When I think back of the time I was working on the album, I realize it is difficult to force yourself to always work within the same mindset. The album was mainly a matter of constructing and producing whereas what I am making now is improvisation based and structurally less complicated. It is my mental progress of getting to know my emotions and learning to distinguish anger from sadness. When we compare the two mindsets it is also about the question of what is recognized as an emotionally driven sound. As I already said, creating the first album was a rational process. Now I feel the need to realize a work with poems just as something I feel like doing but which stands completely separate from the path my career has to be drawn to. It's more emotional now. (Laughs) You're really good at changing the course of this conversation into a therapy session.