The STROOM collective started out as a free from internet radio station and quickly became a bench mark for all things cold and synth wave, as well as pseudo exotica lost in the outer regions of musical history. As a label, they fiercely hit the decks with archival releases of Jan van den Broeke, Cybe and the soundtrack of Jan Zonder Vrees.
On the Lede Hills 9 0 5 0 event in October STROOM presented an exhibition with archival material of the Latvian NSRD-collective. NSRD, roughly translated as workshop for the restoration of unfelt feelings, was the name of a group of musicians and artists around Juris Boiko and Hardijs Lediņš. They were Latvia's most renowned avant-garde, postmodern, experimental and underground music group in the 1980s. Since their activities were widely multidisciplinary and none of them had a professional musical education, they could not be considered as pure musicians. Their creativity manifested itself through a variety of media — music, performance and action art, visual arts, poetry, samizdat, the introduction of video art in Latvia etc. NSRD also made a significant contribution to the theoretical aspects of art in the interpretation of the postmodernist movement, and in the development of Approximate Art. At the end of the 80s, NSRD got connected and performed with several artists and musicians living in West Germany, among others Indulis Bilzēns, Micky Remann and Maximilian Lenz aka Westbam.
We sat down at the Stroom HQ,
 in the vicinity of the Red Light district of Ghent and had a free form interview with IJf Boulet and Ziggy Devriendt. While walking upstairs, Ziggy proudly presents the newest addition to his collection of Alain Neffe releases, thrilled as a boy on a great adventure. Meanwhile, IJf is showing some obscure records he bought in France... Another adventurous boy, with a passion for collecting.

Ziggy De Vriendt
I'm happy to finally get a hold of this, although the print quality of the artwork is a bit disappointing. It looked much nicer in the picture.
Niels Latomme
I really like the title of the NSRD record: 'workshop for the Restoration of Unfelt Feelings'. Did you talk to the guys who created this?
IJf Boulet
Actually... No. Both Juris Boiko 
— who wrote the music — and Hardijs Lediņš — who wrote the lyrics — died in the early 2000s.
NL
Ah, I thought some of them were still alive. Who did you contact then?
IJB
I mostly was in contact with the people of the Art Centre that organized the Hardijs Lediņš year in Latvia. I tried to get in touch with the guy who takes care of the archive and who mastered all the music, but he was a little strange.
zdv
Who was that?

IJB
Laurens.

zdv
Ah, yeah. He is OK... He is just someone who doesn't understand the concept of 'deadline'. You can postpone a deadline, but what he did was redefining the concept totally. He was
2 months overdue and we sent him
5 messages; when he finally responded, his first question was "when is the deadline?" But those are minor issues when the release is finally there.
Today I realised something: I don't want to colonise the project. The record will probably become a bestseller, but
I really want a part of the copies to be distributed in the Baltic States. Since our distributor doesn't work over there, I'm currently researching the options, and I'm looking for record shops
in Riga that are both interested and thrustworthy.

IJB
There is actually only one shop.

zdv
Diāna told me there a few, though. But I'm now checking with her to
start up distribution in that corner of the Europe. We can maybe do it with Laurens. But that's the sketchy part of it, they might think that they own the records, there is a chance that we never see any money.

IJB
On the other hand, you can't compare Latvia to some small village
 in Africa, so I think it'll be allright, no?
zdv
True, but the communication with the older generation is sometimes funny, don't you think?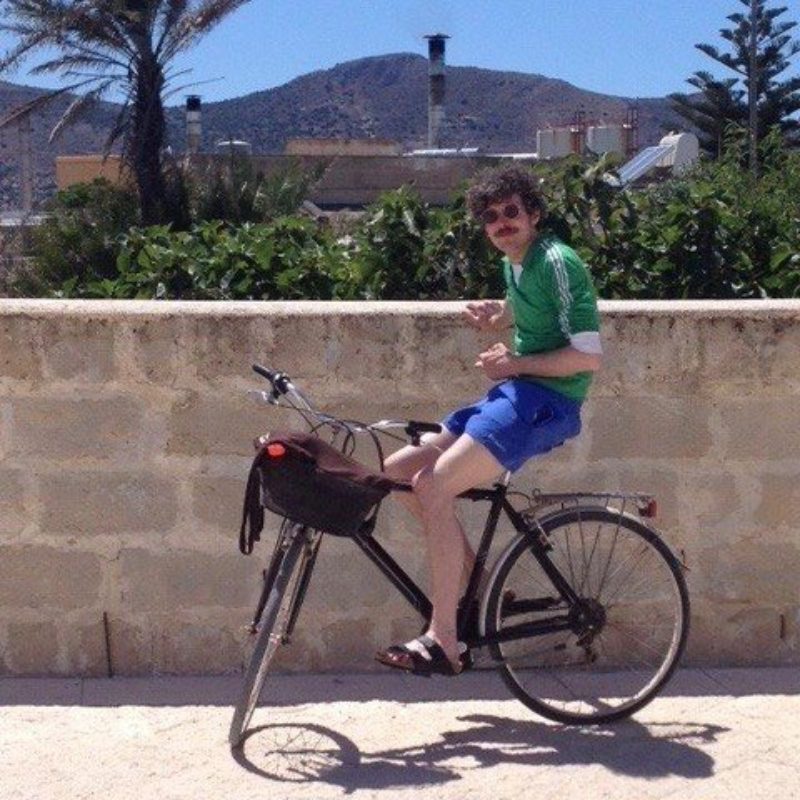 Nl
What about the upcoming releases?
Zdv
Sonoko. Which is kitschy, Japanese synth music. Sonoko is a girl who studied chanson in France, and she sounds pretty weird. She made one superlong triphop track with Japanese lyrics.
In February we'll release a Valentine's 12 inch, with 2 Belgian synthpop tracks. It will be the first in a series that features stuff from bands whose output isn't interesting enough to do a complete album. This series is more 'STROOM', in the spirit of the radio. On it we will release cool tracks with a vague story. If you compare it to the other records — pretty serious archival releases —, this series will be more free.
We will also release a record by Chi, a Rotterdam based new age band. Last year a lot of their tracks came out as remixes and reinterpretations, but the original stuff was never released. The Full Moon Healing concert series will also result in a record. Plus there will be 3 eps of Pablo's Eye, a guy from Brussels that once played as support for Massive Attack. In June we will release a record with new stuff from the guy who runs Dublab Barcelona. He made
a really heavy album that no one was interested in releasing. In the end he just sent it to us, to play it on the radio if we were interested. It was one of the first summer days, and I was listening to it on the train and I though "wow, dude, this is not normal". Currently, he's interested in different stuff, he is past this album. He told me that he's unable to make albums anymore, he will send us music and we can present it anyway that we like. The original idea was to release a fake album... Because nowadays every retard who recorded a fart in the 1980s is getting reissued. It is silly, all these terrible reissues... The worst are those with only one great track on them, there is just no point to it.
It's interesting that both Chi and the guy from Barcelona are still playing live. I got a lot of requests from abroad to set up a STROOM label night, but
I don't have any live playing acts on the label. That's why I think it's a good idea to release their stuff, so they'll have the opportunity to play live like that.
In the fall there is a re-release of Logo Business Man, a vaguely new beat-like Belgian track...
Fuck, now that I think about it, we will release way too much... It's crazy, every month something new will come out.
Nl
It's cool that you will also release new music. Why were you focused on reissues before? Apparently you don't like the concept much.
zdv
Well, Ekster is already releasing records by young, upcoming guys. Most of the new stuff I like, I send to them. The guy from dublab was the first one
I thought I could work with. I reissue stuff, because the whole heritage of the 80s (and beyond) is very important. It's also because I find old people mostly very nice to work with. They don't have that much aspirations anymore. Well yeah, not all of them of course, Alain Neve was something else. Van Den Broeke and Alan Pierre were (and still are) very grateful for it, and that is just very nice. It's cool that it worked out.
I now have the feeling that I can give something back to all those people who made great music in the past. It's like
a circle of some sorts.
If you talk to other reissue la-
bel owners, some of them are rude
ego trippers, losers really, unable to create music themselves. So their label revolves around themselves and is not about the musicians. I don't feel connected to that. I do have a connection with the music that I'm dj-ing, and now I feel like I'm giving something back.
I want to dig this music up, and get it out there.
A lot of people have an amazing collection of really heavy stuff, but they're afraid to share it, because they think someone will steal it. That's stupid. I feel that if you spend a lot of time looking for music, it's your duty to share it. Although I admit that I would find it annoying if someone else would reissue half of a playlist I made, so
I can understand that you become a
bit paranoid. But you can play with this thing. For instance with the Kisha record. It's a super heavy track, and
on discogs I found a couple of records for 10 euro. I immediately sensed that this record had 'it', but I never found
it. It was a record that was rare, but
not yet wanted. I then had the idea to release it for the valentine's record series... Ow fuck, you are recording this...
ijb
Laughs
zdv
Ah, I'm just talking bullshit all the time. (Laughs) I just don't get it... What is the subject of the interview again?
Nl
The first time I entered the STROOM studio, it reminded me of a club house. Like a boy's gang in a Suske en Wiske comic, caught up in it's own world and language and having a lot of fun in the process — slightly anarchist and absurd. Is it still like that after all these years?
Zdv
The first year it was, I think. Nowadays it's more like a secret society. The best way to describe it is as a club house where every one became a dad.
ijb
In the early days, every day 
3 people came by to do radio shows.
Zdv
That was insane, it was a super
nice period, but — at least for me, and probably I speak for IJf as well — I was banging my head against the wall. After a year I was bored with all these guys hanging around in the club. But still,
a lot of people stayed. The label became a priority, because after four years, I wanted to have more control over things. I was always asking for other people's opinion back then, but most of the people just gave half-assed answers. In the end you need other people, but if it keeps being a club house... I don't know. There were the two rules in STROOM: no egos, and no big names. It didn't matter who we invited, and how many followers or likes he had, as long he did a nice show, and was a nice person. Because that is the reality, you are stuck in a room with some- one for 1 to 2 hours, and if he is a dick head, it's not worth the effort. But, IJf, what do you think about that idea of STROOM being a club house?
Ijb
Well... some friendships started there, but in the end every one did it for himself, no?

Zdv
That's true.
NL
The radio station is no longer active?
IJB
No, we closed it.

ZDV
The Studio is still there, now and then we stream on Facebook. There is
a declaration on the site, and you are linked to bandcamp. We'll see what happens in time, maybe it'll come back.
IJB
We stopped because there were
lot of technical difficulties.

ZDV
Now we drop a song on our youtube channel once a week, and
that works pretty well. It was never meant to be like that, but in this way
we can combine the records and the radio. Facebook is too slow for radio. We had a lot of great shows on the radio, announcing it on Facebook last minute, but we never archived them.
A lot of people only saw the update the day after, when the show was already over. This momentary character is
part of radio, of course, but nowadays people don't listen to shows real-time, they want to listen on demand. We never used this on demand feature, because I...

IJB
.. was paranoid?

ZDV
No, no! I did not start STROOM knowing exactly how radio should be made, but because I definitely knew how it should not. I didn't want to
put the content on Soundcloud or Mixcloud — I have to admit though,
I stopped resisting. I don't mind offering shows on demand, if only we would have our own platform. If that was the case we wouldn't depend on the big platforms... A couple of months ago the whole music industry was in danger of collapsing, because Soundcloud almost stopped. Imagine.... what a gigantic archive would be lost if Soundcloud stopped. I'm old fashioned, I still like to work with vinyl records, and I have a personal contact with musicians. But for a lot of musicians, Soundcloud made their career. These issues preoccupied us, but we never found any answers.
NL
Most people working with radio use that medium because it is old school and on the spot. STROOM is and was always very aware of archiving, and using new media, no?
zdv
Yeah, it would be a bit hypocrite to start an internet radio and not use new media to spread it, no? I think it's a pity to do stuff on the spot, and then it's gone. I also don't agree that one
of the nice things about the internet is that there is no need for something physical. The internet has no physical borders. STROOM can be transmitted from Athens, or Portugal, or where ever... it doesn't matter.
But on a deeper level, it will always be rooted in Belgium, because we want to colonise our own past, instead of colonising someone else's.
NL
The label is a next step then?

ZDV
For me it's very logical. In the first year, we were pushing the medium to its limits. We were the only radio show ever that showed movies. We could do that, because we did it under the radar.
NL
The label appears to be 'conventional', if you compare it to the radio?
ZDV
Like I said, we became dads. You can't fuck around with a label, it's too important. The freedom of radio is supercool, but a label is too expensive. You work together with artists as well, and I don't want to fuck up the relation with them, just because of our own ideas. The label rewrites Belgian music history, I think. That's where you can find the fuck you attitude from the radio. It's a fuck you to the so-called canon — because, despite presenting itself as 'the story', it's just one of the many stories. We can do a lot of stuff nowadays with STROOM, we can make stuff work without overthinking it. I love to bring forgotten Belgian work to the world.
NL
How come that most belgians are so modest about their own past and merits?
ZDV
Maybe because we have a potato growing in our heads?