"EVER SINCE OUR FIRST GIGS PEOPLE THINK OF US AS A CULT. AND IT ONLY SEEMS TO GET WORSE." After roving about the railway district in Antwerp, where I marveled at Jewish headgear I could never have imagined really fitting on anyone's head, I finally arrive at Ed and Sebastian's, both members of the Varkenshond troupe. They guide me to the sixth floor of a charming, and acoustically interesting anti-squat building. There I hear them out about the therapeuthic side of chaos, harmony and the embracement of mystery, all while the skin of my face is enjoying the sweet vapour of the hot ginger tea beneath me.
Amber Meulenijzer
You guys met at a congres about cosmic rays. Could you please tell me the whole story. (Everyone, including me, is laughing about my somewhat naive first question)

Sebastien
Well, it was a gathering of people who, in one way or another, took interest in cosmic rays. Sometimes kindred spirits find each other while being surrounded by hippies. What interested us most of all was the influence of cosmic rays on the electro-magnetic fields of the Earth, or how radiation from space, and of sun storms in particular, could be transposed to sound. Soon we started talking about Van Gogh, and about music and sound in general. It did not take us too long either before we decided to play music together. In an early stage this was only with three guitars. Ed: After that phase, we threw everything open. It felt like therapy!
AM
Like therapy?

Ed
To step away from everything I had ever learned about music.

S
I had just graduated as a classical guitarist and I was looking for directions. When I met these guys, melody and tuning were thrown overboard. It was making tabula rasa in this first stage. I remember our first gig on a student party in Leuven, where we shared the bill with the usual cover bands. We went on stage without really knowing what we were going to do. The only option was just starting to play. If you erase everything, you can start reconstructing things from the chaos, because you do have basic concepts of melody, rhythm, or a musical narrative. You could compare it to a box of legos: you have a set of a police station, an indian ship, a prate ship and then you throw everything together, which creates the possibility of putting the head of an indian on the body of a police officer, or whatever. This canvas we used to re-introduce melody and rhythm, but without going back to the traditional 4-4 beat. Everything revolves around the deconstruction of what we have created. That is something which comes naturally. Besides the musical quest, Varkenshond also became a search for a sort of identity. In that sense, playing together was something of a therapy.
AM
What does sound mean to you?
E
Sound and music are very much related to the Ritual and the Theatrical. A ritual is not musical per se, but through music one can enter a ritual. The essence of Varkenshond is not the purely musical, it is not 'art for art's sake', our aim is to evoke images outside the music.

S
Images that leave enough space for interpretation.

AM
I feel a sort of urgency in Varkenshond, and I hear a sort of rising liberation. Does that sound apt to you?

S
There are two extremes: you either try to make something beautiful and aim at the purely esthetic, or you just express yourself. Everything can be tracked down on the continuum between these two poles.
E
Expression also calls for the esthetic. The energy of a person is very important.

S
We do want to add a form of seriousness to what we do.

E
The level of seriousness differs for every band member. I like the fact that everything can be taken with a pinch of salt as well. The band has three guitar players, but my guitar case does not support a guitar anymore. It is stuffed with all kinds of small instruments. Everything that produces a useful sound is welcome.

S
Like the 'Tooter of Life' for example! We put the mouthpiece of one of those small paper party horns on a recorder. It sounds très free jazz.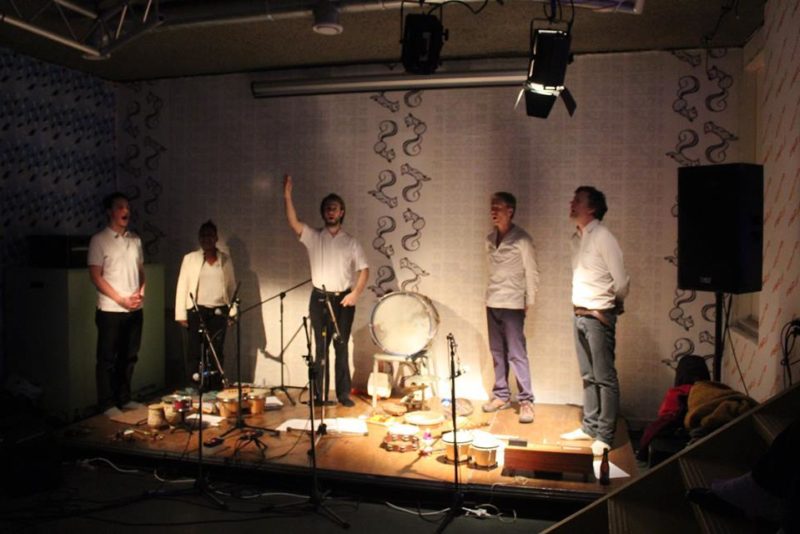 AM
You release your music on cassette. That is pretty interesting, given the fact that this medium also produces extra sound.
S
Moreover, a cassette avoids the song culture. You cannot skip tracks, you can only forward them. That foregrounds the story, and the experience of listening becomes a ritual.
Am
Are Varkenshond 'tribal'?
Both
Ever since our first gigs people think of us as a cult. And it only seems to get worse.
AM
What about language in music?
S
It does have an influence, but we try to keep a certain distance, out of an urge for freedom, to break loose from genre thinking. Only cross-pollination is interesting.
E
A foreign language is a black box. You know that something is being said, but you have no clue what exactly. This creates a kind of tension and energy you can play with, during the whole length of a track. I love it when I do not get a work of art or a composition. It can be dissapointing to finally understand something. Sometimes I have absolutely no idea about what we are doing.