Vex Ruffin smashed all his guitars, but that doesn't stop him from making minimal post punk no new wave. In the HBO series Girls, Adam lifts weights to his song 'Take it'. That's what Vex Ruf- fin does. Pumping adrenalin in your brain circuit. So you can get ready for that booty call. LAMINA!
Claire Stragier
In the YouTube comments to the 'I'm Creative' video, people are whining a lot. Do you get a lot of hate from the hardcore hip-hop fans because you take up a spot in the Stones Throw catalogue?

Vex Ruffin
Not really, I think a lot of them like my music espe- cially when they see me play live at special stones throw events they get into it. You'll see a hip-hop backpacker wearing a Dilla shirt dancing, a guy with dreads moving his hands in the air and a heavy set girl, it's like a scene in 8 mile except there dancing to Front 242. As far as people who post YouTube com- ments they all do not know what there talking about.
cs
One of the comments says 'this is like retard post punk?' Seems like a compliment to me, but are you offended?
VR
They did? I didn't see that one. Yes I'm totally offended. No I'm not it's cool.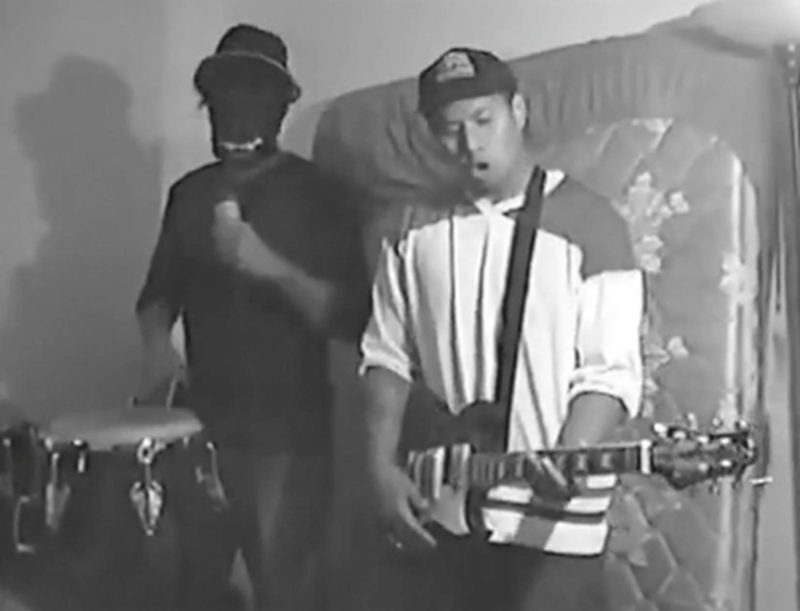 cs
Was it important for you to get signed with Madlib's label? Did you set it as a career goal or did it just happen?
VR
Well, I started making music trying to be like Madlib actually even gave him a beat cd before I got signed in like 2005 or something... switched up my sound and went the weird rock route and got signed. Stones Throw was my first pick and the ocsy label to hit me back when I sent out a bunch of demos. It's pure fate.
cs
From your album artwork I'm guessing that you're a comics and cartoon fan, as are Madlib and Doom. They both create alter egos and characters, like Quasimoto in Madlib's case, or they sample cartoon sounds. What cartoon or comic was influential for you?
VR
I'm not really a big comic / cartoon guy when I was a kid I grew up watching He-Man, and Voltron. I'm actually working on a hip-hop record with a rapper from Los Angles named the Koreatown Oddity and we sampled a lot of old cartoons from the 90s, can't wait for that to come out. It's almost finished!
cs
What's the common ground between punk and hip-hop?
vr
I have no idea... being original.
cs
What does LAMINA mean?
vr
Lamina is animal backwards its when I get very angry or stupid. I become the Filipino incredible hulk. I haven't been lamina for a few years now cause I'm a father now.
cs
Does playing live with a band influence the way you write songs? Or do you still do everything with a sampler, mic and electric guitar?
vr
I don't have a band anymore. I still record with sp. Been sampling more and more than I ever did before because I smashed all my guitars which is stupid cause now I don't have any. Would love to work with a band one day.
cs
Are you working on a new album?
vr
Yes! It's finished. We just need to finish mixing it. It's called conveyor and it's more influenced by 80s New York, electronic music, industrial, disco, darkwave, britpop, noise and hip-hop. It's all over the place of course! Should be out sometime this year.
cs
Number 8 on your 'Random facts—Vex Ruffin' list is 'my dream is to tour the world with my band'? How are you doing so far?
vr
Well I toured Europe last year been kind of MIA work- ing on records. I have a feeling I'm going to have a good chance in 2015.
cs
What's your drug of choice?
vr
Atenolol.
cs
Do you have other projects / bands?
vr
Working on a experimental album inspired by Richard H. Kirk and Death Comet Crew and a jazz fusion / industrial project I'm working on, and of course a hip-hop album with the Koreatown Oddity, all beats produced by myself.
cs
Who would you like to make music with if you could cross the boundaries between life and death?
vr
I would love to have worked with Rammellzee and Patrick Cowley.