Luckily I moved my bike to Ghent a few weeks ago, so I was able to happily get lost while still getting somewhere. After a few wrong turns in the jungle I follow the river and arrive at Köhn's house. A damsel in a little pre-examination distress opens the door and the coffee is already simmering. We sit down, after a short prognosis on the quality of the coffee we start talking.
Amber Meulenijzer
We are in your house, is this home for you?
Jurgen De Blonde
Yes, I have been living here for a while now, but it's more the things you drag along that make your house a home.
AM
What do you drag along?
JDB
The people around me, my instruments, a few records. The last few years my record collection has become more volatile though, given the fact that music had become so accessible via the Internet. That is something, which has changed a lot in the way I myself interact with music. I used to go to the library to borrow CD's, a habit I've been picking up again more and more lately, that does give a whole different feeling, we have lost the whole material and ritual thing that surrounds the music.
AM
Do you not think it is a pity you cannot hold the music in your hands anymore?
JDB
I used to find it more difficult than I do now. Every two weeks I had the same ritual: I went to the library, took five CD's with me, and then I used to go to the local hi-fi store to go buy empty cassettes. Sometimes I ran out of money and I had to save on cassettes. That is something, which is gone too now, recording on top of something else, which had the funny side effect that you could still hear the sound you taped over in the silent pieces. That has disappeared with digital recording, that given of lamination. You don't find the layers a painter uses in a digital illustration too, we lose the perspective of the process. Which is not a criticism, it's just something that has disappeared. It's not that I am nostalgic towards the analogue, but it is just something I have noticed when I transferred from analogue to more hybrid machines and eventually to computer.
AM
Your new record had been recorded digitally?
JDB
My new record has indeed just been recorded for 90%. There are one or two tracks on it, which I have actually made with Ableton. I record my concerts and home jams because they are largely improvised. In the end this records is a puzzle of al those hours of archive material. It has really become a patchwork, horizontally and vertically, of old and new material.
AM
What is sound to you?
JDB
Sound to me is that which connects myself to the time and space where I find myself. Sound is indissoluble connected to a course of time. It can also influence your perception of time; when you listen to something with a heavy rhythm, you get really entwined with it. If you listen to something more open like a drone, a field recording, free improv or free jazz, where the structure of rhythm and harmony is not so explicit, it totally changes your perception of time. It influences you on a conscious and unconscious level.
Also, ever since we are able to record sound, sound has been susceptible to an identity crisis. You can literally disconnect sound from its source and frame of time or space, just by reproducing it. Which is interesting, but it is a new given and I think humanity is not even half aware of it, nor do we know how to handle it. In the past, sound used to depend on language and to me that also is a little paradoxical, because language itself originated from imitation. You can see it when you listen to words we have been using for a long time, they are often also onomatopoeic.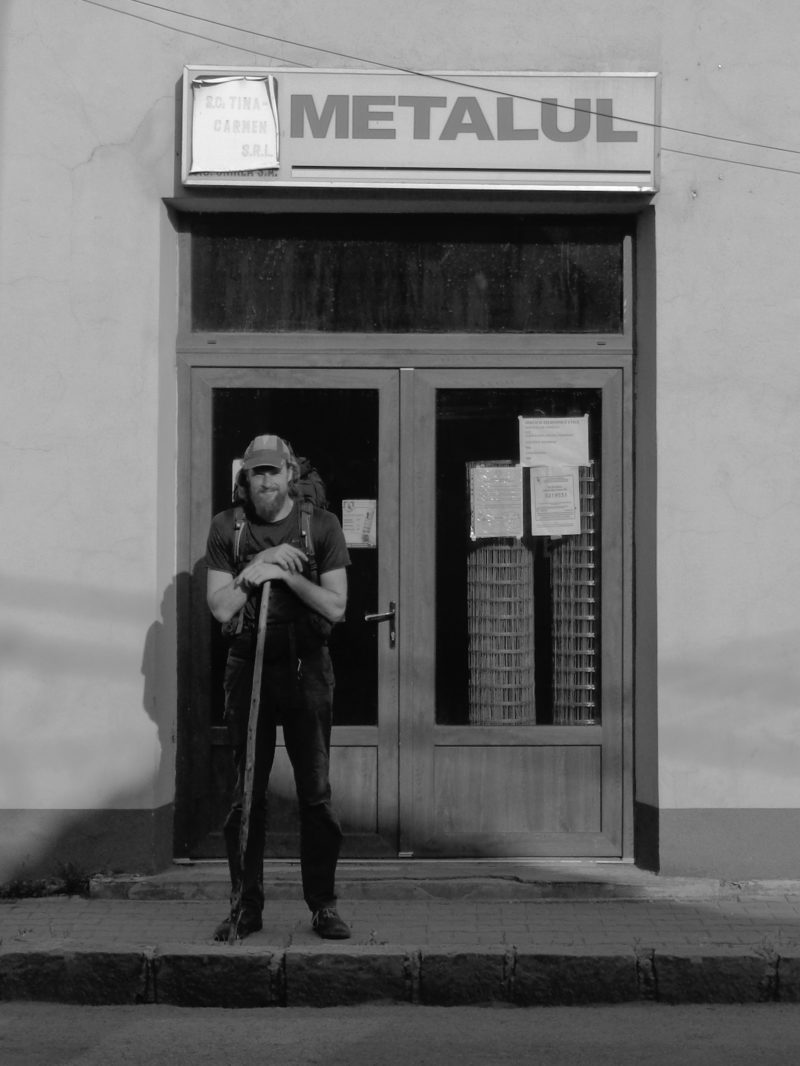 AM
I think you can also hear it in your record.
JDB
Yes, unconsciously it's in it. Or consciously.
AM
Where does sound shift into music? Or is that a distinction you tend to avoid?
JDB
It's a distinction I often think about and the answer I have found for myself is that music is abstract, music exists in the mind and on the other side on paper, but once it is released into the world and can be physically experienced, it changes into sound. We experience harmony in music, simply because it is mathematically reducible; it's all about cycles and vibrations and the human brain that discovers patterns in them, which we try to control.
The longing to reproduce and to move people is an ancient given. On one hand music is trying to organise the sounds we experience as pleasant, and on the other hand it's really about the way sound moves us. The musical principles of organisation are abstract, we categorised them in tones, rhythms and measures, but it is that information which is transferred via sound.
AM
Your new record is called Kreis Plön, I vaguely suspected that I knew the name from somewhere and a simple Google search confirmed: Deutschland. Have you ever been there?
JDB
No, I have been to Germany and Austria a lot, but I have never been in Kreis Plön. More: when I thought of the name Köhn, I did not know there were people with that name or that it even was a little town in Germany. Only a few years ago I discovered that that place actually exists. I've been thinking about giving a concert there, which would be funny. But when I put together my record, I was looking for titles and something to bind the whole. And then I really did in depth Google maps research on street names, place names, names of hamlets and selected words on a very associative basis. I bumped into names like klinker, loop and rumohr, and when I saw the escutcheon afterwards, the picture was complete. But I only know the place from dorky photos on Google. Apparently it is an environment where you can find quite a lot of prehistorical heaps of dirt and stone, which, then again, is quite interesting.
But the German clearance, yeah. I grew up with a lot of German, my mother was a dedicated fan of schlager music, and her whole side of the family was. Every summer we went to Tirol, the classic picture with lederhosen, big pints of beer and lots of zärtlichkeit. I must say that it's a very beautiful place, when you look at the nature, but ironically enough I have been to Austria about twenty times and I've never been to Vienna. A classic story: me, nine or ten years old, at home on Wednesday afternoons, and my mother cleaning the house while listening to the radio show Made in Germany on Radio 2, three hours of schlager music only. On Saturdays she used to watch ZDF, where you could follow die festen im Oberbayern, which kind of left his marks on me. When you grow up with it, you take it all for granted. Later I listened to Nena's 99 luftballons with the girl living next door to me, she was a big fan. So the German really sneaked in via various ways. Also when I began searching for music, I used to read about Klaus Schulze, Krautrock, Kraftwerk and so on. That whole cosmic music scene also brought me back to Germany.
AM
Is that an association you want evoke with your music? When you use such words for titles?
JDB
Maybe yes. Actually what happened is: the titles on my first two records are West-Flemish words who all have something to do with rabbits, but then spelled according to German logic. That was a try to bring together German and Flemish in a weird way. Because I notice that in Flanders and in the rest of Europe, we are being incredibly ambiguous about Germany. Of course we know why, we also have kind of a dubious history with collaboration. I was born in East-Flanders, but when I became twelve years old, I went to school in Bruges and spent the rest of my youth there. That whole West-Flemish mentality started working on me from then on, and with that also came their attitude towards Germany. Combine that with the German I have been impregnated with since I was born and there you have it. Maybe that is my way out, to put those two together. I find the confrontation very interesting; German vs. West-Flemish. Also trying to teach Germans how to speak West-Flemish, very intriguing.
By the way, it's really funny how people keep focussing on WW II. By the end of the 90's I went to Salzburg as an exchange student, and I took some history classes, who happened to discuss that period. The prudence with which they handled the subject was truly fascinating. WW II was also the first war in which they used amplified sound, which in my opinion makes Adolf Hitler one of the first rock stars. He spoke to the mass using the same technology the first rock bands used. An ironic link, when you think of the hippies who preached love and peace in the same fascist manner Hitler did. I find that delightfully ironic.
AM
What associations are there for you in Kreis Plön? I myself get a very mossy feeling.
JDB
Mossy? That is beautiful, thanks. To me, at some points, it is about searching the borders between synthetic sound and natural sound, also about the line between sound and music and then the noise aspect. Noise, not only in a grotesque brutal way, but also noise in the way that we filter information out of the whole of sound that comes to us. You pick out the things that resonate with yourself at that moment, the rest is noise. That is not always a process that happens consciously, but it happens. I think those are the three stories I examine in my sound, and in that way also the three layers of association in the album. There is a passage for example where I use a recording of mating frogs in season, which I recorded here in the Bourgoyen in Ghent. I then switch to a no-input/feedback mixer, which I think produces sounds that resonate in the same spectrum as those frogs do. You will find that no-input/feedback mixer a few times along the way when you listen to the record, sometimes it's used for a crooked saxophone solo, sometimes as a jammer and sometimes just as a layer of noise that covers the sound like maizena. At the same time it also refers to twenty years ago. Because it actually is my old four track minidisk recorder, which doesn't record that good anymore, but has become an amazing instrument. I have begun to use it as a distortion machine and a lot as a live instrument. That process of reshaping sounds is something I have picked up again lately and I am having a lot of fun with it. For me, Kreis Plön is also a merge of the begin days of Köhn and everything that came after with the live aspect. Really a come-together of a lot of things actually, half of them I don't even understand myself.
With these words I leave Köhn in his lovely home to take the train back, where I find myself surrounded by Germans from Frankfurt, who have never been to Kreis Plön either.