I was late. The appointment was at Le Marseillais in Jeu de Balle; with its blue awning, decidedly gaullian façade and extensive pastis list, you could easily believe that you're actually in the South of France. An apt location, as it turned out. She walked up to the table some ten minutes after I'd sat down. I was relieved; I was late, but she was later.
"Have you been waiting long?" she asked apologetically. "Nah," I said. "Just long enough to find a pen and lose it again." She laughed, then gasped and picked something from the ground. "Ta-daaa!" she exclaimed brightly, handing me the shitty ball pen I'd been foolishly scanning the floor for longer than I dared to admit. A first act of magic.
Vica Pacheco's story begins in Oaxaca, in the south of Mexico: a land of color and sunlight, mole tamales and alchemy. A land, also, of art and artists, with a strong tradition of painting, music and craftsmanship. From a very young age, Vica told me, people are encouraged to take up singing or learning an instrument. "For me, it was always about singing, ever since I was little. You'd see me around with my little guitar, singing No me ande por las ramas uy yui yui, yui yui yui!" Moving from Oaxaca to Mexico City, she studied at the national school of fine arts, La Esmeralda. It was there that she met Baptiste (Apulati Bien), who was in Mexico for an exchange program. Love happened and, with it, change: Vica soon applied for an exchange program in the renowned Villa Arson in Nice, where she was reunited with Baptiste and where she made friendships that would anchor her to a community with a lore of its own. Through Outreglot, the collective she formed with Baptiste, Aude (OÏ les Ox) and other Villa Arson alumni, they organized the Missing Numéro festival in 2017 as their graduation project and founded the highly inventive Nuevos Boloss publication, a magazine that heralds a new generation of art-makers bearing a singularly warped aesthetic.
Vica's own work is a mesh of interconnected fields, subtle upon initial approach but wildly rich and imaginative the more you delve into it. Her music is sound art as a speculative pursuit, where entire landscapes and universes are built from the most elemental resources and sculpted in a near-literal way. Her drawings and artwork designate organic visions in ethereal planes, the liminality of these imaginary scenes made real by the eerie tangibility of the objects represented within. Over a glass of peach syrup fizz ("I loooooove this stuff") and sporadic high fives with bar regulars ("Total girl from the hood, haha") we hunched over an ill-placed iPhone to talk about her work and her vision, with the sound of bells and abandoned scooters and idle chatter making for a most relevant backdrop.
Gabriela Gonzalez
How did you end up in Brussels?
Vica Pacheco
I was accepted one year as an exchange student in France. The Villa Arson was the perfect place for me: they have every type of discipline and workshop imaginable. So yeah, when I saw that I was like wooooooow. I ended up doing very well and was very lucky to be able to stay and finish my studies there. Moving to Brussels was a natural choice: there's a lot happening here, and it's not as unfathomably expensive as Paris, nor does it have the hermetic cultural weight of other French towns. There is a true multiculturalism here - it's crazy how easy it is to start things here compared to other places.
GG
It's really impressive how all of you guys from Outreglot have such an almost unnervingly intuitive relationship to and with sound.

VP
Indeed! I mean, both Baptiste and Aude were at Villa Arson for six years, with access to the most magical of studios, the studio son. It's the most incredible studio you can imagine, with all of the material you need to make sound, as well as multiple booths, the best sound systems, the best microphones... At the Villa Arson you are also really trained to listen. There is a literal class for sound art, where you are taught to use microphones and machines and with assistants who are there for you to support your different projects. For me it was incredible; it was here where I started mixing sculpture and sound and building all sorts of sound installations, which I continue to do actively.
GG
You seem to do a little bit of everything: ceramics, video, drawing, music. I get the sense that your practice, as diverse and rich as it is, always seems to take sound as a starting point.
VP
My practice is mainly rooted in the imaginary, and, above all, in mythology. I'm very inspired by prehispanic and pre-Columbian mythology. A lot of my sound sculptures are made from wind instruments and whistles, since I am very interested in air as art tool. For instance, for a school project I decided to make ceramic sculptures of death whistles in the vein of prehispanic silbatos de la muerte. At one point I realized that the whole school was linked together by a system of compressed air - a necessary tool in many of the workshops. It struck me that I could use compressed air to make really impressive sound through a combination of the death whistles. I ended up making a lot of those, and together they sounded a lot like an organ: there was a constant, direct airflow travelling through this network of whistles and it was a sound filled the room and evolved constantly. It could get pretty wild, too.
But yeah, I really like mixing archaic elements with technology and it really comes through what I make. I recently made another installation in Lyon called Resonancia Solaire - actually it's still there, since I haven't been able to bring anything back! Anyway, I'd read that it was possible to translate light into sound, so I told my friend Rémi Ri that I wanted to do something with sunlight, a sort of photosynthesis where the sunlight is captured and sent through speakers. We did so by using solar panels to gather solar energy that was sent to mini-synthesisers that Rémi built, then shot down into the ceramic sculptures and sent out through laser beams. The latter are really sound signals, and whenever a solar panel was touched the sound was activated; however, if you interfered with the light, the sound would turn off. That made for a lot of chopped sound during the vernissage with all the people walking around and all; it was actually really great, almost like a choreography. I'd love to show this piece in Belgium soon.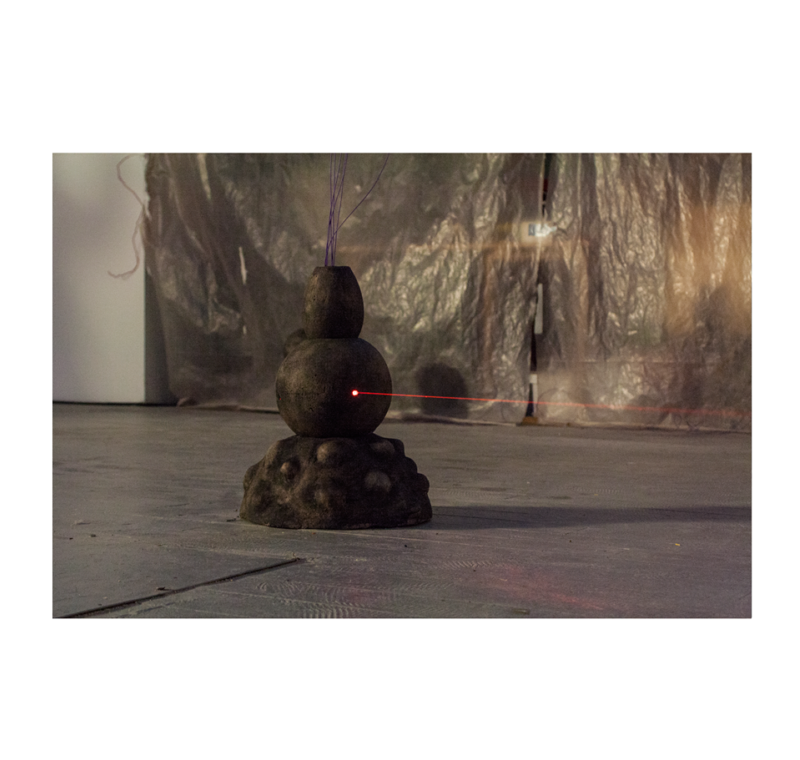 GG
What tools do you use for making music?
VP
I mainly use my computer, a controller, and an analog synthesizer that's been modded to use in MIDI. The peculiar thing about my sound that it most of it is made from field recordings. When I was in the Villa Arson I became very involved in the world of recording, which for me was amazing as it was my introduction to microphones; I love amplifying the tiniest of sounds in huge spaces. My friend Eve and I experimented a lot in school with dry ice, hot oil, plants...I began collecting tons of recordings and started building a sound library with them. Soon after I had the opportunity to make a piece for France Culture, Vocamorfosis, which was entirely composed with samples of my voice. I recorded everything in a sound booth: different kinds of singing, imitations of polyphonic chants, gargling, whistling, breathing, screaming, all inspired by the jungle and its sounds from a mythological standpoint. I had a producer/assistant who filed and named every single recording, so I ended up with an incredible sound library comprised only of my voice, which I still use frequently in my live sets.
At this point I think I have somewhere between 2,000 and 3,000 clips of different sounds, all of which I cut and sample and use as compositional tools. My live sets are generally prepared chunks that are sequenced into a narrative. Of course, my main challenge now is to anticipate and deal with the technical issues that arise. After all, I'm working with huge amounts of data, thousands of gigas worth of material - we're talking about anything from a mega-amplified bell sound to the sound of fingers snapping to entire sound landscapes - and my poor little computer is really struggling at this point!
GG
Your graphic work - drawings, 3D imagery, etc - is incredibly impressive. How did you develop your distinctive style?

VP
I've always been drawing, as long as I can remember. Again - and not to brag, haha - but coming from Oaxaca is a big factor in my artistic development. There is an important graphic tradition in Oaxaca, in print, lithography, etching and metalwork. When I decided I wanted to be an artist I knew I had to build a portfolio, and that's how I began working with graphic techniques. I began mixing photography, drawing, and lithography, printing photographs and drawing over them and combining them in all sorts of ways. 3D was also a means to combine photography and drawing: it's like drawing reality, and the way you can play with light makes it so you really feel like you are building other universes.
A project I've been planning for a while is building prehispanic Peruvian whistles, huacos, which typically comprise two chambers connected through a tube and which make different whistling sounds when they are filled with water as the compressed air moves from one chamber to the other. It's a beautiful object: not only is it mechanical but also organic and loaded with symbolism of earth and water and fire. Learning 3D was important for me in order to build and model these artefacts and to be able to print out a mold to make lots of these whistles in ceramic. I thought that by learning Blender I'd be able to pull it off, but by the end of the workshop that I'd taken specifically to 3D print I realized that Blender isn't for that. It's was like, no mames, this is such a mindfuck! But for printing and whatnot you really need to be precise down to the last millimeter, and Blender is far too organic for that. So that's still something to work on!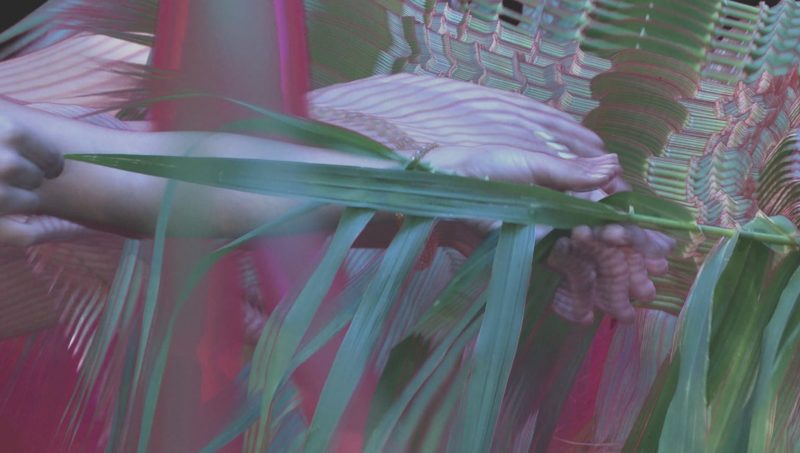 GG
You and Baptiste have recently been playing a lot as Jolotl. How did that collaboration come about?
VP
Baptiste and I always wanted to make a bit more of a "lighter" project, something less "mental" since our respective projects are so mind-consuming for us. Jolotl is a very personal project - in fact, we conceived it as a surprise for our guests at our wedding! At first we really wanted to make something a bit more R&B and cumbia with some Memphis sound, and for me it was also an opportunity to really sing.
GG
What projects are in store for you at the moment? Any releases? A new edition of Nazcas Festival?
VP
Ah, Nazcas Festival! That was a very ambitious project. I'm not sure either me or Juliette (Romero, Poxcat Collective and Salon Mirage) will do it again: while it was an important learning experience, it was an energy and time-consuming one. I learned a lot about organizing things, negotiating and being taken seriously. Juliette has an amazing approach, and she is an active, steadfast player in the creation of spaces for artists where we can thrive and survive. Nonlocal Research is planning on releasing Vocamorfosis on CD. My music has also appeared on compilations, notably Flux on Stereoeditions (Marseille) which was all sound pieces by women sound artists, and more recently on a compilation by Fruits along friends like Loto Retina and Flavien Berger.
In June I'll be making a piece for Rinse Radio. Baptiste and I have also been talking to Promesses, who released Apulati's first cassette, about a Jolotl release in the near future. There's also a possibility of a solo release on Errata, where Apulati Bien just released a cassette with recordings from the Resonancia Solaire exhibition. I'll be playing at the Festival Milieux, also organized by Promesses, and perhaps in Lille soon for a gig set up by Fruits.
Playing live is still a relatively new thing for me but it's getting easier, though I still get the shakes and feel my skin get super hot when I start! But whatever, it all goes away once you remember why you're there and why you're doing what you're doing, and it's only when you start enjoying yourself that other people can enjoy the experience too. It's not the same to see someone all [mimics a stiff musician with a grunt] and I feel like my first shows were a bit like that. But again, I learned a lot about performing at Villa Arson - and really, the biggest thing for me has been to lose the fear of using my voice. To me, the voice is a powerful thing, and it's not something I want fear to have control over. So YOLO, I guess. Un gran YOLO.
Soundcloud: https://soundcloud.com/lilvica
Instagram: @la_vica_