Marijn Verbiesen is one of the forces that keeps the Rotterdam underground together, participating in numerous projects (Sweat Tongue, JSCA) and as organizer of the infamous Herman concert series. But foremost, she is a highly talented musician that makes her debut on KRAAK with a stunning vinyl, containing tape collages that are highly personal. The future of musique concrète is amongst us; it is called Red Brut.
Her
Pauwel De Buck
Hi Marijn, let me check some of your personal details: age?
Marijn Verbiesen
30.
PDB
When did you start to make music and since when are you involved in the Rotterdam DIY scene?
MV
About 6 years ago.
PDB
What or who made you take that step?
MV
Michiel Klein, my boyfriend.
Her Own Work – 3, 2, Solo
PDB
When listening to your music, I sense a strong outsider attitude: you have quite a unique way of playing music. Some might call it dilettantish, but I think it's very intriguing. For instance, the surprising way you play the drums, in bands like Sweat Tongue and KRAUS. Were you looking for an approach that fits well with both bands? Or is it a matter of a limited amount of skills, and the fact that you don't feel the need to improve?
MV
I wouldn't say that I was consciously searching for a way to play with Michiel and Beliz (her band mates at Sweat Tongue). Sweat Tongue was actually the first band I played in and I really had no clue how to approach it. As the quite intuitive person that I am, I found a lot of inspiration in the music I was listening to at that time, Harry Pussy, No New York, No Neck Blues Band, these all influenced my way of playing a lot.
I took a few drum lessons when I was a teenager, but as soon as I met Michiel, he strongly advised me to leave al that garbage behind me. This gave me a lot of freedom in playing my instrument, from that point I learned to develop my own language and found my own techniques to play, which was more important than becoming perfectly skilled.
PDB
JSCA, the duo with Michiel, is more intimate than Sweat Tongue. Why did you start another band with Michiel?
MV
Sweat Tongue and JSCA were both founded in the second half of 2012, this was a time when I discovered a lot of avant-garde art and music, a trip in which I was mostly joined by Michiel. And I simply needed more bands to put all that inspiration and energy in. The starting point for JSCA was to focus purely on electronic music. Around that time I just bought a Korg MS 10 synth that I instantly fell in love with. I used it as my main sound source for JSCA, just as with the drums for Sweat Tongue, I searched for my own way to play it, as I didn't know shit about synthesizers.
PDB
Like your drumming, I would call your actions in JSCA more sparse than virtuoso. The result is a peculiar sound, with links to 70s underground music in New York. Or did you get your inspiration from somewhere else?
MV
No wave and 70s underground music from New York was indeed very important. Just as it was for Sweat Tongue, but in the case of JSCA it was more focused on the electronic side of it, bands like Suicide, Ike Yard etc. You know that JSCA is named after a song of the band Monoton, a solo project of the Austrian musician Konrad Becker. His lp from 1982 Monotonprodukt 07 was reissued in 2012 and this record had a massive influence on both me and Michiel.
PDB
Going from a trio to a duo to your own solo project: You experimented with Red Brut when Sweat Tongue and JSCA where still very active, were you looking for a more solitary music practice?
MV
No, not really, Red Brut is a very personal project, something like a diary; it is something I had to do on my own. Away from other people's thoughts.
Actually, Red Brut is a sort of collage book, It's a collection of associations and registrations of everything I see, hear and feel. Sometimes sounds, which passes me along, sometimes I go look after them and even sometimes I discover them when I don't expect it. I put them on tape and these tapes get assembled in one framework. It's something between a memory and a dream.
PDB
What's your view on working solo? Does it give you more freedom or is it more difficult to make choices?
MV
Both.
Her New Record on KRAAK
PDB
When we asked you to make your vinyl debut on KRAAK you immediately responded very enthusiastically. However, it took a while for this big bulk of recordings to get some shape. Personally, I really enjoy the process of a record coming to life, how did you experience this yourself?
MV
I felt very honoured and was indeed very eager to do this. The process was very bumpy: a quick start, a big failure shortly after, then came a long way of wandering around to get a more clear idea of what I wanted; to get on my face again. In short, a beautiful process in all its atrocity and happiness. I can be very impatient, which has a good and a bad side. But this process is necessary and will repeat itself every time I make a record.
PDB
Is there a certain state of mind you put yourself into when you make music?
MV
Astonishment when recording, isolation during playing.
PDB
When I heard the first takes, it sounded like you didn't really feel the need to make a selection of all the ideas. As in some kind of lucid dream you glued everything together, very intuitively, as if you didn't consider which direction to take, am I right?
MV
Ha, yes, that's correct. For previous releases I never really made selections, I mostly used my first takes and made most of it with a strong dose of intuition. I also don't like to listen back to my own music. For the first time I had to deal with the thoughts and remarks of somebody else about my own music, which was quite confronting.
PDB
After sending us recordings for about a year, you finally came out with 7 quite clearly defined tracks. Was stripping down to the essence of your work a difficult process?
MV
Was it really one year? Goddamn, it all goes so fast. Every time again I had to find moments to work on it, I also do a lot of other things. Let's say it wasn't very hard but it needed some time to get cooked to perfection.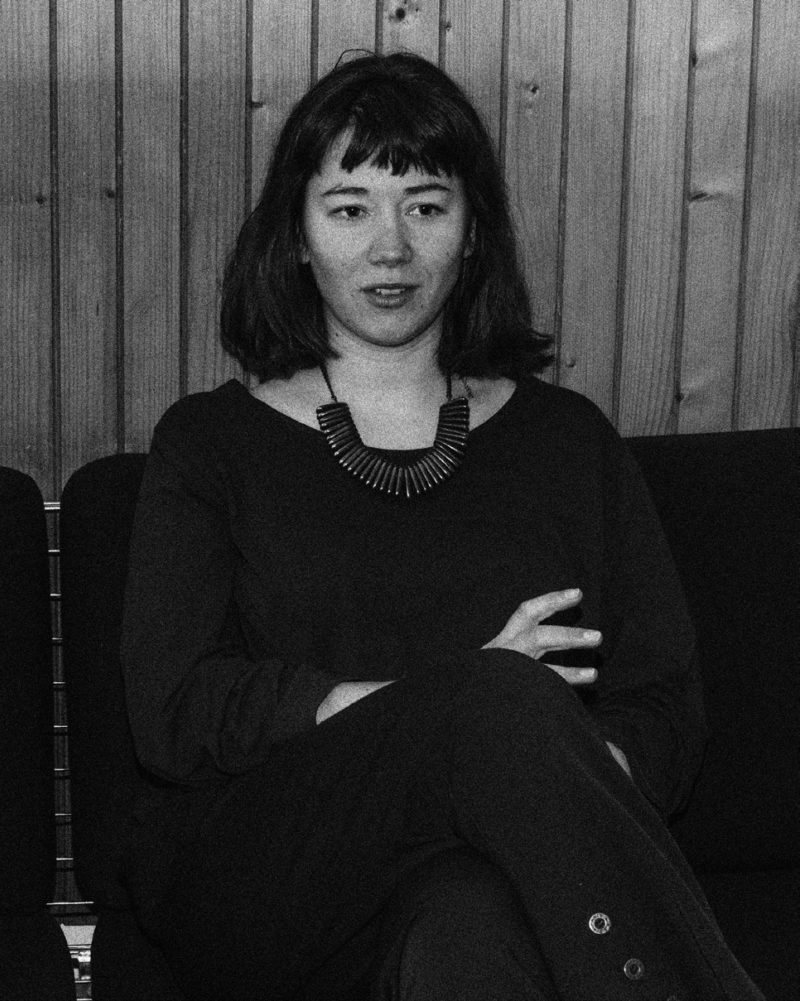 Her Work as an Organizer
PDB
You are indeed involved in a lot of other things as well, besides your music practice; Like organizing concerts with Mima and Herman. What's the difference between these two concert series?
MV
Mima is something I do with Michiel since the end of 2012, Starting point was the idea to give a stage to befriended artists, active in the same field as we were. At that time there wasn't really a place in Rotterdam that supported our kind of music. Today, the focus is still the same but our circle of friends has expanded.
Whereas Mima is a small thing I started with Michiel, Herman is a new and young organization led by 5 people with a wider approach to programming music. Right now the most important thing for Herman is to find our own space where we can stay for a while and where we can do whatever we think is important to present on our stage.
PDB
It's a typical thing for people active in DIY culture to organize themselves: the idea that you're better off when you do it yourself. Agree?
MV
No, not really, it only started out to support friends; I don't think we do it better than others.
PDB
Nowadays, there's almost an oversupply of small DIY shows, the scene is flourishing more than ever before. On one hand, this is a good thing for a lot of artists, on the other, there's the risk that your audience won't be able to follow up on all these events. Is organizing concerts losing its relevance or does this not really bother you?
MV
I don't really care, I do realize there's a lot more going on then 7 years ago, but still, with Mima we attract the same amount of people.
PDB
What's your vision on the future of the DIY scene? How do you keep it fresh for yourself and your audience?
MV
Herman is a new step for us, in a hopefully not too distant future, we aim to create our own spot where we can develop our ideas further.
As for Mima, we take it as it comes and that's how we like it.