WARSAW, WIDT, GOMBROWICZ EN DE SINGULARITEIT. Er is iets gaande in Polen. Dat valt op zijn minst te vermoeden wanneer je de uitstekende VHS beluistert die het audio-visuele duo Widt uitbracht. Met analoge video, stem en elektronica scheppen zee en psychedelische jungle dat het midden houdt tussen eigentijdse post-internetelektronica en de tapecomposities van grootmeesters L. Berio of P. Henry.
In November 2013 liet ik me verleiden tot een reis naar Warsaw om het verjaardagsfeest van een Poolse vriendin bij te wonen. Het werd een ruimelijk in vodka gemarineerde trip doorheen een grimmige ex-oostblokstad die geperst zit tussen een kitcherig, fake centrum en grauwe socialistische woonwijken. De gentrificatie heeft de stad overduidelijk in haar greep, bewijzen de Moji-winkels en hippe koffiebars. Ergens kon ik me niet ontdoen van de donkere sensatie dat ik per toeval binnengestrompeld was in een boek van Witold Gombrowicz. De donkerte was amorf, grotesk en absurd, maar evengoed gevoelig en troosteloos. Elk onbenullig en toevallig feit kon en leek een levensbepalend element worden. De stad greep me aan als ware het een singulariteit waarin tijd en identiteit opgeslorpt worden door een vormeloze en ondoordringbare massa.

De vraag of een stad haar bewoners, de muziek en kunst bepaald intrigeert, zeker in het geval van een specifieke en hermetische stad als Warsaw. Het audio-visuele project Widt is geboren in Warsaw, in de schoot van de kunstscene, zo vertellen de zussen Antonina en Bogumila Piotrowsko:
We are sisters, both educated in the subject of fine (visual) arts. Bogumila is a graduate of history of art department, specialised in glitch art and distortion in image, she works as a motion graphic designer. Antonina is a student of intermedia department at the academy of fine arts, she is a self-taught vocalist.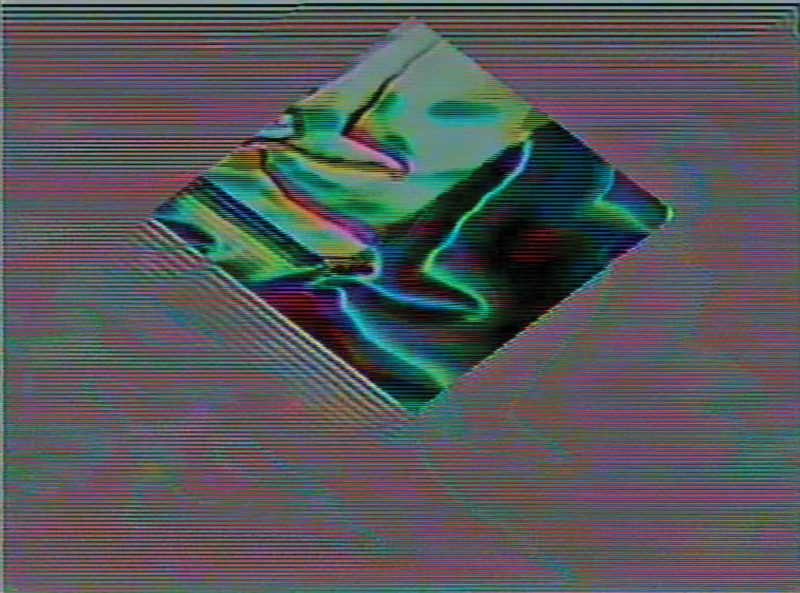 Widt is zeer eigentijds, een exponent van de hernieuwde interesse in analoge formaten. Hun debuut vind je enkel op VHS of bandcamp. Een vreemde en veelvoorkomende paradox waarbij zonder schroom eigentijdse media gekoppeld worden aan oudbollige, inferieure technologie. Een van de meest gekende iconen is Oneotrix Point Never. De spanning tussen het hypernieuwe en het voorbije lijkt eigen te zijn aan een post-internet generatie, vol melancholie en gedreven door een obsessie met tijden waarin het tastbare de enige mogelijkheid was. De vrouwen vertellen hierover:
A VHS is a mother format of our visuals which are formed on a basis of continuous signal. We wanted to keep the organic texture of the video material. Now, there is a renaissance of analogue formats, a lot of small labels release music on tapes and vinyls. Pointless Geometry is one of them, they are dedicated to tapes and vhs.
Magnetische dragers vervagen, en ademen inherent verlies uit. Na ettelijke afspeelbeurten is een VHS onherroepelijk verloren. Distortie en witte ruis ontstaan, tot het punt waarop de originele beelden en muziek slechts dankzij herinneringen waar te nemen vallen.
Widts s/t VHS refereert niet toevallig aan de revolutionaire tapecomposities Echo D'orphée, (Pierre Henry) en Omagio a Joyce (Luciano Berio en Cathy Barbarian). Beide stukken gaan over verlies—op een eerste niveau over het verliezen van een geliefde aan wat in de huidige metafysica een singulariteit heet, of in mythes de hel of het hiernamaals heette. Op een dieper niveau verliest taal haar rationaliteit en letterlijke betekenis, en daardoor gaat identiteit, de kern van een vrouw of man, verloren. De muziekstukken steunen op stem en primitieve elektronica. Ze deconstrueren taal als de kern van identiteit en bestaan, door zanglijnen te verstoren en het spreken te herleiden tot glutale fonemen.
We perform long, improvised audiovisual sessions, trying to reach states of peculiar, deep and intense feelings. The most subtle feelings, not feelings of moral behaviour. Antonina is using her voice as a base of compositions, sometimes with a synthesizer, she modifies and piles it up with a looping station. Bogumila creates a shutter feedback connection between the elements of her equipment (video camera, tv set), composing with analogue audiovideo mixers.
…antwoordt Widt op de vraag hoe hun muziek tot stand komt. Het bewijst hoe ook het kunstenaarsduo, in navolging van Berio en Herny, taal en identiteit verstoren tot hermetische, betekenisloze, amorfe en ongrijpbare materie. Hetzelfde kenmerkt hun visuals: video-feedback en visuele loops; het beeld verwijst letterlijk naar zichzelf en bestaat enkel in—hermetisch en ondoordringbaar (zoals Warsaw).
Schijnbaar paradoxaal, maar niet toevallig ontwijken Antonino en Bogumila de vraag of ze zich doelbewust lieten inspireren door Henry, Berio of gelijken:
If our music refers to anything that is probably because of the resemblance of our ideas and approach to art, music and reality.
Hermetisme dus, doelbewust vaag en betekenisloos. Ook zonder enige ironie. Hoewel een kwatong kann beweren dat de operastemmen op zijn minst kitscherig zijn:
Antonina:
It is an interesting point. My approach to music is absolutely serious, I would never use irony as a means of expression. For me this is more grotesque, absurd or psychedelic in general, but still sublime and spiritual.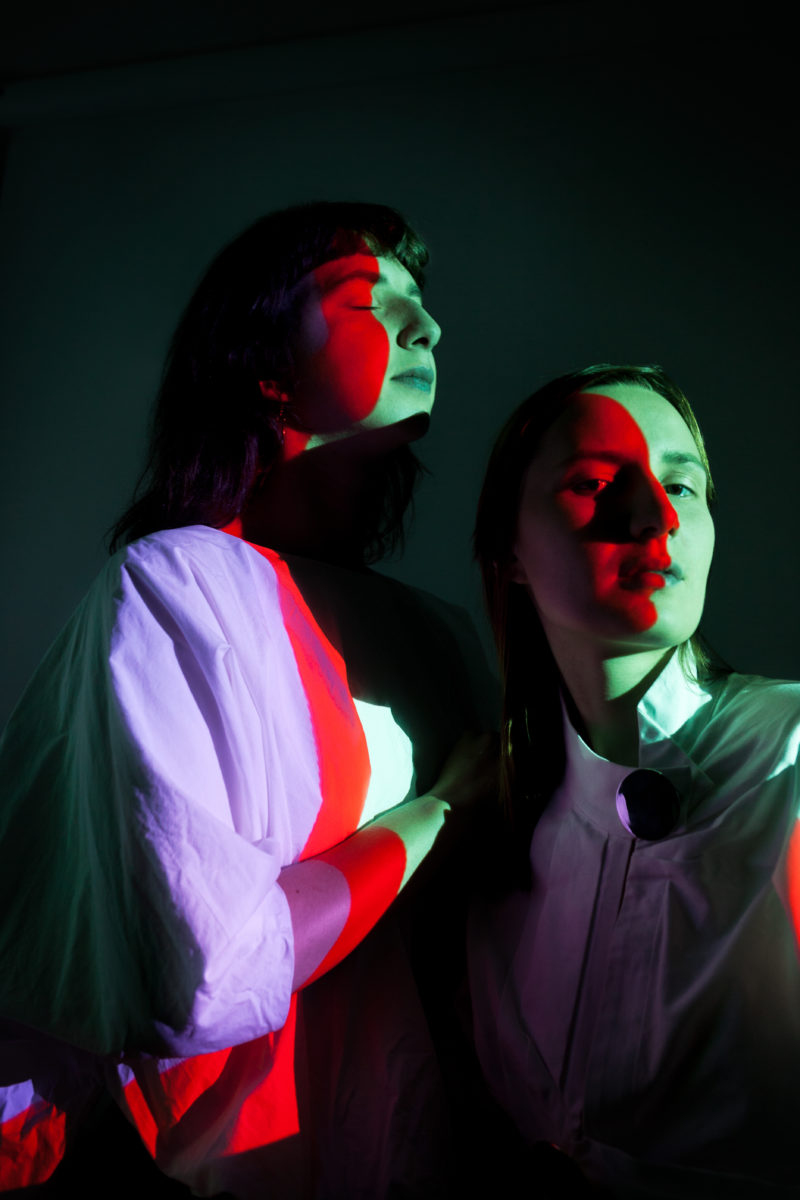 Widt wil het psychedelische-groteske tastbaar maken. Zoals Warsaw materialiseerde als de groteske wereld van Gombrowicz.
In Kosmos verhaalt de schrijver hoe een jongeman—jeugd, en het verlies ervan is een hoofdthema in zijn oeuvre— een shortcut neemt. Hij vindt een mus die werd opgeknoopt en gewurgd. De man is zo onder de indruk van het beeld dat hij toevallige, betekenisloze gebeurtenissen aaneenrijgt tot een onbegrijpelijk logica. Langzaam verliest hij de grip op de realiteit en loopt hij verloren in zijn hersenspinsels. Hij verliest alle morele besef en vermoordt uiteindelijk een kat om zijn gastgezin mee te trekken in het moeras van zijn ontregelde en verstoorde realiteit.
Widt is misschien een waardige audiovisuele tegenhanger van Gombrowicz werk—psychedelisch, grotesk en immersief.
Misschien lag het aan de vodka, maar ergens houdt het meer dan steek dat Widt in Warsaw ontstond.