In a world where sharks wear trainers and the worse is always better, Maarten Raskin of Crash Toto and Lemones gets to bump virtual heads with Will Edmondes, the acting ambassador of Radioactive Sparrow. Having met at KRAAK Fest 2016 when Maarten played with Shetahr and Will with his daughter Freya as Yeah You!, they eventually became friends through repeated connections within mutual circles. Together, they delve into the strange, sprawling cosmology of the most legendary band that nobody's ever seen – an odyssey wherein total improvisation is the sole prescription.
Will Edmondes
Sooo… What have you got? You have some good questions?
Maarten Raskin
Yeah. I dug into your Radioactive Sparrow world and I had a really good time with it. It's a really nice universe you guys created.
WE
Oh jeez, well it's been a long time – it will be our 40th anniversary this year. This band started when I was 13.
MR
Wow, crazy.
WE
Yeah, it's a good time to do this. I've been planning to do stuff with Steve [Heaving Stews] and re-inventing the whole thing because we haven't played for a couple of years. Tony won't be able to make the KRAAK fest gig, which is a shame but we've played without him before. He's still making a backing tape for us – he kind of imagined the gig and he will be controlling things to a certain extent.
MR
But you guys don't know what's on it?
WE
No, it will be a total surprise.
MR
Wow, amazing. Yeah, I downloaded the album Spacelord some years ago. You mentioned it on your Instagram, and I thought, wow, what is this? And later I bumped into a live video of Guttersnipe on your account and saw some Radioactive Sparrow videos. I asked Pauwel if he knew the band, but he'd never heard it before and liked it a lot. We didn't know if the band was still active, and then Pauwel discovered that you play in the band as well! But it was confusing since we saw that the last videos were from 2016 or something and then it somehow stopped.
WE
Yeah, it's complicated. Steve and I were in it from the beginning, and there was also third guy, Bruce, up until 1989. Tony [Gage] and Richard [Bowers] were in one of my favorite bands when we were in school. At some point it seemed like Bruce would leave, so we nervously asked Tony If he would play with us and he said yes. That was it. It's pretty much been me, Tony and Steve, with Rich coming occasionally when we started gigging a lot in the early 90s; sometimes he'd play a gig one night, and the next night he'd say, "Nah, I'm gonna stay home and watch TV." Steve has no conventional music skills – he plays totally instinctively and that's always fun. But I do need to have somebody in the group that I can connect with intuitively, and that's Rich. I figured that without Tony it would also be good if we still had somebody who can do his kind of thing. I've known Otto for a few years now, but I saw Historically Fucked at Tusk last year and it was so Radioactive Sparrow, kind of like our album Rockin' On The Portoman. But we have to have Steve: he is the most unique thing about the band, and that's entirely why I wanted to get things moving again because he doesn't do music outside of this band. The way that Bobby and Gretchen [from Guttersnipe] sing is similar to Steve's style and I feel Steve's time has finally come. Like, when we played in the 80s, fans would come after the gig like, "Yeah, great show, but that guy's just going too far." Nothing like him had ever happened yet. But that Guttersnipe video is amazing, right? What a great set.
MR
Yeah, totally.
WE
And Bobby was a total mess cause the gig was four nights after the election, and on election night he was with somebody who went up to a big SUV and kicked off one of the rearview mirrors. Bobby went for the other one, and the owner of the SUV came out and basically kicked the shit out of him. So Bobby was completely bruised, broken ribs and all, and he still played that gig. What a hero.
MR
Respect, man, respect. So for KRAAK fest it will be you, Richard Bowers, Otto Willberg and Heaving Stews. You live in Newcastle now, right? And they still live in Wales?
WE
Well, we're all either from Wales or have lived there at a certain point. Steve and I went to school together but were never really were friends until maybe the last two years of school. He was the only guy that was into any music that was a bit different. At the time he was obsessed with Syd Barrett and he didn't know anybody else that was into it or knew the first Pink Floyd records – except for me, and that was our connection. We got into music together, like The Fall and Half Japanese, and we were the only kids listening to John Peel and stuff like that. Rich still lives in Wales, Steve's now in London, Tony lives in Glasgow, and I moved to Newcastle about 15 years ago. It's kind of difficult to get together, which is why we haven't done much in the last few years, also because I was busy with Yeah You! and all.

MR
You said that the band felt more like a hobby at first, so your approach was more about being together and be in the moment and not, like, let's get this riff right, let's get this sound right, and let's make this song all radio-ready.
WE
Yeah, there was very little of that. It was a kind of social thing, certainly in our teens. We'd make tape releases and sell them or give them away. It was only when we were like 22 or 23 that we started gigging a lot, though not being too serious because we sought to completely subvert the idea of a proper band. Maybe towards the end of that period there were tensions in the band because someone or other might have wanted to get a bit more serious, but it never did in the end so... While it was definitely a hobby in our teens, it became something that we were serious about for ourselves and not in a conventional sense. There was definitely a desire to not exactly piss audiences off but to deconstruct the idea of what a band is meant to be. We loved the idea of a band that deliberately sounded as bad as possible, but not really in a silly deliberate way, but in a way that took the piss out of (and pissed off) the millions of bands who think you have to be really SERIOUS and professional about being in a band if you want to MAKE IT big. So really it's about anti-professionalism in a way. Years later we learned about things like Fluxus and Situationism, but to us it was all instinctive skepticism of a bullshit machine that was school and official "culture". Some people have written in the past that we have an open door policy for members, but it was never like that either. People would arrive in our lives and then just start playing. My son, for instance, was in one of our studio sessions when he was 9, and he wanted to play, and that was it. As it turns out, his guitar playing is utterly insane. There's an energy in it that no adult can play.
MR
You guys had your own label also? How many releases do you have in total, like 90?
WE
Well, 92. We tried two different labels. The first one was Unsound Automatic and made about 50 releases with that before we gave up. Kakutopia was the second attempt. Most were short runs on cassette or CD, and some of them may not come back in digital form but we haven't decided yet. One of the problems with it being kind of a hobby atmosphere in our teens is that a lot of the lyrical content has a sort of childish sexiness which doesn't sound right anymore. I'm still gonna post the first album from 1980 on Bandcamp, which was really raw heavy rock but with Ozzy Oskins, an 11-year-old singer who was what you'd call tone-deaf. He couldn't really sing, so…
MR
Nice.
WE
And we had to fire him after a year.
MR
Because he began singing really well?
WE
No, in 1981 we briefly had a spell where tried to become a real band because Bruce's older brother played gigs for, like, 1000 people, and Bruce wanted us to be like that. But I was never interested in learning real songs. We tried learning "Message In A Bottle" by The Police and I got bored of playing the riff over and over, and Bruce got fed up by the whole thing and was like, "Fuck it, let's just play more KAK from Radioactive Sparrow." We fired Ozzy because he couldn't sing in tune. About a year later we realized he was brilliant. We offered him 10 pence a week to rejoin, but by then he was actually embarrassed about having being involved with us – he was like, "Keep away from me, guys." If he'd accepted, he'd be rich by now. Heaving Stews joined us then, and we became the real Radioactive Sparrow. "Message In a Bottle" was never recorded, either.
MR
Maybe it's for the best. You could have had a lawsuit going on. Ruined and totally fucked by Sting.
WE
Yeah, exactly. Jesus.
MR
Most of the Radioactive Sparrow albums are available to download on the Kakutopia Wordpress, right?
WE
Yeah but we are slowly getting rid of that site and a lot of them are going to Bandcamp now. The first album is still there if you scroll to the bottom.
MR
Ah, the one from 1980 with the tone-deaf singer?
WE
Yeah, it's the guy in the middle.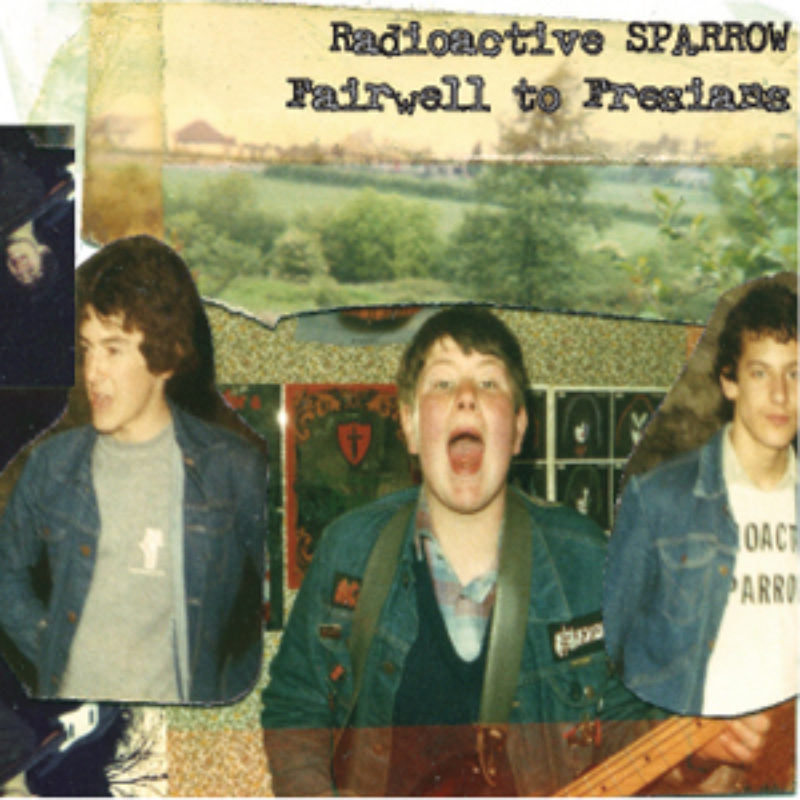 MR
Aah I see it, wow, amazing. There's a KISS poster too, damn. You guys got it.
WE
Oh yeah, that was a major inspiration in the beginning.
MR
And you had your own band T-shirt on, really cute. And who is that other guy? Is that Tony or Heaving Stews?
WE
No, Heaving Stews is just in the top left - you can just see him upside down. That guy is Bruuce Boois. The guy in the middle is Ozzy. You can see his patches like Saxon and AC/DC - those were the people we were inspired by. In fact the first song on that album has the same riff as "Never Surrender" by Saxon, but we did it a year before. So when "Never Surrender" came out we were like, "Fuck, that's our riff!"
MR
Bastards! They were probably spying on us!
WE
Yeah, they were big Radioactive Sparrow fans.
MR
And to be sure: "Kakutopia" it has a definition: "A world real or imaginary in which everything is bad as it can possibly be." Is that kind of the idea?
WE
Yeah, one of our mottos was always "the worse, the better." And I still believe it, that trying to make things in a conventionally good way actually makes things worse. We always used to call our style "cacophonic rock" so it was "Kak" for short.
MR
Yeah, what the hell is the Kak Yak? Is it connected to that?
WE
Tony used to work for the Welsh National Opera in the props department. We had a project in 1992 called All the Ideas In the World where we had a backing tape that had all the different possible sounds you can ever add to a piece of music, and Tony built the Kak Yak for that concert. It's a cow that has a big human arse and is sitting on a chair. There was another sculpture by the bar which was a huge shark in silver foil, with human legs and it trainers; it was part of an earlier song where we wanted to convince people that it was actually a shark behind the bar and tried to express genuine terror.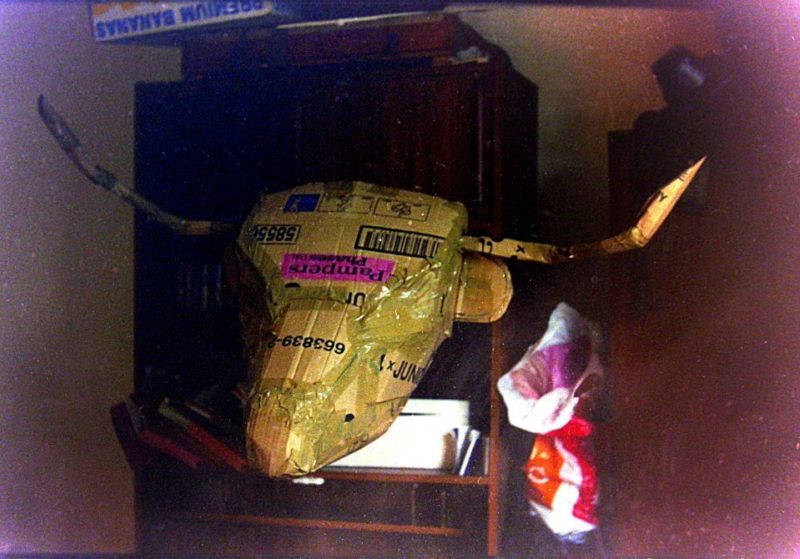 MR
So there's a big connection with theater in RS?
WE
Yeah there's always been an element there but not in a serious way
MR
So the RS universe can extend to theater and costume.
WE
Yes, but always very badly done and casual so it wasn't so very serious. We also made films. I was talking about that film Deep Cop. The first one is half an hour and the sequel is an hour and its written by Tony and we would all act in it and its basically a cop film that enjoys using all the clichés of cop movies basically. On the Vimeo there's also Zonal which is kind of an abstract movie but with like a midi soundtrack so there was always the film as well.
MR
I also really like this picture where you are all in Provence or something.
WE
Yeah, it was the only time that we ever went abroad and played some gigs – oh shit, I think it was on Christmas day, even. It was me and Tony and Steve, and that trip ended with a head-on collision with a van, which sort of put an end to that period because everyone was a bit depressed afterwards. We were playing a lot and drinking a lot, and we took the overnight boat and got lost and then we had the crash. It was 1990, the end of the decade, and it just felt like a shock to the system.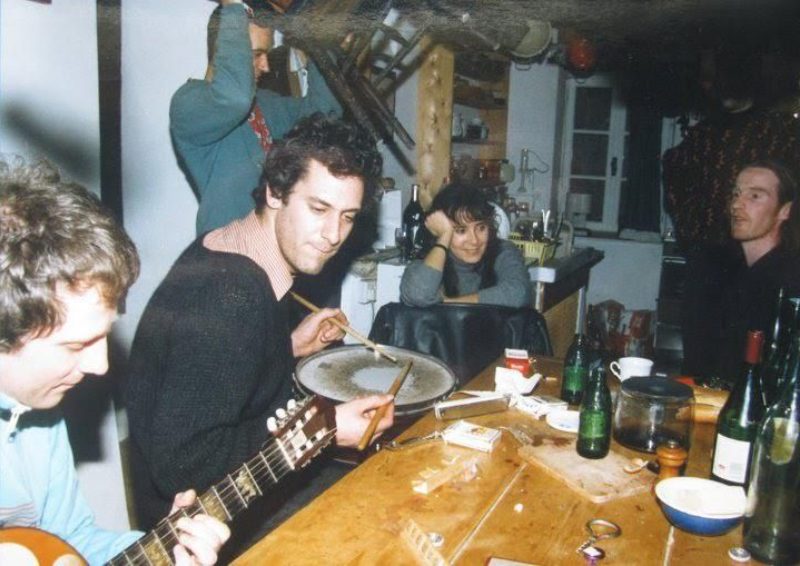 MR
Yeah, I sometimes have it after going on tour, when you're back after all the drinking and partying and playing gigs and driving: it's a surreal life that you can't maintain forever. There are dense moments and really strange memories being squeezed together and you can get sort of depressed after period like that.
WE
Yeah, and in that particular case we also lost the van. We had this beautiful old van, but it just couldn't be repaired after the accident. But we recorded a lot on that trip, namely the album I'll Never Fall In Love Again. There's a lot of guests on there, including an American banjo player. I heard he gave up playing – no future in avant-garde banjo playing, basically.
MR
Banjo is tricky.
WE
It's a good instrument, though.
MR
I think that Mumford And Sons totally fucked the banjo for me. But luckily it's not 2009 anymore. Maybe I just have to get over that trauma.
WE
Yeah, fuck them. Jesus.