On the 15th of November, Razen presents their first double LP. Razen is the duo of Brecht Ameel and Kim Delcour. After a split-lp with Sheldon Siegel and the debut-cd Rope House Temper (both on Kraak), a number of tapes and the album Reed Bombus LFO (Deep Distance), the duo retreated to various chapels and churches in the countryside around Brussels. They started exploring the practices of deep listening and acoustic research during a series of recording sessions. Using largely forgotten or ignored instruments such as shawm, church organ, Ondes Martenot, bombus and baroque flute, Razen forged and refined their sound into a form of contemporary minimalist classicism, albeit one that completely bastardises Early Music traditions.
During the preparation of their new album, we spoke at the ever cozy Brasserie Verschueren with Brecht and Kim on the idea of Authenticy and how it's related to their music, and to the idea a trance experience.
Niels Latomme
Gents, how do you define 'Authenticy'?
Brecht Ameel
Authenticy is about resources, it is an ever continuous search for sources that feel authentic. It could be an original 'old' source, but also an imaginary source.
Kim Delcour
Nowadays, a lot of 'old music' or 'folk music' is about recreating. Originally, that music had a spiritual purpose. This aspect is nowadays lost. We don't want to reproduce old music, but instead we want to revive the original, spiritual feeling — essential in old music. We want to force the listener in the Here and Now, to create a deeper and more authentic experience.
BA
If you conserve or restore music, by reproducing it literally, a lot of magic is lost. I even prefer using the Dutch of the German 'tover' or 'Zauber' instead 'magic'. When you create something original, the restoration of this primordial spiritual meaning is more profound.
KD
Essential is to recreate the primordial meaning, and to make it relevant in the 21st century. The context, the spaces where we play and record are very important in this. Not to forget the modus operandi. We force ourselves to use instructions instead of scores, and to improvise. Improvisation helps us to focus on the here and now. Our drone based sound has the implication that we are not distracted by rhythm, melodies, or other formal aspects of music. I believe that if you impose this concentration to an audience is very beautiful.
BA
The title of our new album — Remote Hologram — refers to this. We project an imaginary hologram of the past onto the now. To contextualize the need to spirituality into the Now.
KD
That's our research, how to be authentic with our old instruments, in the 21st century. Not in the way contemporary folk music tries to restore this authenticy, by removing the original context of the music. Folk music had an important role in a ritual. Those rituals have dissappeared, and with it the relevance of the accompying music.
NL
You mentioned earlier the trance element in old ritual music. Trance is related to time, it mutates the linear, Western notion of it. Is this important in the music of Razen?
BA
Yes, and not only for live concerts. One of the most wonderful aspects of a vinyl record, is that you never know how long a track, and on which point of time you are. A time distortion occurs while listening, similar to a concert.
KD
Although, the contemporary concert setting has its practical limitations. It's hard — although it would be really cool to do so — to give a daylong concert. In old music those practical limitations didn't exist. For instance, in the early days, when people went on a pilgrimage, there were bagpippers accompanying them, playing continuous. Another example during Arabic weddings there are shawn players, playing throughout whole party. We are still exploring these ideas, because rituals in contemporary context are complex, and hard to do it in the right way.
BA
We started interviewing people on this theme. We discovered that it all starts with the engagement of the audience. They have to play an active role in the music. Which is hardly possible in a regular concert setting, because there's too much distance between audience and musicians. On the other hand, recreating a ritual doesn't interest me so much, because this idea has been explored too much already. I rather talk about an 'experience', a 'ritual' is too charged.
KD
In any way we don't want to entertain the audience, we want to suck them into a trip.
BA
You could think of us as city boys with a lot of nostalgia for the origins of music. Try to imagine that you never have heard the sound of a flute. The first time you will hear it, it will sound not from this world — alien and very human at the same time. In a world where music is everywhere, we want people experience this sort of feeling again.
KD
In the Western world there were as well shamans, spiritual leaders and magicians. They helped people to implore salvation. Music was always a powerful force in this to obtain this. This force is lost in contemporary music, especially in so called 'old' or 'folk music'. People still need this force, or trance. It's proven by events like Tomorrowland, or rave parties. Repetition empowers trance, and the need for it is primordial. Razen tries to reach this Natural High, but not by using beats and drugs.
BA
That's the main reason we use instruments like organs, bombus, bagpipes and baroque flutes. They force people to take position. You can choose to take the shower, and hopeful be rewarded for it, or you choose not to. There is no in-between, because the sounds those instruments make are not easy to listen to, they're compulsory. A lot of music which inspire us is connected to this primordial, forcing experience. A lot of contemporary classical composers are focussing on the experience, but got stuck in the formal aspects of the music. And then there are a lot of pyschedelic, mostly rock acts, tune in to this trance. Their problem is that they use standard instrumentation and sounds, and forgot to explore how they can use specific sounds to create the trance. I want to bridge that gap, to follow our guts, and to use avant-garde techniques to induce the trance. For Remote Hologram we combined even electronic instruments with acoustic old instruments.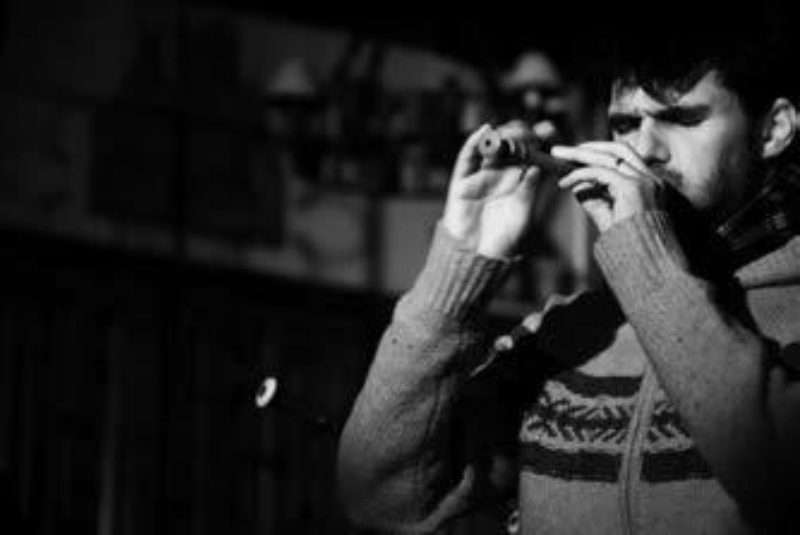 NL
So, restoration is no option.
BA
Not at all, our music is definitely music from and in the 21st century.
KD
Restoration is not authentic. It's way more important to move people now. I miss the deeper insight which music can give.
BA
We want create a new definition of this age-old feeling we talked about. I have high expectations for music. Out of admiration, but also out of frustration because music seems never to fulfil those expectations. I don't claim to do so, but we're aiming for it. We both are interested in music in which devotion is important, from regions and times where music is made out of a spiritual urgency. But now it's very hard to find such music. In Non-Western regions, it's more common, because music still has the function to get in contact with ghosts or higher powers.
NL
Is this need, and the lack of this sort of music, a symptom of a contemporary, western taboo on spirituality? Mourning is considered as a mental illness nowadays. Essential human and universal feelings are neutralised, because they don't have a place in the consumer-product relationship, which defines contemporary society. Does Razen try to create space for those feelings and emotions?
KD
For me, that is the core of art.
BA
Absolutely. It's role is to open a gate to an inner world. A bourdon, a drone is the perfect guide for this, not only in music, see for instance the monochrome painting of Rothko.
KD
In a similar way, we work with lines, textures and non-figurative elements.
BA
But, if the music we make is relevant for our selves, I'm convinced it's also relevant in a broader sense.
NL
People like oliveros and Radique were very inspired by the search of spirituality. Are they an influence.
BA
very much.
KD
Although, compared to a lot of New Age musicians, we use a lot of angles in our music, to force the audience into the here and now. New Age is most of the time music which eleminates all tension. Razen doesn't use, on a music tecnically level, a well-tempered harmony, and use nature-based intervals.
BA
nature based intervals, mathematically wise they aren't correct. A traditional well-tuned harmony, used since Bach, is a compromise, in which the third and the sext are adapted slightly to sustain the octaves correct in the high and low registers. The thirds and the sexts give colour to a key. Every key in a natural harmony has different sound. There are way more possibilities in terms of expression in a naturale harmony. Compare it to open tunings in guitar noise.
KD
those intervals create more supersonic frequencies. Old spaces like chapels enlarge those frequencies.
NL
Is craft important for you, or is the more romantic vision of an artist more important?
BA
Craft is important, we see Razen as a portal window, which tunes in on a age old, universal energy. It isn't at all a hyper individual expression of two tormented artists. In both our families this research is present. My grandad was an augurer, Kim's family was also interested in the energy lines in the earth.
KD
heathen spirituality, and the functional position of music in it, interests me. Music wasn't something to be beautiful, but had a direct need and urgency within the rite.